As a tall woman, the thought often crosses your mind that the world is just not made for people of above average height. Knee-crushing airplane seats and endless inquiries about your basketball skills are just the tip of the iceberg. The real struggle is navigating the world of ill-fitting fashion. Every pair of pants turns into capris and the built-in chic rips tend to land at your thigh instead of your knee. Instead of pretending that your denim was supposed to be only ankle-length, the best jeans for tall women are tailored for long legs, while still being just as stylish.
Being tall is often heralded as a privilege – taller people never have any problem seeing over the tops of heads in crowds or reaching for objects on that top shelf. But just as it might be difficult for shorter people to find clothes that fit correctly, the same goes for taller folks. If you're a taller woman shopping for jeans, you might find that regular inseam lengths leave your ankles uncovered, and it can be difficult to find brands that make inclusive lengths.
Jeans are a staple item for many, forming a core part of one's wardrobe. In a survey commissioned by the fashion search platform Lyst, 84 percent of respondents say that their jean collection is a key component of their overall style. On average, respondents report owning nine pairs of jeans, four of which they wear on a regular basis. Also, one in 12 respondents went so far as to say that they "live" in denim every day. If you also love wearing jeans, it's important to find pairs worth the investment that fit well!
And finding the right clothes can certainly make a difference in happiness and confidence levels. A new survey of 2,000 adults finds that 53 percent of the respondents reported feeling more confident, 37 percent said they felt happier, and 29 percent feeling more beautiful when wearing their best clothes. The most popular clothing item with both men and women was jeans. A good pair of jeans that make you look and feel good should be at the top of your shopping list! 
Ready to find the perfect pair? StudyFinds did the research to find the best jeans for tall women, consulting multiple expert sources to find brands with inclusive sizing. Take a peek at the brands listed below. If you're a tall woman and have other recommendations for jeans that you love, let us know which ones in the comments below!
The List: Best Jeans for Tall Women, Per Long-Legged Beauties
Madewell is one of the few brands that has multiple separate sections for taller jeans wearers. "Madewell makes two tall options, aptly named 'Tall,' for those five-foot-eight to five-foot-11, and 'Taller,' for those over six feet, " writes The Strategist. "For a mainstream brand, Madewell accommodates more inseams than others on the market. The downside is that its 'Taller' jeans, which feature an inseam of 32 inches or longer, sell out very quickly as they don't offer extra length for all their jeans." The Strategist loves the Madewell Kick Out Crop jeans.
Instyle loves the ripped edition of the Tall Slouchy Boyjean in Wrightlane Wash. "For a solid boyfriend jean, we always look to Madewell, which creates effortless-looking pairs that will last for seasons upon seasons. Not only does this pair have a long inseam to begin with at 30 inches, but it also comes in a tall version that offers three extra inches on the bottom for those truly tall women among us."
Vogue loves Madewell's Perfect Vintage Jeans. "If you're above five-nine, you're no doubt already familiar with Madewell's tall and taller sections," says Vogue. "With dozens of styles available in not one but two additional inseam lengths, the brand's comfortable and consistently sized selection is a go-to for tall women. I just started wearing their perfect vintage jeans, and I cannot recommend them highly enough."
Abercombie is another brand that has more inclusive sizing for both tall and shorter people. "To be clear, Abercrombie is killing the entire denim game right now for tall people of all heights," writes a reviewer at People. "Don't just take it from me, though. Fashion writer and style expert Maggie Gillette suggests Abercrombie's '90s styles as perfect additions to your fall wardrobe."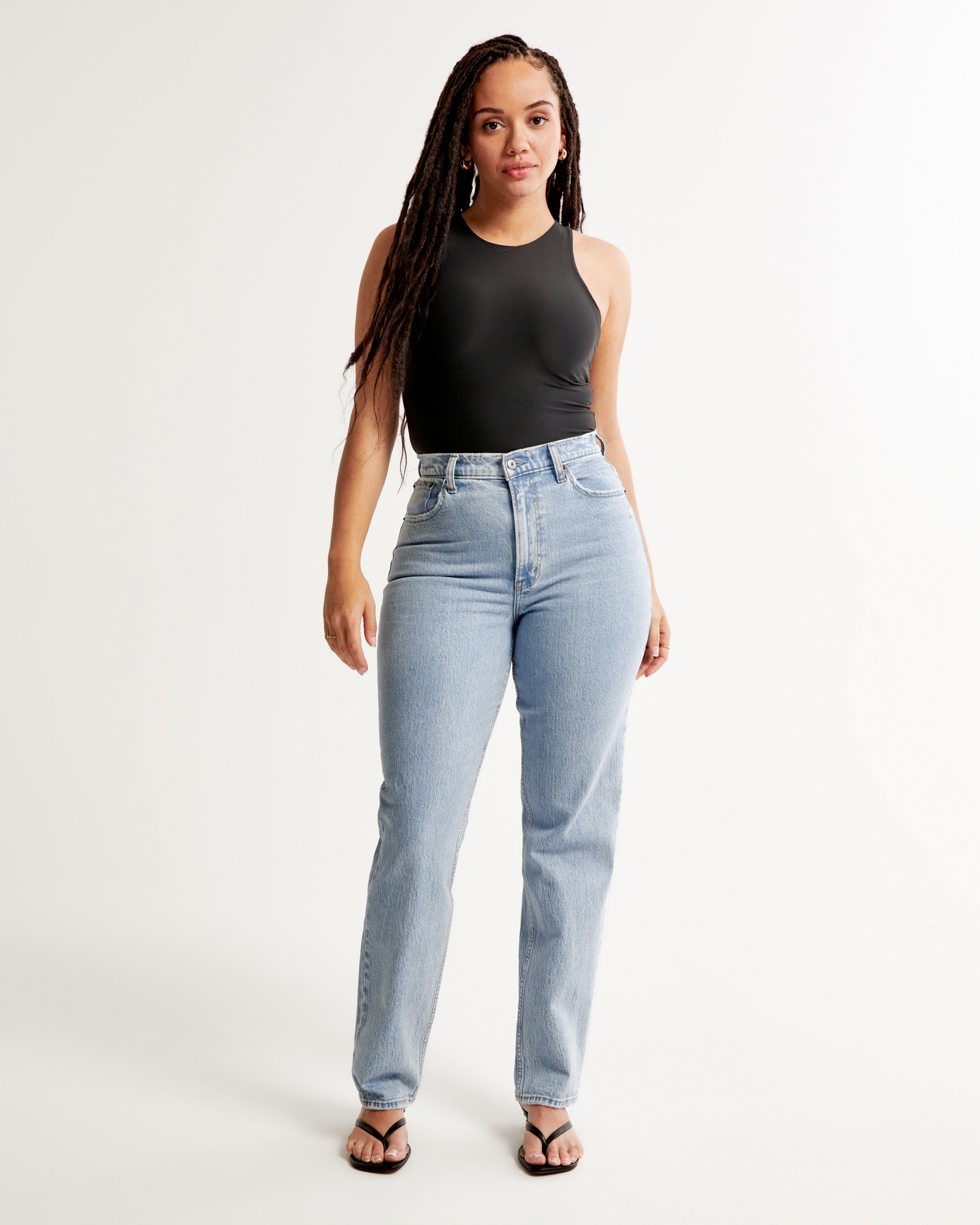 Most jeans are available in waist sizes 23 to 37, extra short, short, regular, long, and extra long lengths, and 12 different washes. "This iconic brand's jeans are better than ever," says Cosmopolitan. "Now, all of their oh-so-comfy jeans are available in a 'long' length which offers a 32.5-inch inseam. Plus, every style is offered in their signature Curve Love fit, which features built-in stretch up to two inches around the thighs and hip area for a true and comfortable fit."
Woman & Home is a fan of Abercrombie's Ultra High Rise 90's Slim Straight Jean. "However, denim is where Abercrombie excels, with five different leg lengths available, and the longest inseam is ideal for anyone above 5'10," explains Woman & Home. "This particular style has built-in stretch for extra comfort and comes in nine washes so you're guaranteed to find your favorite shade."
Levi's is the original brand of everything denim, so it's no surprise to find them on the list. There is no specific "tall" section, but when shopping online, you can select your desired inseam length for most pairs. "Not every single pair of Levi's comes in an extended length, but enough do to make tall gals feel included," explains Marie Claire. "Rather than shop for tall-specific sizes, just select your inseam—28 through 32—before you add to cart."
PopSugar recommends the 311 Shaping Skinny Jeans that give the wearer perfect shape without being too tight. "Skinny jeans are notoriously difficult to shop for, as oftentimes shoppers find that they're either far too long and fall below the ankles, or far too short and give off the illusion of cropped pants," explains PopSugar. "These tall jeans from Levi's strike the perfect balance with a stretchy denim material that molds to the body and a slimming design that hugs the legs without feeling too constricting." 
PureWow loves the 721 High-Rise Skinny Jeans for a perfect fit on taller people. "When you think denim, you think Levi's, so it's no surprise the brand has excellent options for people of all shapes and sizes," writes PureWow. "This skinny pair in particular is a hit with taller customers. Per one Levi's reviewer, 'I was so pleased to find a brand that had jeans for tall people! I'm 5,10" and got a size 27 with a 34" inseam and they fit so well and swept the floor! I'm so happy and will definitely purchase again!"
Old Navy comes at a very affordable price point for those who don't want to spend a pretty penny on one pair of jeans. You can often find them on sale for as much as half off, too. "Old Navy jeans have become such a staple in my wardrobe," raves a reviewer at Who What Wear. "The long straight leg and super-high waist give this 1950s Grandpa vibe, which I'm totally in love with. I'm 5 8″ and got a size 4, which has an inseam of 31 inches, perfect with a midi heel or flats if you're going for this season's puddle-pants look."
Byrdie loves their distressed skinny jeans, as the rips fall in all the right places. "Old Navy's Mid-Rise Distressed Rockstar Super Skinny Jeans are as cool looking as you'd expect this style of denim to be," explains Byrdie. "When you are over the average height, finding distressed jeans that line up in the right places can be challenging. Well, these rips land at all the right spots and are a comfortable midrise. They are available in sizes 2-20 and 33" inseam."
Another popular style is the High-Waisted O.G. Straight Black Jeans. "You can snag these high-waisted straight-leg jeans in a 32″ tall version," writes Good Housekeeping. "Inspired by '90s fashion, these all-black jeans not only look great but won't break the budget. The high-rise waistband is perfect for those with longer torsos and the straight leg style gives a clean look."
5. Everlane
Everlane jeans will cost you more per pair, but the brand has a variety of styles in longer lengths. "Tall women rejoice: Everlane has been steadily expanding the number of styles it carries in longer lengths," says Vogue. "This '90s-inspired pair makes me feel like Julia Roberts in My Best Friend's Wedding—you know, when she's chasing Dermot Mulroney's character down Michigan Avenue in a stolen bread van?"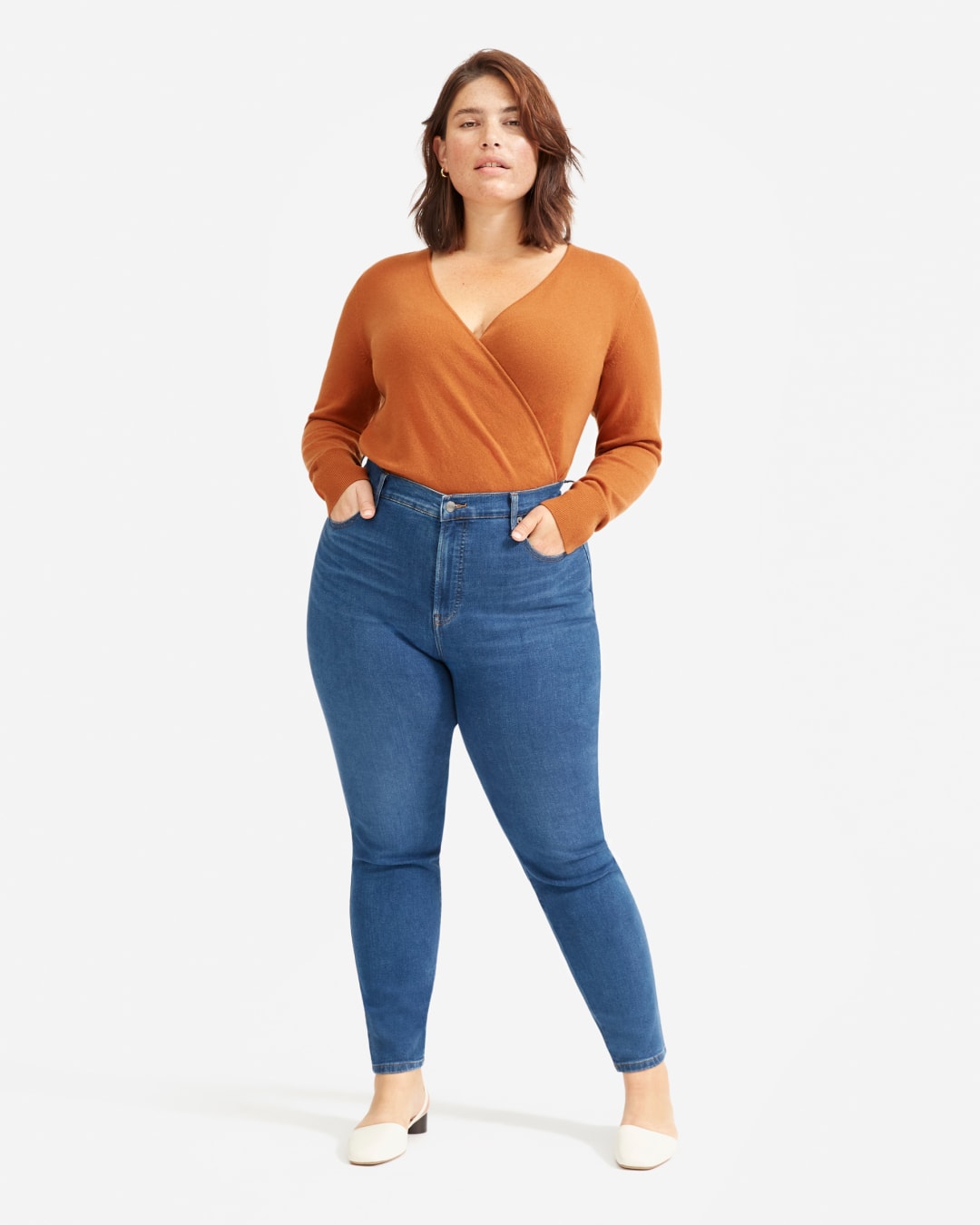 For those with longer torsos, the Way-High Jeans are the perfect high-rise. "Calling all long-torsoed ladies. These ultra-high-rise pants promise to sit above your belly button," writes InStyle. "On top of that, the straight-leg style with a nearly 30-inch inseam makes this pair of denim super versatile. We love that it comes in multiple different washes, including black, ecru, and multiple blue shades, giving us the options we crave in our denim."
For a classic black fitted jean, the Authentic Stretch High-Rise Skinny Jean is perfect and has enough stretch to move comfortably. "Everlane makes an amazing black skinny jean with an 11″ rise," says the denim editor at Elle. "High-waisted jeans automatically lengthen my legs, so these are no slouch."
"As someone who is just under six feet, I know the tall girl jean struggle all too well. In fact, jeans are my least favorite thing to shop for because of how rare it is for me to find a pair that fits. I grew up wearing American Eagle jeans and what's great about them is you can order long and extra-long lengths right to your house! So, if you like a fit in-store, but they are too short, it's an easy fix."
"I also recently found a pair of flare Indigo Rein jeans at Marshall's that boast an impressive length of 33 inches. Their cut-outs actually lay on my knees and the bottoms graze the floor when I am barefoot. They are also super flattering, making them my favorite jeans I've owned so far." — StudyFinds' Associate Editor, Sophia Naughton.
You might also be interested in:
Sources:
Note: This article was not paid for nor sponsored. StudyFinds is not connected to nor partnered with any of the brands mentioned and receives no compensation for its recommendations.