The right sheets can transform your sleep experience and elevate your bedroom's overall aesthetic. But with so many high-quality options on the market, how do you go about choosing the best luxury bed sheets? StudyFinds is here to help you make the perfect selection by pulling wisdom from the experts in luxury comfort.
Luxury sheets come in a variety of fabrics, including Egyptian cotton, sateen, percale, linen, and silk. Each material has its unique qualities, offering different levels of softness, breathability, and durability to elevate your sleep experience. Egyptian cotton, known for its long fibers, often leads the pack in terms of softness and durability. Sateen sheets are prized for their silky finish, while linen sheets provide a more relaxed, lived-in feel.
The satisfaction lies in the silky, smooth embrace of high-quality fabric against your skin, the flawless fit that wraps your mattress like a tailored suit, and the aesthetic appeal that seamlessly blends with your bedroom's decor. Luxury bed sheets can transform your night by offering a sumptuous feel against your skin, reminiscent of a high-end hotel stay. Their superior materials and craftsmanship often result in increased breathability and moisture-wicking properties, promoting a more comfortable and restful night's sleep.
You deserve to relax in luxury after a long day. We want to add to your comfort by taking the grunt work of sifting through hundreds of expert reviews of luxury bed sheets so that you don't have to. That's why we compiled a list of the best luxury bed sheets to transform your bedroom into an oasis. Which style of decor do you have in your bedroom? Leave a comment to let us know!
The List: Best Luxury Bed Sheets, According to Experts
There is no other luxury bed sheet brand that has appeared on as many expert recommended lists as Brooklinen. "There's a reason Brooklinen has reached star status—it's that good," writes Well and Good. "Transform your bedroom into a 5-star hotel room with the brand's Classic Core sheet set, which ticks all the boxes in terms of softness, quality, and price. Featuring a 270-thread count and made of 100 percent cotton, this set—which comes with a fitted sheet, flat sheet, and two pillowcases—feels soft and crisp. Bonus: It's Oeko-Tex certified, so it's not likely to irritate skin."
According to experts, Brooklinen sheets are the definition of lush. "If you are looking for the ultimate bedding upgrade, these ultra-soft sheets from Brooklinen are your dream come true," adds Luxe. "The all-time bestselling 480-thread count cotton Luxe Sateen Sheets brings that coveted luxury hotel experience to your home—just like Brooklinen's incredibly comfortable, super-plush bathrobes and towels."
Review after review, rave after rave, the manufacturers at Brooklinen seem to have that magic touch. "Soft, smooth, and incredibly cozy, the Brooklinen Luxe Sateen bed sheet set is loved by loads of customers, and I can see why. Simple, with no fluffs or overcomplicated designs, it has a high-end quality feel and looks just as luxurious," shares Homes and Gardens.
The number two spot on our list of most recommended luxury bed sheets is Frette. "Of course, you can't talk fancy sheets without mentioning Frette, which was recommended by two of our experts. It comes as no surprise that Frette's happen to be the most recommended sheets by hotel insiders," writes NY Mag.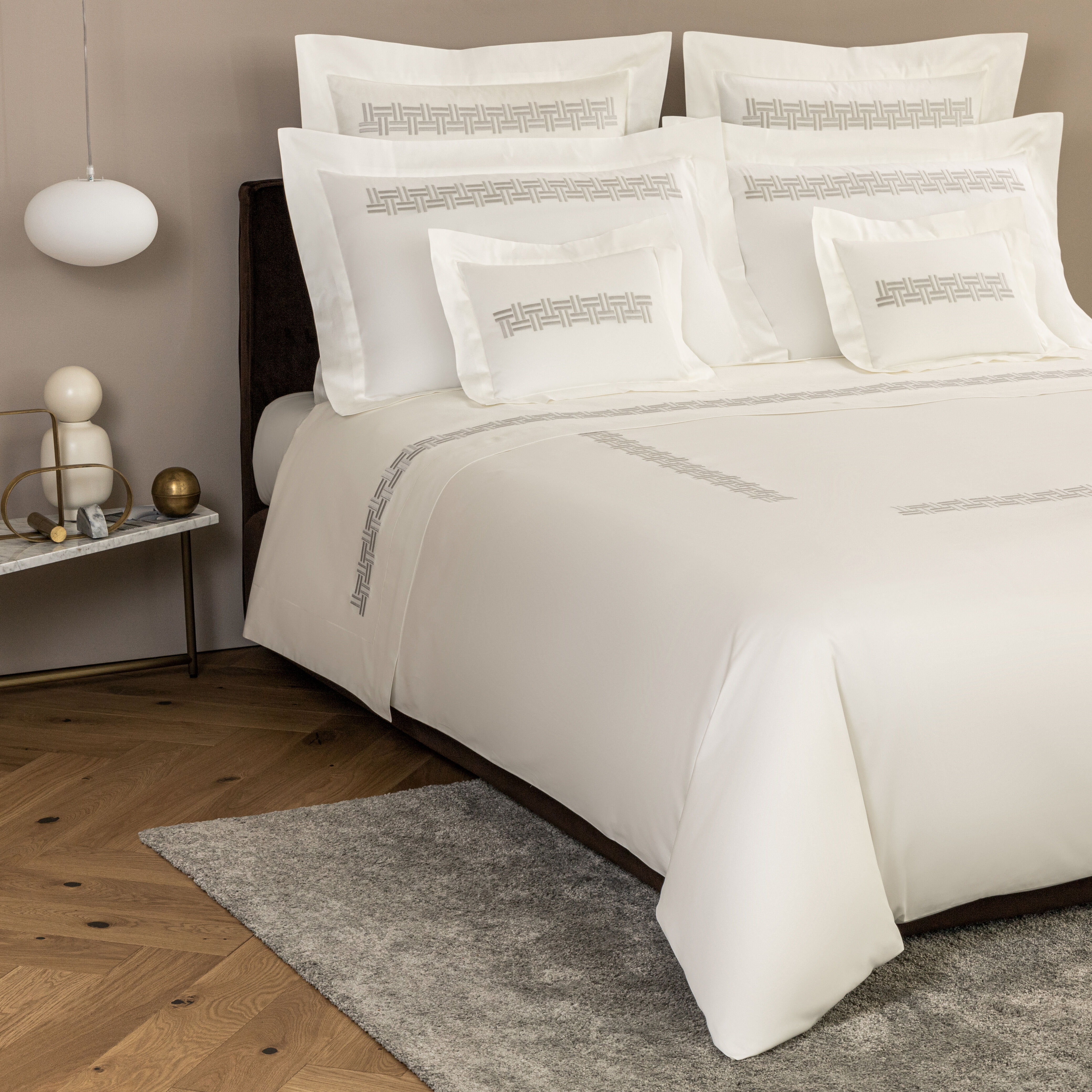 Are they worth it? "There's nothing that screams 'luxury' more than Frette. Founded in 1860 in France, Frette is the crème de la crème when it comes to sophisticated linens and craftsmanship. This set is 100 percent cotton, made in Italy, and features a contrasting border for a classy feel. Yes, it's pricey, but if you can swing it, the luxe feel of these sheets is worth every penny," shares Well and Good.
Being an influencer has its perks, including being exposed to a variety of luxury items from great brands like Frette. "These Basketweave Cotton Sateen Sheets are the most incredible sheets I've ever had. If money was no object (like if I was a billionaire), I would want these sheets on every bed," writes Classic Casual Home.
The third best recommendation for luxury bed sheets breaks the mold, pulling comfort seekers away from the regular fare. "Percale, linen and sateen may be the standard materials used in luxury bedding, but bamboo is starting to rise in the ranks," writes the reviewer from Robb Report. "Like eucalyptus, particularly the one from Buffy, sheets made of this natural fiber are better for the environment. They're also incredibly lightweight, breathable and soft. Also, for anyone prone to night sweats, the fact that bamboo is temperature-regulating is a huge bonus. And the brand doing bamboo sheets best is Cozy Earth. Why? Because it pays close attention to finish and details; its sheets feel just as good as they look."
Cozy Earth dominates when it comes to stylish luxury sheets. "Bamboo bed sheets are great for keeping your temperature regulated, and nothing beats the feeling of slipping into this luxurious set from Cozy Earth. The bamboo viscose is super soft, yet doesn't trap heat as you sleep causing you to sweat. This fresh white bedding may be expensive, (there are other neutral color options too) but its superior quality washes well and is sure to last you for years. It also comes packaged in stylish bags, with handles for easy storage," adds Homes and Gardens.
For bamboo sheets that feel truly luxe, NY Mag recommends this set from Cozy Earth made from premium bamboo viscose, "They are easily my favorite and feel like creme brûlée — minus the sugar crust,' says Miles, who has tried the Ettitude sheets, above. 'They have a similar feel to the Ettitude but have held up far better in the wash, maintaining that silky smooth — and shiny — texture that I love."
Cultiver sheets are well established among the ritzy. "These linen sheets from Cultiver are on the pricier side, but they come highly recommended by interior designer Tali Roth, who loves their effortless crushed and casual look and notes that they come in a gorgeous assortment of colors," mentions NY Mag. 
When it comes to luxury, some experts are more relaxed about appearance. "Perfect for summer, Cultiver's linen sheets have that relaxed, effortless look that's also nice and breathable on warmer evenings. Available in 16 different colours and patterns, it's some real luxury linen," adds GQ Magazine.
"These are my new go-to summer set," shares a reviewer from Robb Report. "They're light, breathable and soft, so I felt sufficiently cocooned without sweating like crazy, even when it was warm outside. The number of color options is another big perk here—Cultiver offers a wide array of muted neutrals, as well as a few striped sets. The one downside that I found during my time with them is one that's characteristic of linen sheets: They wrinkle. But some might prefer that informal look to a more put-together sateen."
The last recommendation on our list of luxury bed sheets has the cutest brand name. "Piglet in Bed is known for their luxurious quality linen sheets. I reach for this set more than most, for good reason," says Homes and Gardens. "Breezy, cool to the touch, and breathable, linen is an overall comfy material if you get hot at night. If you're yet to try linen out, you may find this one scratchy at first, but trust me, it gets softer with every wash, so it's sure to last you a long time."
When touching a set of Piglet in Bed sheets you might be a little confused. "Piglet in Bed is determined to make you never again question just how soft linen can be," writes GQ Magazine. "Taking its reputation for being a bit more abrasive than cotton and completely running it through the wringer, this is linen bedding at its very finest (and softest), and we'll never be going back again. Made from 100 per cent stonewashed linen, you'll be cool in summer and cozy in the winter, while you can also play around with the colours to find the look you're after."
You may argue that cotton is the best for a comfortable night's sleep, but PIB may convince you otherwise. "The Piglet In Bed Linen Bundle gives you everything you need to get started on your linen bedding journey and will convert even the crisp cotton lovers," adds Luxe. "Made from super soft 100% stonewashed French flax, the sheets feel relaxed and just the right amount of cozy. The best part: who could fail to love sheets that look best when unironed and gently wrinkled?"
Which brand of luxury bed sheets will you try next? Leave a comment to let us know!
You might also be interested in:
Sources
Note: This article was not paid for nor sponsored. StudyFinds is not connected to nor partnered with any of the brands mentioned and receives no compensation for its recommendations.