The kitchen is the heart of the home. And while the first things that come to mind might be a gorgeous stovetop or ample storage space, investing in one of the best luxury refrigerators on the market could truly be life-changing. Just think about it: state-of-the-art technology, design and functionality all to house your delicious foods and beverages on a daily basis– what could be better? 
Many of us looking for top-notch refrigerators are doing so due to a lack of satisfaction with the current ones we have. Improper storage space, subpar organization, and unreliable temperature can all lead to a whole lot of yuck. One recent study even found that at least five food products are rotting away in the average American's fridge right now. The poll also found that sixty-four percent of respondents said they don't think they would forget about their leftovers if they could just keep their refrigerator more organized. When asked what would help keep their refrigerators in better order, 42 percent said they wanted better storage options. 
Luxury refrigerators come in all shapes and sizes. There's a ton of variation when it comes to refrigerator door styles, storage space and layout. And when spending a good chunk of change on something like a luxury appliance, you're going to want to look out for reliability, food preservation, and features that make sense for you or you and your family.
StudyFinds went to 10 expert sources to find the top-rated best luxury refrigerators that could take your appliance game to a whole new level. Below, we've compiled a list of the top five most recommended luxury fridges to make all your kitchen dreams come true.

The List: Best Luxury Refrigerators, According to Experts
Sub-Zero takes the spot as the golden standard for luxury refrigerators, including layouts and designs for every home, but also unmatched quality and longevity. "Sub-Zero's refrigerators are considered the luxury standard for good reason: they forego all of the fancy features for industrial-grade components, and they last," writes Insider.
The luxury brand can accommodate even the most discerning customers, with endless design options including the option to color match your own kitchen. "If you want the best possible refrigerator for your money, the Sub-Zero refrigerator is your best bet. As part of their comprehensive warranty, this premium brand cares so much about customer service that they're just one phone call away for any issues and that's for a full 12 years from the day of installation," adds Designer Appliances.
Designers and chefs alike love this appliance for its temperature and humidity control, as well as its five-year limited warranty on all parts and labor. "Equally robust are the unit's refrigeration features, namely magnetic drawer and door seals that help decrease temperature fluctuation and a NASA-derived air purification system that cleanses the cavity of odor and decay-causing gases every 20 seconds," points out Architectural Digest.
LG's line of luxury refrigerators is highly rated among customers and well-loved for their innovative features that will make you feel you're truly living in years beyond 2023. "State-of-the-art innovation is key to LG's success as a top fridge brand. Along with typical features like ice machines and Energy Star certification, LG offers high-tech features like InstaView, a window that becomes translucent so you can view contents without opening doors, as well as door-within-door sections that makes popular foods easily accessible. The fridges all use a trio of cooling technologies to maintain an ideal temperature for food preservation," explains Forbes.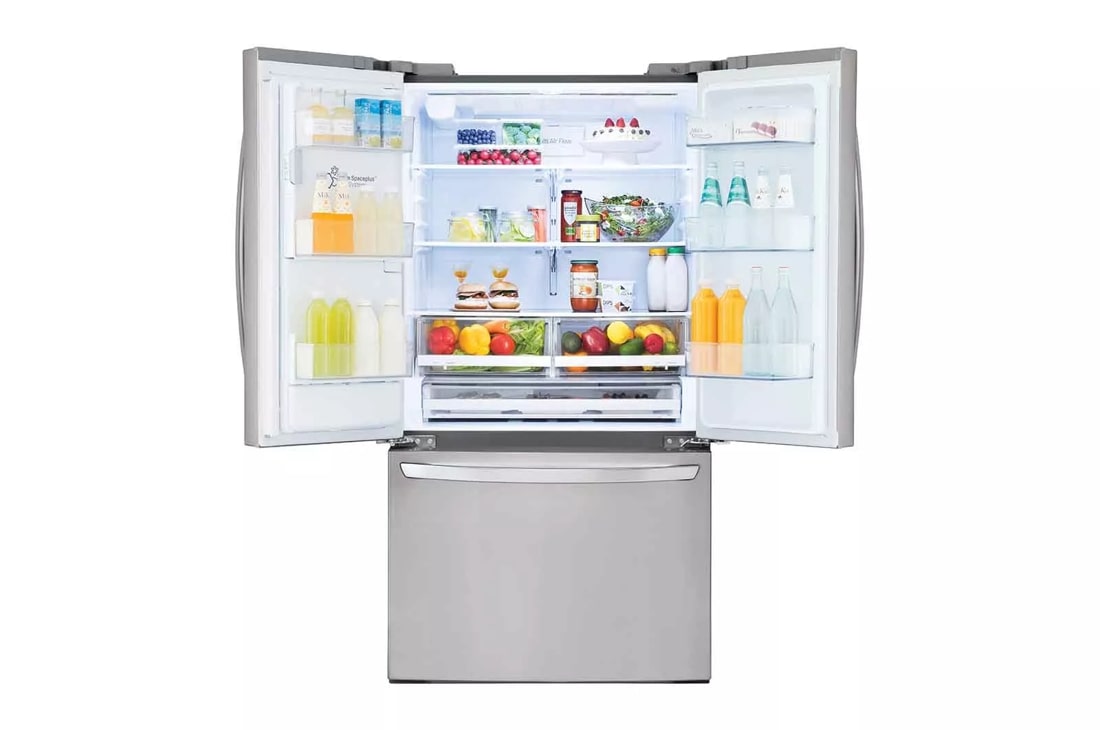 The high-end models are also well-loved for their generous storage space and organizational features. "Among refrigerators from the five major brands, LG fridges seem to make their owners the happiest. In a Wirecutter reader survey, far more real-life LG owners said they were satisfied with their fridges than owners of other brands did, and fewer said they hated their fridges," adds NY Times.
Some of LG's refrigerators also feature a slightly shallower depth that stands flush with cabinetry for a sleek look. "The 'smart' details are fun, but what's more important is that models like the 23.5-cubic-foot French Door Counter Depth are also loaded with other features like a fresh-air filter, 'CoolGuard' interior stainless-steel cooling panels, door cooling, and stainless-steel framed shelves that extend both the life of your groceries and the fridge itself," adds Insider. 
Highly rated for their roomy features, practical design and modern look, Samsung is a top choice if you're looking for a luxury appliance. "Samsung's appeal goes beyond its technology; the South Korean appliance maker also prides itself on customization. Its Bespoke option allows you to pick fridge door panels in a variety of colors and finishes (think pink glass and emerald green steel). Like many other fridge brands, Samsung also has models with flex zones (a short, full-width drawer with an adjustable temperature) as well as water and ice dispensers," mentions Forbes.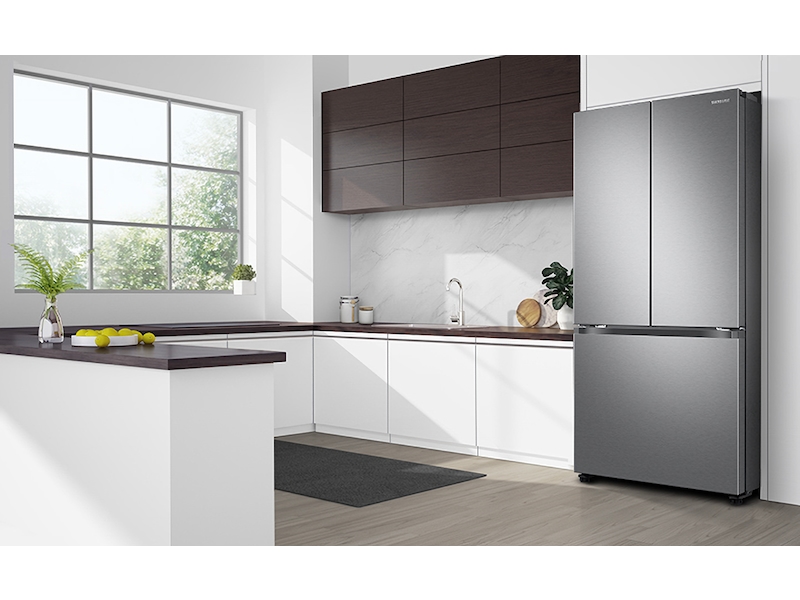 App features include refrigerator management, music apps, access to recipes and more. "The Family Hub is essentially a giant electronic touch screen that allows you to leave messages for family members, make a shopping list, order food, amongst many other things. You can also give voice commands via Bixby. In essence, the entire functionality of your phone or tablet is now on your fridge door," points out Designer Appliances.
Samsung is also rated highly for its up-to-date inventory of appliances with updates. "One quality that Samsung consistently demonstrates is its commitment to innovation," notes Readers Digest. "They are always looking for new and innovative ways to improve the quality of their refrigerators, and this mindset has led them to develop some of the most advanced refrigerators on the market today, including models with AI."
Stacked with advanced temperature management and limitless options, Monogram is a go-to in the world of designer refrigerators. "But what is form without some function? Soft-close doors, moveable glass shelves, and built-in filters for the water dispenser and ice maker, among other features, make it [a] go-to refrigerator," says Architectural Digest.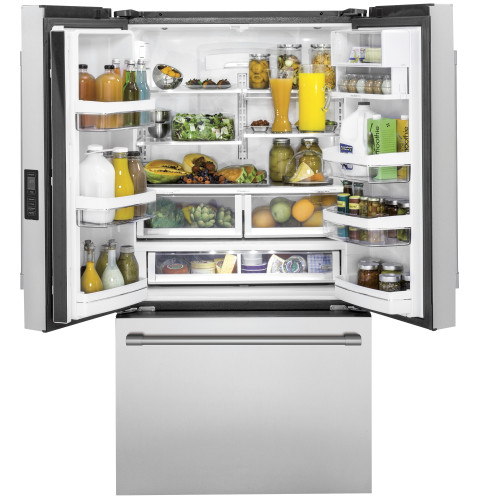 The brand is well-loved for its versatile options like custom matching and convertible features. "Convert your food storage drawer to a wine reserve, refrigerator, or freezer. Monogram will complete your kitchen design while redefining the word 'luxury' for your space," adds Duerden's Appliances.
The brand's line of luxury refrigerators feature spill-proof shelves, spotlight LED lighting and smart appliances. "In addition to true built-in refrigerators and columns, it offers freestanding counter-depth refrigerators. And here's another luxury touch: You can get a glass door refrigerator, similar to ones made by pricier competitors like Sub-Zero and True," writes Designer Appliances.
Liebherr is another top name in luxury refrigerators thanks to its reliability, high quality materials and energy efficiency. "The refrigerator, available in 24-, 30-, and 36-inch models, comes with the manufacturer's BioFresh technology, which allows users to adjust temperature controls based on food type to help extend food freshness," says Architectural Digest.
The innovative products are available in a wide range of niche sizes and freezers are designed to integrate seamlessly within your kitchen. "Cutting-edge design and premium quality, this Liebherr French door refrigerator is luxury at its finest. An Energy Star rating means this product consumes less energy, thus making your home produce fewer emissions," mentions Duerden's Applicance's.
Liebherr is particularly highly rated for its organizational options, making all your Instagram kitchen dreams comes true. "A super-quiet energy-wise system, flexible food storage solutions, and an artful design that is thoughtful, restrained, and elegant is what you can expect from any Liebherr product. Liebherr products have been in production for nearly seven decades, providing the full spectrum of food storage solutions," writes Albert Lee.
You might also be interested in:
Sources
Note: This article was not paid for nor sponsored. StudyFinds is not connected to nor partnered with any of the brands mentioned and receives no compensation for its recommendations. This post may contain affiliate links.