If there is one product that's likely a staple in every woman's makeup kit, it's mascara. A dash of mascara is perfect for every makeup look, whether you're going for every day fresh or evening glam. It's no surprise that seeking out the best mascara on the market is a must for many fashion-centric women out there — and thankfully, StudyFinds is here to help.
The 2020 pandemic and work-from-home era brought about a societal shift in the way we see women's beauty standards. More women agree that makeup isn't always needed to feel confident, and embracing a natural look is often the way to go. Many are reaching for cleaner products or those deemed to be safer for the skin and better for the environment. In a 2019 survey by Marketing Tech News conducted through Global Web Index (GWI), 67 percent of respondents believed that packaging should be more environmentally friendly, and 56 percent would pay more for natural or organic ingredients. 
With beauty trends scaling back on full-coverage foundation or ultra-glam eyeshadow looks, mascara has still proven to be the most versatile product we reach for, even on "natural" days. According to data calculated by Statista based on the United Nations data and Simmons National Consumer Survey (NHCS), 106.05 million women in the U.S. used Mascara in 2020. This figure is projected to increase to 108.59 million in 2024.
There are so many different options on the market at different price points with various claims to make your lashes pop – waterproof, lengthening, and volumizing. It can be hard to determine which makes sense for you and the look you're going for. Most women tend to read reviews or do online research before making a purchase. StudyFinds scoured the web to find the best overall mascaras. For our findings, we visited 10 of the leading expert websites to see which mascaras were rated the best. Our list is ranked based on the most-recommended mascara products across these sites.
The List: Best Mascara, According
to

Experts

The Too Faced Better Than Sex Mascara is a consistently rated standout known to lend the wearer jet-black, falsie-level lashes for a dramatic difference. "The cult classic lengthens and volumizes lashes thanks to its jet-black formula that's fortified with curl-holding polymer and acacia Senegal tree extract. No need to pile on coats—just one or two will deliver enough dramatic and sexy volume to live up to the product's eyebrow-raising name," writes Glamour.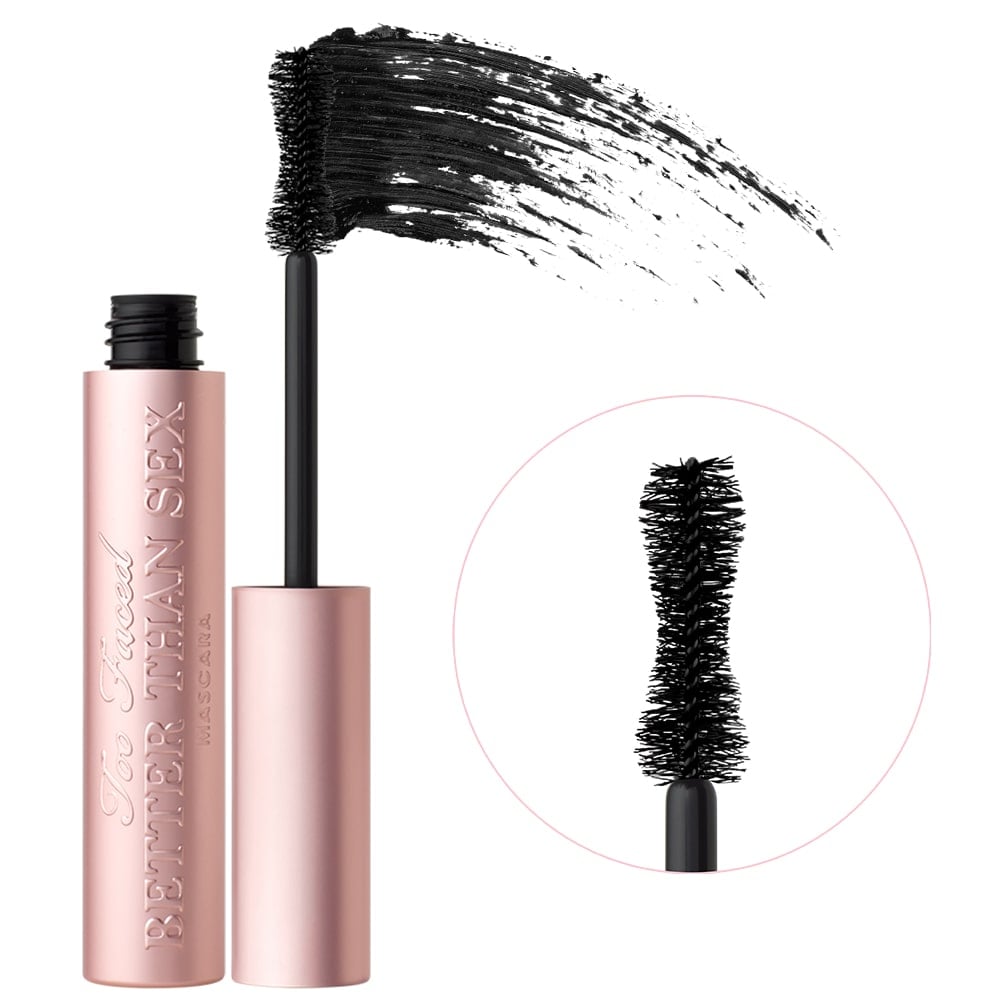 The hourglass-shaped brush is great at volumizing, and the formula goes on smoothly without clumping. "The formula is designed to be buildable, but, unlike other mascaras, it doesn't clump as you add additional coats," adds NY Mag. "Because of the hourglass-shaped brush, you can use different parts of the wand to really coat your lashes with plenty of product."
An InStyle reviewer raves, "'It made my lashes thicker and multidimensional, and it emphasizes my natural lashes without being too dramatic,' our tester adds. Plus, it didn't flake or smudge, and easily came off with micellar water. Maybe the brand's claim really is true? (Spoiler: We think it is)."
The ILIA Limitless Lash Mascara is a clean mascara that is ophthalmologist-tested to ensure it won't irritate users who have sensitive eyes. "The gentle formula contains shea butter, keratin, and beeswax to naturally nourish and lift your lashes," writes InStyle.
The thin wand is easy to control and captures every lash for a polished and defined look. "The Ilia Limitless Lash Mascara is a two-time Allure Readers' Choice Award winner that treats your lashes to a volumizing, thickening, jet-black formula," notes Allure. "This flutter-inducing mascara has a double-sided wand to evenly disperse the product and brush out clumps for perfectly defined lashes."
Makeup artist Sandy Ganzer told NY Mag, "While some 'clean-beauty mascaras have a bad rap for smudging easier than others,' Ganzer adds, 'this one does a great job at staying put.'"
This budget-friendly mascara is affordable, but works surprisingly well in competition with higher-end brands, especially on those with sparse lashes to begin with. "Asian lashes tend to be fine, thin, sparse, and stick-straight, making them especially prone to smudging. This mascara works staggeringly well on them," writes The Cut.
The formula and brush are engineered to give full volume and length in a few swipes without any fallout or smudging. "After one swipe, lashes were considerably lifted and lengthened, even without the use of a curling wand," mentions NY Mag. "The Essence mascara gives you incredible bang for your buck and then some."
Glamour agrees: "I'd read that a tube of this TikTok-famous mascara sells every couple of seconds, so I was intrigued from the start. I love drama when it comes to my lashes—like a sky-high curl and visible volume—and that's exactly what you get with this."
The Diorshow mascara is a higher-end option that delivers length and volume with smudging and can be used for both every day or more glam looks. "Created to last, this waterproof mascara will not budge all day. Used for everything from red carpet looks to backstage makeup at fashion shows, the wand combs through each lash—even the hard-to-reach places—so that they look fuller and longer from every angle," writes Forbes.
This mascara is also available in a waterproof version, as well as other color variations like black, brown, or blue. "The Dior Diorshow Iconic Overcurl Mascara has a curved mascara brush, to define, coat, and fan out lashes and help to curve them upwards," adds Marie Claire. "It's also available in more shades than just your standard black, with a softer brown and more fun blue on offer too."
"Diorshow Mascara is one of those beauty staples I'll always have on hand," says Glamour. "Just a few extra coats delivers a super-dramatic look and goes a long way!"
Charlotte Tilbury is known for their iconic Pillow Talk lipstick that is consistently sold out, but this mascara is also known for giving wearers curled, lifted lashes. "Created to provide length and volume, it features a unique double-sided paddle brush that works to load and comb product onto the lashes while giving them a lift," writes Brydie. "It's also smudge-proof and humidity-proof, making it a fitting choice if you're traveling or you live in a humid climate."
The brush is designed to benefit users who struggle to coat their inner lashes without smudging. "There is something about the brush that really grabs every single lash and really stretches the length in such a clean way," says Vogue.
Glamour likes this product to achieve feathery lashes. "The formula on this Charlotte Tilbury mascara is really special: It's jet black, and has a pretty glossy sheen. It almost feels like a fiber mascara in the way that it coats and extends each lash, but it has the plush texture of a more whipped volume formula so there's no crunchy look."
You might also be interested in:
Sources:
Note: This article was not paid for nor sponsored. StudyFinds is not connected to nor partnered with any of the brands mentioned and receives no compensation for its recommendations.This article may contain affiliate links.