Who needs caffeine when you have the power to bat your lashes and conquer the world? Mascara has the power to turn your baby-fine lashes into bold, dramatic divas that scream, "I woke up like this!" From enhancing the length and thickness to giving you those alluring, dark lashes that look like they've been kissed by the night sky, the best mascara does it all.
The best thing about mascara is that in just a couple of swipes, you go from a bleary-eyed zombie to a sultry siren in seconds. No other product can make you look wide awake and ready to conquer the world with such ease. The best mascara has the incredible power to make you feel like you're channeling your inner movie star.
The products on our list seamlessly combine lengthening, volumizing, and curling properties to deliver stunning lashes with just a few strokes. A superior formula should be clump-free, smudge-resistant, and long-lasting, providing a dramatic yet natural look that withstands the challenges of the day. Additionally, a quality mascara often features a well-designed brush that ensures precise application, separating lashes and coating them evenly for a flawless finish.
Whether you're a makeup pro or a newbie on the beauty scene, mascara will become your best friend. Ever wonder which mascara will truly work wonders on your lashes? StudyFinds has turned to expert reviews for the absolute best mascara and we are here to reveal the secret to sensational eyes. Did we miss your favorite wand? Leave a comment to let us know!
The List: Best Mascara, According to Beauty Experts
The number one expert recommendation for best mascara is Too Faced Better Than Sex Mascara. "This mascara didn't reach icon status by accident—it lives up to the hype. It promises to deliver intense black volume while lengthening, curling, and separating the lashes—and it delivers. It builds up easily to create clump-free volume, and we loved that the hourglass-shaped brush helps to achieve separated lashes. It adds thickness without making them look overdone, and we were pleasantly surprised by how easy it was to remove. While we took absolutely no issue with it, some online reviews complained that the formula is a bit too wet—if you struggle with messy mascara application due to wet formulas, we recommend wiping the excess product off of the wand before applying it. Overall, we found it to be a great choice for everyday if you like a bold lash look, and it also makes for a solid option if you're creating a glam or event makeup look," writes Byrdie.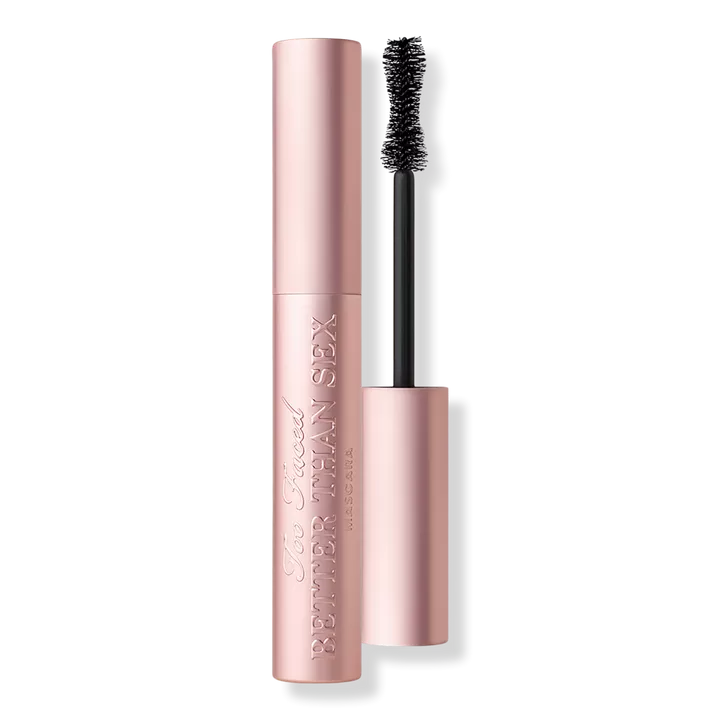 Want a mascara that could rival a superhero cape? Look no further, because this one will give you the kind of volume and lift that defies gravity itself. "The formula is designed to be buildable, but, unlike so many lesser mascaras, it doesn't clump as you add additional coats…Because of the hourglass-shaped brush, you can use different parts of the wand to really coat your lashes with plenty of product," says a NY Mag reviewer.
Are your lashes ready for a transformation that defies gravity? "What was once a cult classic has become the US's number-one-selling prestige mascara. This cheekily named formula has a reputation for creating drama that's still hard to beat. Stay clear if you prefer a neat and natural finish, as this one is all about the false-lash effect. Its large, hourglass-shaped brush covers lashes effortlessly from root to tip: just one coat magnifies, but work through a few times for a fuller, bolder finish with a curl that lasts. Does it live up to its name? Don't be so silly… but it does try," shares Independent.
This one showed up in plenty of expert recommendations. "Hyped on social media with a huge waiting list when it first launched, the third mascara from the make-up artist's brand was well worth the wait. What sets it apart is that it promises and delivers on weightless volume, length and lift for the perfect all-rounder mascara. Use the flat side of the paddle-shaped brush to load and lift lashes, and the comb side for even distribution. Expect high-impact lashes with an intense black, glossy finish that holds all day," writes Independent.
Make your mascara as bold as your dreams – because life's too short for small lashes. "With an angular brush and smooth formula, Charlotte Tilbury Pillow Talk Lashes mascara creates long, curled, dramatic lashes. It's not clumpy or messy at all, so it was easy to not get product on our eyelids or below our eyes. We noticed it had precise application even on the inner corners of our eyes where smaller lashes live. The look of the mascara was most impressive. Our lashes looked darker and longer — almost wispy. After using this mascara, our lashes curve up beautifully," says People.com.
"Charlotte Tilbury's Pillow Talk line is iconic, and this mascara is too. Created to provide length and volume, it features a unique double-sided paddle brush that works to load and comb product onto the lashes while giving them a lift. It's also smudge-proof and humidity-proof, making it a fitting choice if you're traveling or you live in a humid climate. In addition to providing impressive length, it worked wonders in terms of giving the lashes a curled and lifted finish. If you struggle to coat your inner lashes as one of our testers does, this could be just the mascara you need," adds Byrdie.
The number three expert recommendation for the best Mascara is Tarte Tartelette Tubing Mascara. "Tubing mascaras are excellent for creating elongated lashes—and this one delivers on that and more. The formula creates 'tubes' that wrap around each lash to separate, define, and lengthen. While it also provides a bit of volume and curling action, it's the lengthening benefit that truly stands out. We appreciate the thin, plastic wand because it makes it easy to coat the lashes in hard-to-reach areas, like the inner corners. We also love the length that this mascara created, that it lasted all day with no smearing, and how simple it was to remove," says Byrdie.
It's time to let your lashes take center stage. "Tubing mascaras wrap each lash in tube-like polymers to create extra thickness and length that still looks supernatural. It sounds strange but trust me when I say it works so well and honestly holds up better than my traditional mascaras. Wriggle the wand through your curled lashes, and work quickly, since it dries fast to prevent flaking," writes Cosmopolitan.
Is this the secret behind smudge-proof, all-day glamour? "Tubing mascara is essentially a formula that contains polymers that enhance the length of your lashes by wrapping around them rather than coating them. The slender applicator helps with the length effect by creating definition between lashes rather than a fuller clumpy look. Our team thought the wand made it easy to grab and coat each lash. The fine plastic bristles then acted as a comb to distribute the formula evenly throughout our lashes. We were impressed by how quickly the mascara dried without flaking, smudging, or clumping — it felt like there was nothing on our lashes. Though we loved the lengthening effect, we wished it created more volume. It could have been a bit better with volumizing and curling but the color was nice and dark. We think this is a great everyday mascara that can be thrown on quickly without worrying about clumping," says People.com.
The number four expert recommendation for the best Mascara is Rare Beauty by Selena Gomez Perfect Strokes Universal Volumizing Mascara. "From Selena Gomez's Rare Beauty comes this enduring mascara, a volumizing wonder that lasts throughout the day. Less is more here, considering the thick formula. We applied three coats and saw some clumping and smudges on our lower lashes which we attribute to the thick wand. But we loved the results. The mascara was smooth, and our lashes looked thicker, darker, and stayed curled. The castor oil in this formula also helps hydrate your lashes almost like a primer to keep the mascara looking fresh for longer throughout the day," says People.com.
Lash perfection is just a swipe away. Get ready for that wow factor with every application. "Selena Gomez and the Rare Beauty team have created some incredible products, and this is one of them. It promises to volumize, lengthen, and curl the lashes while maintaining its condition throughout the day—and it does. With this formula, less is more as it builds up very quickly and can create some minor clumping. However, after cleaning it up a bit, we love that it makes the lashes look defined and curled," adds Byrdie.
Ready to say hello to doll-like perfection? "If you hate how mascaras leave your lashes feeling stiff and straw-like, then pls try this volumizing and thickening formula from Rare Beauty. It's mixed with a touch of castor oil to keep your lashes feeling like, you know, actual lashes, and also helps to prevent flaking after layering it on," writes Cosmopolitan.
The number five expert recommendation for the best Mascara is Milk Makeup Kush High Volume Mascara. "Applying false lashes can be tricky and time-consuming, so finding a mascara that provides a false lash effect is a great alternative. This volumizing formula packed with hemp-derived cannabis seed oil works to coat the lashes in dramatic volume while conditioning them and maintaining a soft feel. If you have straight eyelashes, this mascara could be the perfect pick for you. One of our testers with extremely straight eyelashes explained that it added so much drama to her lashes that they almost looked fake. And although she was able to achieve a bold look, the formula didn't weigh them down. Our one con with this mascara is that it can get slightly clumpy. But if you're looking for a falsies effect, this might not bother you. To remove clumps, we suggest taking an eyelash comb and gently combing your lashes after applying the mascara to remove excess product," suggests Byrdie.
Tired of smudging and clumping? Say hello to flawless lashes. "Milk Makeup's cruelty-free Kush mascara is also vegan, gluten free, and formulated without parabens, fragrance, sulfates, and silicones… The mascara is infused with hemp-derived cannabis-seed oil to help condition lashes and prevent fallout and breakage. She reaches for this mascara to complete her glam night-on-the-town looks, saying it makes her lashes look 'look really big and fluffy,'" says NY Mag.
Is it time to upgrade your lash game from ordinary to extraordinary? "Not only is this mascara's formula filled with moisturizing CBD oil, but it also has little bb fibers that legit lock onto your lashes, leaving you with volume, length, and curl. Plus, the wand has teeny-tiny bristles at the top, perfect for reaching those inner-corner lashes," writes Cosmopolitan.
Next up is Rihanna's Fenty mascara. "The wand applicator on this mascara is flat on one side (for curling your lashes) and fluffy on the other (for volume), so you can get multiple looks with one product. If you have trust issues with mascara because of all the times you've been let down by the claims of thick, elongated eyelashes, this formula here might help you restore your faith," writes Cosmopolitan.
This mascara not only adds unbelievable length but also gives you the perfect curl to keep your lashes on point. "It turns out Rihanna knows a thing or two about makeup—mascara, in particular. The water-resistant pick boasts a unique wand that is flat on one side and fat on the other to lift and curl lashes as it deposits dark black pigment," adds Oprah Daily.
Is your mascara up for the challenge of long days and epic nights? "From Rihanna's Fenty Beauty, this mascara features an innovatively designed brush with a 'FAT' side to load on pigment and lift lashes, and a 'FLAT' side to define and curl for the perfect finish. It's water-resistant and long-wear, so it'll last all day, too," says Harpers Bazaar.
Finally, number seven on expert recommendation for the best mascara is ILIA Beauty Limitless Lash Mascara. "If you keep up with what's popular in the clean beauty space, then chances are you're familiar with this ultra-popular clean mascara. According to our test results, it deserves the high praise it receives. Formulated with a conditioning blend of waxes, it works to nourish the lashes while lengthening and lifting them. It has a unique dual-sided wand that contains short bristles to curl and add subtle volume to the lashes, and long bristles to lift, lengthen, and separate them.  We loved the defined look it gave the lashes and we were also incredibly impressed that the ultra-black pigment remained easy to remove. We did notice just a bit of smudging near the upper eyelid, so if you're prone to smudging, keep that in mind," Byrdie shares.
"This formula uses a lot of naturally occurring ingredients like shea butter and beeswax to condition your lashes, and keratin to strengthen the hair follicle. The mascara was easy to use, apply, and grip. We loved how it darkened and lengthened our lashes without flaking. It did clump slightly at first, but the dual-sided wand helped separate the lashes to reduce that clumpy-ness. The short side provides curl and volume, and the longer bristles lift, lengthen, and separate the lashes. We had no issues removing it, and appreciated the dark pigment, and how it coated our lashes — adding volume and boldness to our gazes," says People.com.
Ready to embrace the magic of transformation? "Makeup artist Sandy Ganzer describes Ilia's Limitless Lash mascara as 'a great mascara for people with sensitivities' because it's clean and its gentle formula includes conditioning beeswax and nourishing shea butter," writes NY Mag.
You might also be interested in:
Sources:
Note: This article was not paid for nor sponsored. StudyFinds is not connected to nor partnered with any of the brands mentioned and receives no compensation for its recommendations.