Sometimes it's fun to change your hairstyle. If you want to test out a new look without committing to it, try hair extensions. The best hair extensions provide extra body while lengthening your locks. They come in different colors too, so adding some temporary highlights is easy. Hair extensions can even enhance a ponytail, creating a fuller look. Plus, they're a great way to keep up with the latest hair trends. 
Speaking of hair trends, do you know which decade is responsible for the most iconic hairstyles? According to a survey of 2000 American women, respondents chose the 1980s as the best decade for hairdos. The runner up decades were the '90s and '70s, respectively.
Respondents were also asked to pinpoint the most iconic hairstyles of all time. Farrah Fawcett's feathered locks still reign supreme, according to the survey. Next in line for most iconic locks— Shirley Temple's curls, Marilyn Monroe's platinum blonde hair and Jennifer Aniston's "The Rachel" from "Friends." 
However, not every hairstyle choice is a good one. The poll also shows the average woman has experienced four completely botched hairstyles over the years, six different haircut styles and four dye jobs.
Thirty-five percent of respondents admit their hair doesn't hold styling quite like it used to. So it's no surprise that 28 percent of women polled are starting to feel frustrated with their hair. Half of women surveyed agree they're currently in a hairstyle rut and don't know what to do. While another 49 percent are simply too scared to try something new.
StudyFinds is here to help take the fear out of picking a new hairdo. That's why we've put together a list of the top five beauty brands from ten expert websites, to find the best hair extensions. As always, we'd like to see your own recommendations in the comments below!
The List: Best Hair Extensions, According to Beauty Pros
If you're after high-quality synthetic hair extensions, here's a solid option. Byrdie gives Bellami Hair Extensions 'Best Overall' honors adding, "the strand quality is top-tier, and there are options for every styling need: bangs, ponytails, long-length clip-ins, sew-in, tape-in, and other bonded varieties."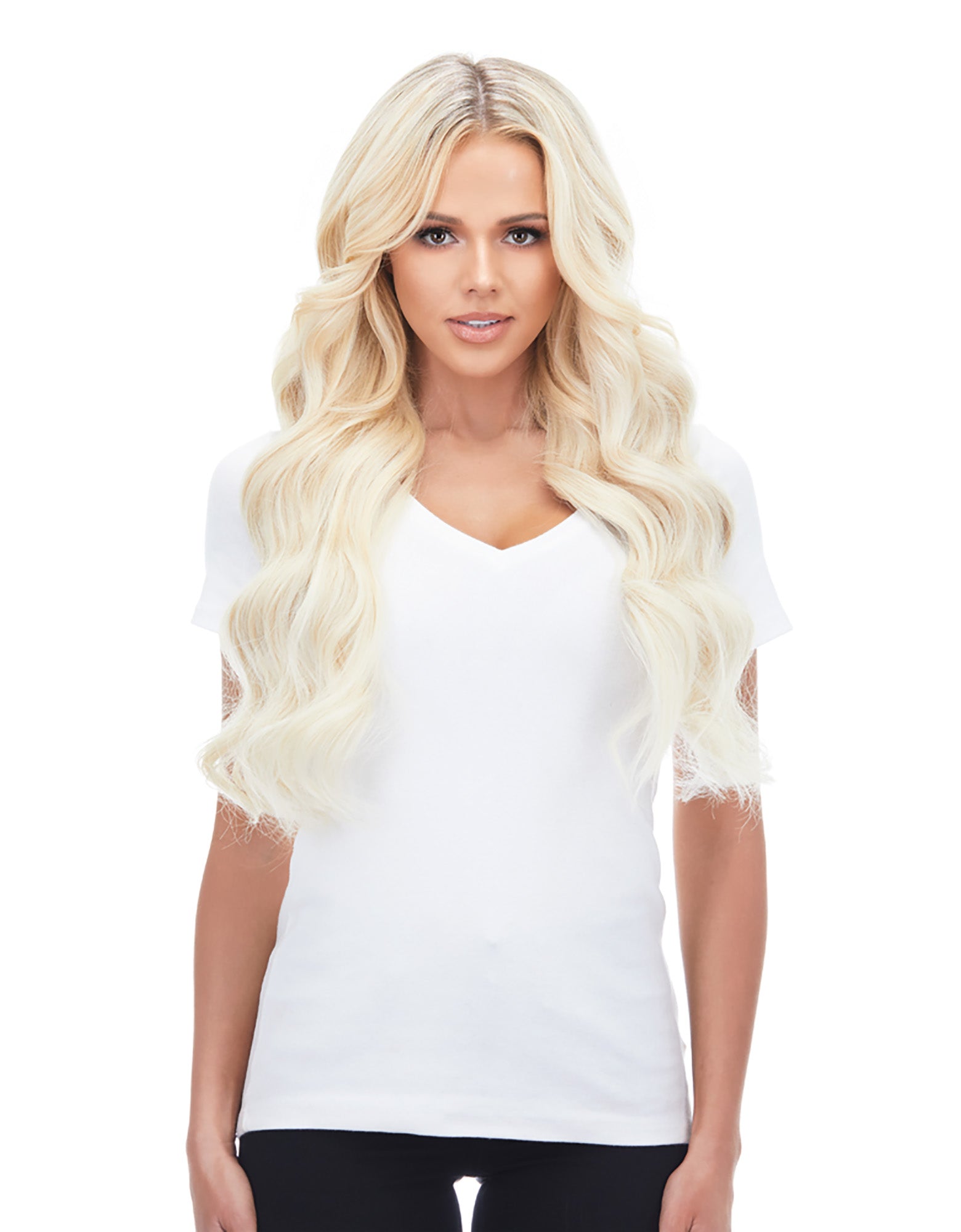 Elle spotlights the Bellami Hair Magnifica 240g 24″ Ash Blonde (60) as 'Best For Influencers', noting "you can dye, cut, and heat-style your Bellami hair without worrying about it drying out or thinning—in moderation of course. The brand offers different weights, though we suggest going with 240 grams for a full head of hair."
There are hundreds of colors to choose from. Keep in mind, some of these extensions require a professional to apply them. Try clip-ins to skip the salon trip. Women's Health points out, Bellami's "clip-in extensions are available in lengths from 18″ to 28″ and weights from 120g to 260g."
Hidden Crown offers several natural looking hair extension shades to compliment your color. Seventeen notes, "Hidden Crown Hair's Halo Extension slides right on to achieve your desired look and comes customized, so you can pick if you'd like thicker ends, natural ends, or built-in layers."
People gives the brand's Original Clip Ins the 'Best Overall' title, suggesting "even the toughest natural tone to match, red, was a piece of cake for these effortless extensions. The lengthy pieces were easy to apply and style." 
"Each set comes with nine clips split among three tracks, and there are six lengths to choose from. This includes a usually hard-to-find 8-inch option, which is ideal for those who don't want to go too overboard in adding more length," adds Brides.
"Insert Name Here is on a mission to make hair extensions cool again, which can explain why the buzzy assortment of ponytails, half-up-half-downs, and clip-in extensions are taking over our social feeds. In our own trials with the brand, we were impressed by the soft, voluminous hair quality, plentiful styles, and inclusive shade offerings," according to Vogue.
The New York Post highlights the INH's 18″ ponytail hair extension noting, it "instantly revs up your hairstyle, able to be swooshed into a bun if you'd like a full top knot, too. Not to mention, the clip-ins are fairly priced and fully loaded locks."
Cosmopolitan points out, "the brand's extension hair is made of a synthetic, vegan blend they call 'Infini-Flex,' which makes it budget-friendly and surprisingly soft. But if you're more into Remy hair (aka 100 percent human hair that has never been chemically processed or dyed, and the cuticles all face the same direction), try INH's range of human hair clip-in extensions."
Byrdie spotlights the how easy to blend the Bebonia Ringlet Clip-In Extensions are, adding they're "very comfortable, despite having seven different pieces. We didn't experience any tangles and found the attachments easy to work with. When caring for these extensions, we treated them as we would natural curly hair, spritzing the pieces with water to refresh them and then applying a mousse before letting them air dry in order to reset the shape." 
If you want a looser curl, InStyle calls the brand's Spiral Clip-In Extensions 'Best For Volume', noting, "the Bebonia spiral curls come in a variety of different sizes, making them easy to layer around your head to amp up the fullness. Due to the tight curly texture of the set, they're especially great for 2C and 3A hair types that need a little extra boost. You can choose between two thickness options, 110 g and 220 g." 
People suggests, these curls are "silky-soft to the touch and incredibly natural-looking, even down to the shade, which we were originally skeptical of due to our dyed hair. However, we clipped in these low-maintenance curls effortlessly, and the two shades blended together, creating a believable look of high and lowlights."
Reviewers can't stop obsessing over True Indian Hair Indian Silky Straight Hair Extensions. "The 100 percent cuticle hair is culled straight from India's finest donors to offer top-quality hair that is all placed in the same direction, so you don't have to worry about those pesky short strands disrupting the flow of your hair," according to Elle.
"True Indian Hair is known for its minimal shedding and is a go-to choice for celebs like Rihanna, who wore hair from the brand on her Vogue magazine cover with A$AP Rocky and their son," adds Seventeen.
True Indian Hair EZ Clipz are also a top choice. Women's Health notes, "these 100 percent human hair clip-ins have three different styles (straight, wavy and relaxed straight), seven or 10 piece sets, seven different lengths (from 14″-26″), and a gorg (but more limited) color selection." 
You might also be interested in:
Sources:
Note: This article was not paid for nor sponsored. StudyFinds is not connected to nor partnered with any of the brands mentioned and receives no compensation for its recommendations. This post may contain affiliate links.