In a world where beauty comes in infinite shades, the search for inclusivity within the beauty industry has taken center stage. It's now unacceptable for brands that sell makeup and skincare to not include a diverse range of colors and shades to suit every skin tone. Previously many foundation lines only offered variations on the blanket categories of "light", "medium", and "dark". Any variation within these brackets often didn't include different undertones or many shades on either end of the spectrum were limited. The most inclusive foundation brands of today account for diversity when developing their products and shade ranges.
Representation is important when it comes to any part of life, as seen in a study commissioned by the personalized book brand Wonderbly and conducted by OnePoll. The study finds 61 percent of people surveyed stated that a lack of representation in terms of race and gender has turned them off to reading books altogether. More than a third of children don't feel represented in the books they read – because of their gender or ethnicity. The poll of 1,000 American children between six and 12 and their parents finds nearly three-quarters (74%) read regularly — but agree that characters always look the same and don't represent different views.
Though foundation is a staple product when it comes to makeup, more women are finding they don't need makeup to feel confident. A poll of 2,000 American women examined their relationship with beauty and found that 82 percent would describe themselves as a confident person. Three in four respondents feel that their confident attitude transpires into positive interactions with others when they look good. But looking good also helps – 75 percent of women feel more empowered to step outside of their comfort zone and accomplish new things when they feel secure about their physical appearance. 
When you do feel like getting out the beauty blender, being able to find the right shade of foundation for your skin tone can certainly help with a confidence boost! StudyFinds did the research for you, consulting expert sources to find beauty brands with the most inclusive foundation. If you have a favorite brand let us know which one in the comments below!
The List: Most Inclusive Foundation, According to Beauty Experts
One of the most popular brands the beauty world is buzzing about is Fenty Beauty, created by pop singer and businesswoman Rihanna. "We can't talk about inclusive beauty without mentioning RiRi's Fenty Beauty brand. A year and a half after releasing her foundation collection of 40 shades, she expanded the range. The Pro Filt'r foundation is now available in 50 shades because inclusivity matters to Rihanna," writes Glam.
Fenty has put a focus on providing skincare and makeup that is inclusive of all skin types and shades, now offering 59 shades of Pro Fil'r Foundation, with more dark shades than any other brand. "This foundation is literally sold out everywhere, especially the dark shades, which is a good indication of how good it is," says a reviewer at Byrdie. "I've tried it and I'm in love with the filter-like finish it gives my skin. It also blurs my hyperpigmentation and gives me this airbrushed glow. True story: I couldn't stop taking selfies."
"Rihanna's beauty line has been selling out online and flying off Sephora's shelves since its launch in 2017. Rihanna is very hands-on with her business endeavors, and when it came to creating this collection, gender- and shade-inclusivity were top priority. Fenty offers 50 shades and the Pro Filt'r matte finish will leave your foundation flawless throughout the day," explains PureWow.
Lancome is one of the oldest beauty brands around but has adapted their product development to ensure they offer a wide variety of shades to customers. "Lancôme's best-selling oil-free, long-lasting, matte liquid foundation Teint Idole Ultra Wear is available in 45 shades. Eight years in the making, this hard-working formulation was the brand's first ever 24-hour foundation," says Fashion Journal.
The Teint Idole Wear boasts long lasting wear time and a smooth finish with decent coverage. Find your shade by determining your skin's undertone. "Each of the 40 shades of the Lancôme Teint Idole Ultra Long Wear Foundation are demarcated with a letter for easier navigation," writes Allure. "Look for a C if your skin has cooler undertones. W stands for warm while N is for neutral. Allure editors swear by this foundation for its intense pigmentation and moisturizing feel."
"Lancôme, which was founded in 1935, prides itself on being able to adapt more progressive philosophies in the art of makeup making," explains Tatler. "The brand has used its decades-long experience in the industry to formulate foundation shades that cater to customers of colour. Its Teint Idole Ultra HD foundation, for example, is jam-packed with 50 shades that helped consumers find the foundation that perfectly fits them."
Maybelline is one of the most popular drugstore brands around, offering an extensive array of shades at an affordable price. "Maybe it's foundation in 40 shades, maybe it's Maybelline. Perfect for normal to oily skin, Fit Me Matte + Poreless Foundation is allergy tested and uses micro-powders to blur pores," writes Fashion Journal.
If you aren't able to swatch this foundation to find your shade, you can use their virtual try-on feature on their website. "Major props to another big line with 40 shades. We're in love with the Fit Me line for so many reasons—one of them being that the foundation was made with a virtual shade finder system so customers can choose their perfect match," says Byrdie. "Number two being that this formulation's micro-powders will give your face a poreless finish."
"Maybelline is one drugstore brand that offers an extensive foundation range at great prices," explains The Fashion Spot. "The brand's Fit Me line focuses on matching skin texture as well as color. In other words, the products cater to skin that's oily, dry, normal or combination."
Bobbi Brown is well-known in the beauty industry for making staple products used by makeup artists around the world. Their foundation is no different. "Renowned beauty brand Bobbi Brown is already a favorite to many beauty junkies. Now, the Skin Long-Wear Weightless Foundation comes in more than 40 different shades, alongside it's 16-hour wear promise," says Russh.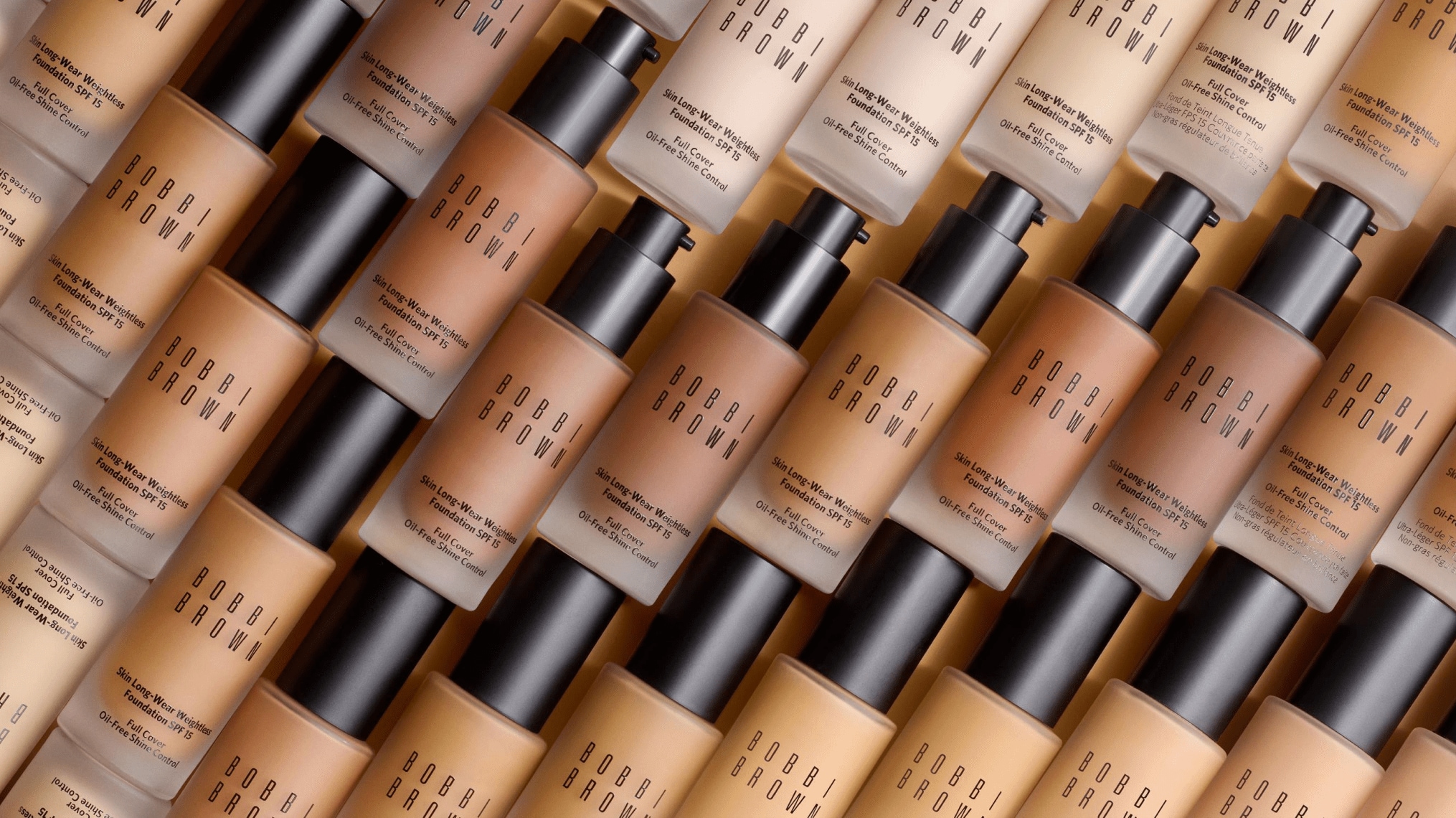 The formula contains SPF 15 and oil-controlling actives. "Favoured by the likes of Oprah Winfrey and Naomi Campbell, Bobbi Brown has come a long way from its first-ever collection of 10 shades," writes Fashion Journal. "Its Weightless Long-Wear Foundation is created using a high-speed cold fusion process and has been tested in extreme heat to prove its sweat and humidity-resistant properties."
"Over the years, Bobbi Brown's foundations have touted pretty extensive shade ranges. Its Skin Long-Wear Weightless Foundation is no different. Gabrielle Nevin, the vice president of global product development at the cosmetics company, explains to Allure that most of the foundation's 30 hues have more yellow pigments in them because most people have yellow or green tones in their skin and want any redness canceled out," writes Allure.
Rare Beauty is the most recent contender on the market, created by singer and actress Selena Gomez. "Rare Beauty is Selena Gomez's baby, and it has quickly accumulated major hype. Like Rihanna, Selena is a very hands-on entrepreneur, which is exactly what's made the brand so successful," says PureWow. "The Liquid Touch Weightless Foundation is just that, weightless. And with 48 shades to choose from, we won't be surprised if it becomes a favorite."
Rare's foundation also has one of the most inclusive shade ranges, with 48 shades ranging across the entire spectrum of skin tones. Use the website to determine your match. "On Rare Beauty's official website, you are free to choose a group that represents your shade—light, light-medium, medium, medium tan, medium-deep, and deep," explains Tatler. "After this step, the site will allow you to choose which undertone suits you best—warm, neutral, or cool."
"The singer's makeup brand, launched in 2020, promotes inclusive beauty by offering a foundation collection with 48 shades. The Liquid Touch Weightless Foundation's fluid, serum-like texture will even out and smooth your complexion for the entire day," writes Glam.
You might also be interested in:
Sources:
Note: This article was not paid for nor sponsored. StudyFinds is not connected to nor partnered with any of the brands mentioned and receives no compensation for its recommendations. This post may contain affiliate links.