Styling your hair takes time and effort. So of course, you'll want the look to last throughout the day. From updos to bouncy curls, having a bottle of the best hairspray is essential to hold those locks stay in place. Hairspray can also help to tame those unruly flyaway strands, for a smoother finish.
Hairstyle trends are always evolving. As it turns out, many of us chose to experiment with new looks during the pandemic. A recent survey reveals 65 percent of American women underwent a "hair transformation" during their isolation. Whether it's the need for a change (28%), the opportunity to try something new without judgment (21%), or just an attempt to tame some "out of control" locks (16%), women were using their time indoors to experiment and perfect their post-quarantine look.
The study of 2,000 American women reveals the top transformations during a woman's lifetime include changing hair color (33%), cutting hair significantly shorter (26%), and growing hair longer than ever before (25%). However, fifty-four percent say that not wanting to wait for their hair to grow back, or grow out, after a hairstyle change holds them back from changing their hair up more frequently.
The survey also shows some healthy hair habits occurring as respondents attempt to give their mane a break from the usual styling and coloring routine. To give their hair some much needed TLC, nearly three in 10 (29%) have turned to a hair supplement. Another 35 percent are using a hair mask and more than half (52%) have switched to deep conditioning treatments.
Not sure which hairspray to add to your styling arsenal? StudyFinds is here to help. We've got a list of the top brands from ten expert websites, to find the best hairsprays to hold your style. As always, we'd like to see your own recommendations in the comments below!
The List: Best Hairsprays, According to Style Experts
Topping our list, is this popular lightweight offering from Oribe. "Very rarely can you call a hairspray customizable, but that's exactly what this Oribe hairspray delivers. Depending on how close you hold the bottle to your head and how much product you apply, it will give anywhere from an uber-light, barely-there hold to an ever-so-slightly more intense medium hold," according to Marie Claire.
Reviewers appreciate how buildable this hairspray formula is. Stylecraze points out, the "plant-derived humectants that add shine and body to your hair while repairing damaged cuticles. It also contains hydrolyzed wheat protein that conditions and renews damaged tresses, and pro-vitamin B5 that helps thicken and build volume in your hair." 
You can find Oribe Superfine Hairspray in two sizes. Cosmopolitan adds, "it gives you that flexible-yet-natural hold that keeps flyaways in place without feeling like a helmet, and never, ever, ever feels sticky or crunchy." Keep in mind this hairspray contains a slight scent.
Byrdie crowns this wallet-friendly hairspray the overall best, noting "it delivers some serious hold. But the really cool thing? Despite that strong hold, you can easily brush it out should you change your mind and want to re-style."
This hairspray is a must-have product for professional stylists. Makeup.com suggests, "when it comes to needing extra-strong hold, this spray won't disappoint."
"The formula delivers both long-lasting hold and a hit of shine and doesn't leave hair knotted or tangled when you brush it out," according to Allure. However, some reviewers did note this product has a rather strong scent.
POPSUGAR calls this hairspray from Living Proof the best for flexible hold on wavy hair, adding "it can be used on wet, damp, or dry hair, so it's perfect for those with waves who love to air-dry."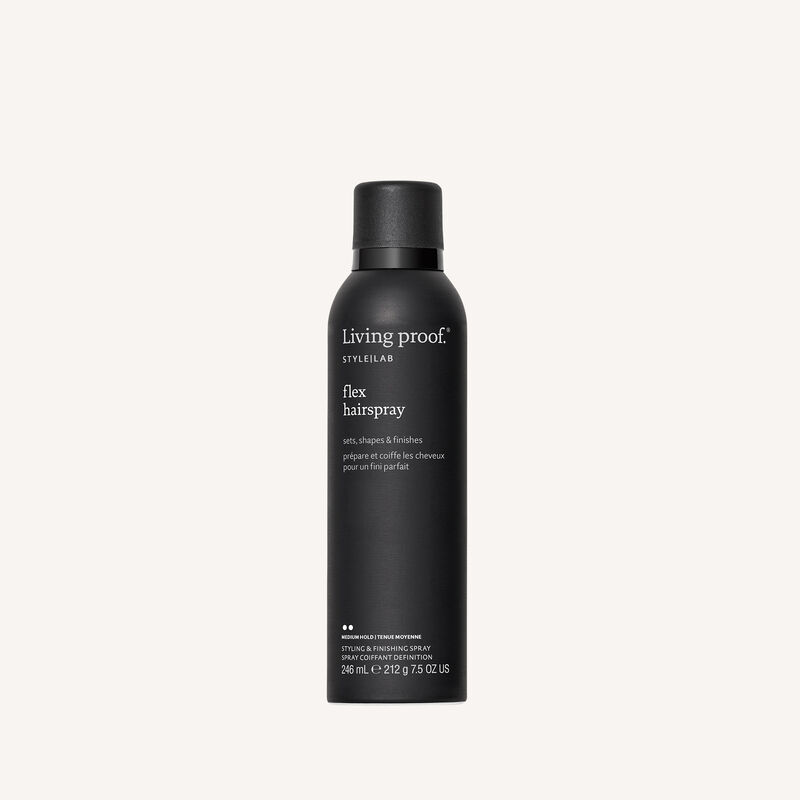 This cruelty-free hairspray offers a medium hold. Plus, it's "safe to use on color or chemically-treated hair," notes Rank & Style. 
Cosmopolitan points out the formula, "isn't so stiff or strong that you can't switch things up without having to wash your hair first." However, if you're scent sensitive, this hairspray may not be the best choice.
Volume lovers will appreciate the fullness this hairspray can achieve. Stylecraze suggests, "to build long-lasting volume, apply this fine hair-thickening spray between layers of your hair."
"This volumizing spray resists humidity for up to 24 hours and winds up to 25 miles per hour, and it provides 120 hours of hold," according to Rank & Style.
Elle adds, it "lasts through humidity, wind, and basically all the other elements. And best of all, it will never flake in your hair."
This versatile hairspray from Bumble and Bumble, "works on any and every hair texture, from fine and straight to thick and curly (and everything in between). Plus, it's equal parts working and finishing spray, meaning you can use it both as you're styling to create volume and hold and as the final step in your routine to set your finished style in place," notes Byrdie.
"Thanks to the expertly designed nozzle, only a thin layer of product comes out at a time, so you won't be left with gooey or sticky clumps," adds Marie Claire. 
The New York Post points out, "it comes in a massive bottle — offering you much value for your spend — and provides a quite flexible hold. Whether you want to add tighter curls to your natural waves or create a full-on Victoria's Secret Fashion Show-style blowout, this is the real deal."
One potential drawback? It may not last as long as some of its competitors.
You might also be interested in:
Sources:
Note: This article was not paid for nor sponsored. StudyFinds is not connected to nor partnered with any of the brands mentioned and receives no compensation for its recommendations. This post may contain affiliate links.