Game shows have long been a television institution. They are light, breezy entertainment where you just watch people play games and guess the answers yourself while sitting in your recliner. There are the oldies that stay on the air for decades, and there are the new ones that hit hard for a season or two and then disappear. No matter which it is, each of these beloved programs needs a memorable game show host. With all of the game shows that aired as early as the 1930s, you can't help but wonder which housed the best TV game show hosts. You can just hear the nostalgic "Price is Right" theme song now.
When it comes to the kiddos there may be some game shows they are familiar with and some, not so much. Parents are getting involved. Eight in 10 (82%) parents watch popular game shows with their kids, including "Who Wants to be a Millionaire?" (39%) and "Wheel of Fortune" (37%). Meanwhile, 71 percent of those parents play the game along with their kids.
While kids and parents may have different interests and knowledge, friendly competition is one thing they seem to agree on. Many parents are using this to spend quality time with their kids and support their learning at home. Eighty-three percent of parents use trivia to get their kids excited about more serious topics, such as historic events that happened when they were young (41%), music (39%), and nature and animals (39%).
The typical family spends just six hours together a week, but a lot of the family time that is spent together watching "brainless" TV might be a saving grace!  Even TV watchers that are without traditional families are consuming vast amounts of TV every week. On a day-to-day basis, the average adult watches TV for three-and-a-half hours, amounting to 1,248 hours each year. The average TV viewer will watch an astounding 78,705 hours of programming (movies, sports, news, etc.) in their lifetime. 
There are a lot of classic game shows, most with talented hosts. We visited ten expert websites to find those legendary fan favorites. I'll take the best TV game show hosts for $500, Alex. If there is a host you grew up with that isn't on the list, please leave it in the comments below.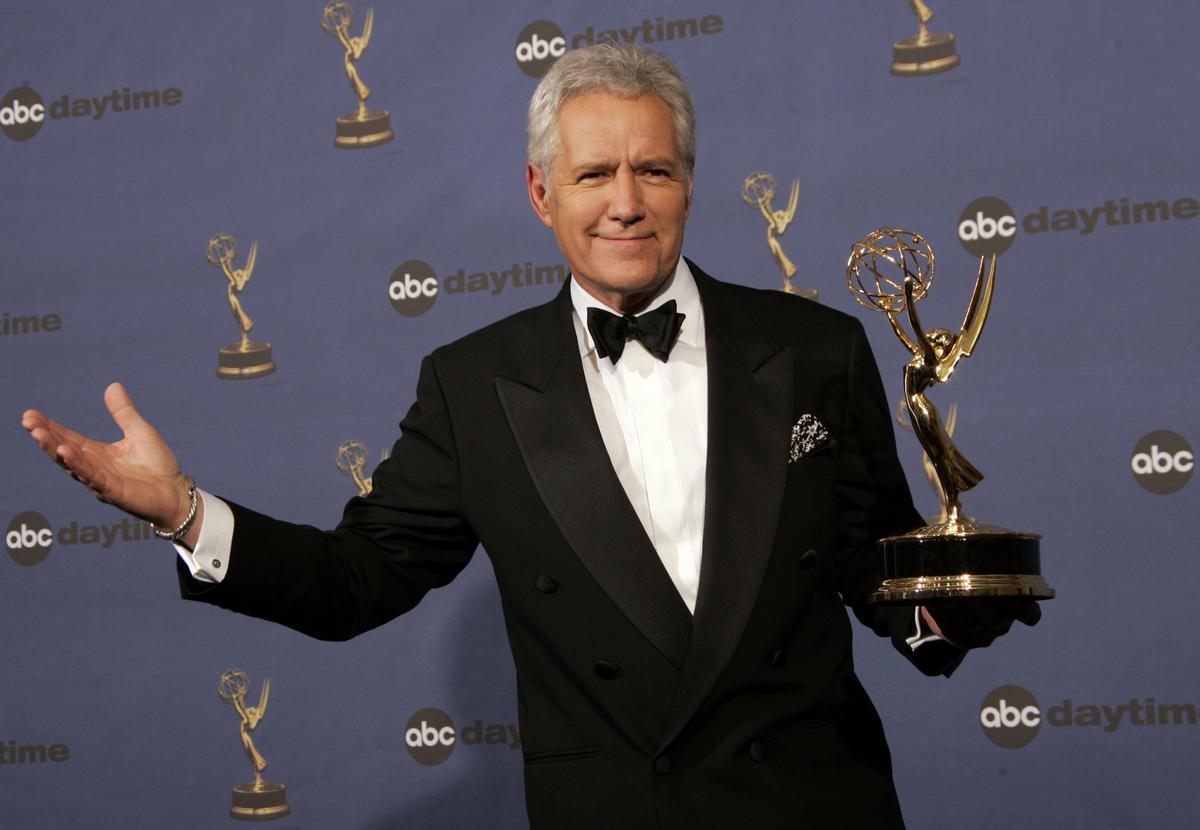 The List: Best TV Game Show Hosts, According
to

Experts
1. Bob Barker on "The Price is Right"
It only fits that Bob Barker is number one. This distinguished former host of "The Price is Right", the longest-running daytime game show on network TV in the United States of America needs no introduction. "With a colossal trove of accolades to his credit by the time he retired, from 14 Daytime Emmy Awards to his induction into prestigious Halls of Fame, he began his broadcasting career as the host of a radio show that ran for 6 years, called, The Bob Barker Show. Following this, he began his stint as the host of the popular game show, Truth or Consequence, in 1956, which he took over from Jack Bailey," informs Entertainism. 
Bob also hosted "Truth or Consequences", but it was truly "The Price is Right" that solidified his long-term hosting career. "Sure, he hosted a handful of popular and long-running game shows; but Bob Barker is 'The Price is Right.' With his skinny mic, dapper suits, and pleas to help control the pet population, Barker proved that longevity in the TV world was possible, finally retiring with more Outstanding Game Show Hosts Emmys than anyone after 50 years in the biz. Modest, timeless, and impossibly cool, Barker was the man who kept fans lining up to 'come on down!'" says WatchMojo.
Did we mention that Bob Barker served his position at "The Price Is Right" from 1972 to 2007, making it the longest-running game show in American history? TV Insider tells us more, "Barker also hosted Truth or Consequences from '56 to '75. Barker previously held Sajak's record of hosting more episodes of a single television game show than anyone else in TV history, making him a veteran in the hosting field."
2. Alex Trebek on "Jeopardy"
The sometimes-smug and always-smart host of this quiz game never hesitates to remind contestants to answer in the form of a question. "It's not even a contest when it comes to determining who the best game show host is. That honor goes to Alex Trebek, the host of Jeopardy! Just ask any fan or any contestant or anyone who has come into Trebek's circle," boasts Screen Rant.
It may come as a surprise that Alex actually hosted several other game shows, including "The Wizard of Odds", "Double Dare", "High Rollers", "Battlestars", "Classic Concentration", and "To Tell the Truth". "George Alexander Trebek (July 22, 1940 – November 8, 2020) was a Canadian-American television personality. He was the host of the syndicated game show Jeopardy! since it was revived in 1984, and Trebek was contracted to host Jeopardy! until 2022. Trebek has also made appearances in numerous television series, in which he usually played himself. He received the Daytime Emmy Award for Outstanding Game Show Host seven times for his work on Jeopardy! A native of Canada, he became a naturalized American citizen in 1998," says Ranker.
Even before his hosting career, Alex Trebek was a journalism major. He started with a newscasting job for the Canadian TV channel, CBC. He then went on to host a high-school quiz show, called "Reach for the Top". "There might not be a more respected game show host than Trebek. Since the revival of 'Jeopardy!' in 1984, Trebek has been the guiding force for what some consider to be the greatest game show of all time. Yes, we know Trebek has all the answers (or questions in this case), thanks to a crack research group, but he's kind of like America's favorite teacher — though he is Canadian. Our admiration for Trebek grew when he announced in early 2019 that he was battling stage 4 pancreatic cancer," adds Yardbarker.
3. Richard Dawson on "Family Feud"
Dawson has been around in the entertainment world as he began his career playing Corporal Peter Newkirk in "Hogan's Heroes" and as a panelist on "Match Game" before transitioning into a host for "Family Feud". "Besides being known as the original host of the show, he's also known as 'The Kissing Bandit' for always kissing female contestants for 'good luck.' In 2000, Dawson also narrated TV's Funniest Game Shows on the Fox network," says TV Insider.
As another episode of Family Feud kicked off, Richard Dawson prepared to sow the seeds of discontent in someone's marriage 💋. pic.twitter.com/uGvwC8a1ul

— Super 70s Sports (@Super70sSports) July 19, 2019
Here is what Ranker had to say about the popular host: "Richard Dawson (born Colin Lionel Emm; November 20, 1932 – June 2, 2012) was a British-American actor, comedian, game show host, and panelist in the United States. Dawson was well known for playing Corporal Peter Newkirk in Hogan's Heroes, as a regular panelist on Match Game (1973–1978), and as the original host of Family Feud (1976–1985 and 1994–1995)."
The English-American actor and comedian also grew up during World War II and had a difficult childhood. "As a young man, he began his career as a stand-up comedian and started getting acting roles as well. He also gained fame as a game show host," elaborates The Famous People.
4. Gene Rayburn on "The Match Game"
Gene Rayburn was best known as the host of various editions of the popular American television game show, The Match Game for over two decades. "From his trademark skinny microphone to the way he said the word 'blank' out of the side of his mouth, Rayburn is certainly game show royalty. He was the ringmaster of the hilarious 'Match Game.' While regular panelists such as Charles Nelson Reilly and Brett Somers often stole the show, Rayburn could more than hold his own from a comedy standpoint," informs Yardbarker. 
Today in 1973, Gene Rayburn agrees to host Match Game if CBS gives him "The skinniest goddamn microphone anyone has seen." pic.twitter.com/qoK25OwMEg

— Super 70s Sports (@Super70sSports) March 5, 2020
 NBC canceled "Match Game" leaving fans disappointed, but not for long. CBS picked it up with Gene as the host. "His wit and amazing sense of humor, coupled with the creative freedom he was allowed in the revived version, brought in die-hard fans, who watched the show quite keenly, and for four years, it was rated first among network game shows. During his memorable stint as game show host of The Match Game, he also appeared as a panel guest on What's My Line? and To Tell the Truth, two other immensely popular game shows of the same era. This beloved TV game show host, who was honored with a Lifetime Achievement Award from the Academy of Television Arts & Sciences, passed away in 1999," says Entertainism.
If you aren't familiar with "The Match Game", it features contestants trying to match answers given by celebrity panelists to fill in the blank questions. "He was the BLANKest guy around. For over two decades and through several reboots, Rayburn helmed 'The Match Game,' using his wit to interact with guests and the rowdy celebrity panel. Rayburn read a statement and contestants would fill in the blanks to match celebrities' answers – meaning raunchy humor, innuendos, and double-entendres abounded. Rayburn's smooth talk, antics, and ability to make celebs behave made this one of the most highly-rated game shows ever," explains WatchMojo.
5. Pat Sajak on "Wheel of Fortune"
Wheel of Fortune was originally hosted by Chuck Woolery. When Pat Sajak signed on, the identity of the show became synonymous with his name. "This former substitute weatherman for newscasts had obviously made an impact on Merv Griffin, the show's producer. When the previous host, Chuck Woolery, left the show in 1981, he refused to tape any more episodes until Sajak was instated as the host. Throughout his career, he has also appeared as a guest on other game shows and made a guest appearance in some sitcoms. He has also guest-hosted other popular talk shows like CNN's Larry King Live, and Live with Regis and Kelly," says Entertainism.
We mustn't forget about Pat's stylish sidekick, Vanna White, who compliments his quirky personality. "Even after over three decades, Pat keeps the series fresh and still seems to sincerely care what happens as contestants try to guess a sentence, one letter at a time. With his genuine and natural personality, Sajak helped make 'Wheel of Fortune' the longest-running American game show ever," offers WatchMojo.
Pat was thrown a curve ball when he added "Celebrity Wheel of Fortune" to his resume. With hosting as his bread and butter, he continues to prevail as he acclimates to the larger personalities. PrimeTimer offers their opinion: "Sure, hosting celebrities instead of the show's typical contestants could have thrown him off his game — bigger personalities require more wrangling — but so far, Sajak has proven to perhaps be even more effective with star contestants, patiently explaining rules and holding their hands through the game. What could have been a clunkier version of 'America's Game' instead feels just as seamless as the main series, with a bit more banter for good measure. Sajak's experienced hand is largely responsible for the new show's success."
You might also be interested in the following:
Sources:
Note: This article was not paid for nor sponsored. StudyFinds is not connected to nor partnered with any of the brands mentioned and receives no compensation for its recommendations.