It's time to get your little ones outside to unwind and enjoy a hike through nature! To get ready for their outdoor excursion, parents must decide what are the best hiking shoes for kids to wear. The pairs on our list are specifically tailored to walking trails and will provide the support your child needs over uneven terrain and steep inclines.
Enjoying nature is all in the genes. International researchers say that the love of nature is passed down to children through their parents. Scientists found genetic variations can shape people's appreciation of nature, especially when they are young. With that being said, if your child has a natural love for the outdoors, you should take the credit.
When children grow up closer to nature, there are benefits besides having pretty scenery nearby. A recent study shows that young kids that grow up close to natural beauty have healthier lungs. A team in Portugal found that green spaces boost respiration, reducing the risk of asthma and other breathing problems.
Ready to take the tykes on a hike? StudyFinds has found the top five best hiking shoes for children to hit the trails. Did we miss any? Let us know in the comments below!
The List: Best Hiking Shoes for Kids, Per Experts
The KEEN Targhee model topped the list for best hiking boot for kids. One of the biggest reasons why? They stand the test of time. "Year after year, the waterproof Targhee shoe remains our favorite hiking shoe for big kids AND little kids," writes Tales of a Mountain Mama. "It comes in a shoe, a boot, and a sport vent model. They are fairly easy to get on and off, really protect kids' feet and I can depend on them lasting through multiple kids."
The Targhee Sport Vent version gives children the best fit possible. "With good support for uphill climbs, and cushioning for the way down, these Keen kids hiking shoes are sure to score high marks for comfort.  They're also stylish enough to wear around town or to school for the day," notes Bring the Kids. "We love these hiking shoes for kids with extra ventilation on hot days, and think they're perfect kids shoes for warm summer hikes, or for kids who get very sweaty feet. These come in several colors so they're perfect as a boys hiking shoe or a girls hiking shoe. These are the best lightweight hiking shoes for kids."
Another popular type is the KEEN Targhee Mid Waterproof Hiking Boot, which is described as "sturdy and breathable," says Raising Hikers. "They are not as light (or breathable in my opinion) as the Merrell Moab boot, but they are easier to put on as they have a bungee cord lace. These come in smaller sizes ranging all the way from an 8 kids through a 7 big kid size."
The Merrell Moab 2 got top marks of hiking boots for children, including Mid Waterproof Hiking Boot. "Both breathable and waterproof, the Merrell Moab 2 is another hiking boot my kids have loved," says The Stoke Fam. "It has great traction and is waterproof, making it an excellent choice for fall and winter hikes."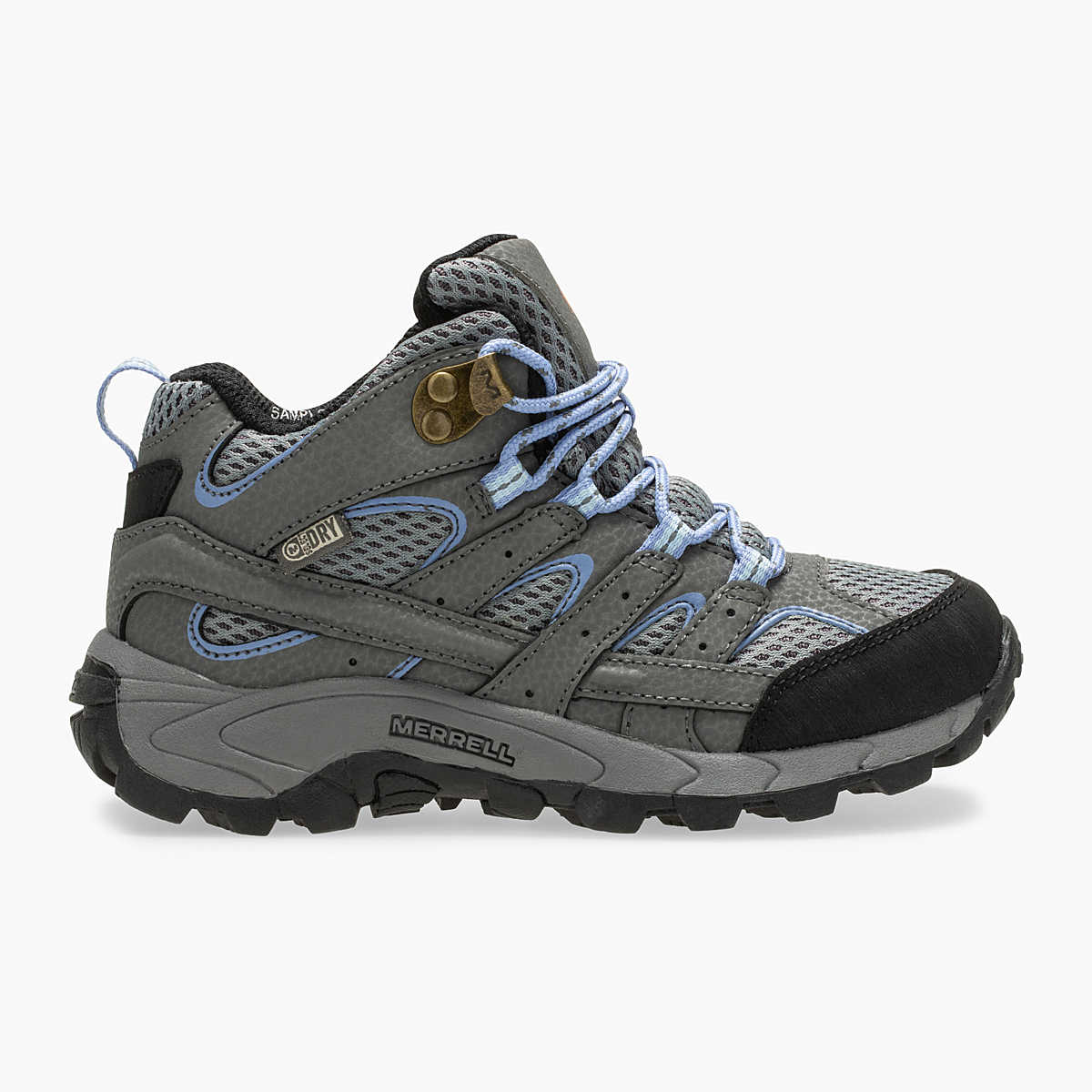 "The Merrel Moab 2 is one of the best hiking boots for adults, and the children's version goes directly on the best hiking shoes for kids list," notes Outdoor Adept. "It's definitely a hiking boot and not a hiking shoe, so it's not going to be the best for everyday wear, but it will protect your child's feet well in the outdoors. These hiking boots are waterproof, which makes them a good fit for trails where you'll need to cross streams or trek through other wet areas."
For kids up to seven, a favorite for them to wear is the Merrell Big Kid's Moab Speed Mid A/C Waterproof. "Whether you recreate in the damp and misty Pacific Northwest or are simply hiking after a rainstorm, Merrell's Big Kid's Moab Speed Mid A/C Waterproof shoes are perfect for any wet adventure," writes Territory Supply. "These shoes keep up with kids balancing on a log or rock hopping to avoid getting wet with its grippy outsole. The breathability is like no other waterproof boot so your kids won't have wet feet due to water or sweat."
Another affordable Merrell model is the Trail Chaser, which is available in medium and wide widths for the youngsters. "These trail shoes are made for all kinds of family adventures, from traversing tricky trail conditions to puddle jumping," writes Verywell Family. "Suede and mesh uppers keep them breathable and durable, while antimicrobial and removable EVA footbeds mitigate odor. The slip-resistant outsole provides serious traction for safe and fun outdoor exploration."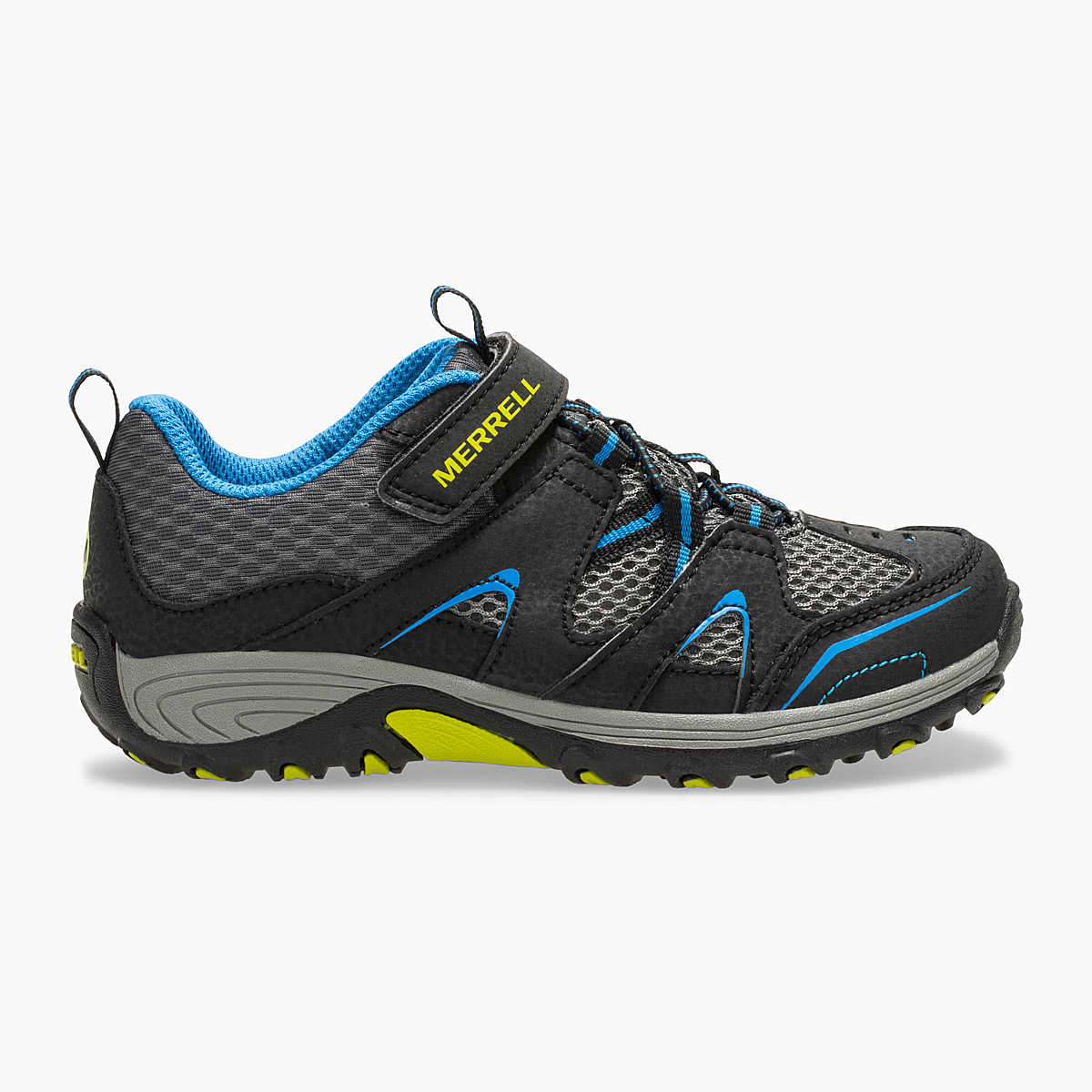 The Merrell Unisex-Child Trail Chaser was the top pick for Outdoor Adept. "They rank high for durability, let the foot breathe well, and are easy for kids to put on and take off on their own."
"If you're looking for a great toddler hiking shoes, or hiking shoes for young kids, the Merrell Trail Chaser is a great option, albeit a stiffer toddler hiking shoe. I've found that the best toddler hiking shoes are usually better than toddler hiking boots since little ones can have a hard time walking in a high boot," notes Bring the Kids. "These hiking shoes for toddlers are great because they have a velcro closure so they can put them on and off by themselves, and the sole offers great traction for toddlers. While these toddler hiking shoes aren't waterproof, they are a much more solid option than a regular tennis shoe for hiking with toddlers."
Experts are head over heels for the L.L. Bean Trail Model due to their protection. "These toddler hiking boots from L.L. Bean are definitely more boots than shoes, but are also the most 'serious hiker' option for little ones," says Tales of a Mountain Mama. "They are a bit stiff and run slightly small, but otherwise we love that they are easy to put on, truly are waterproof and really protect little feet."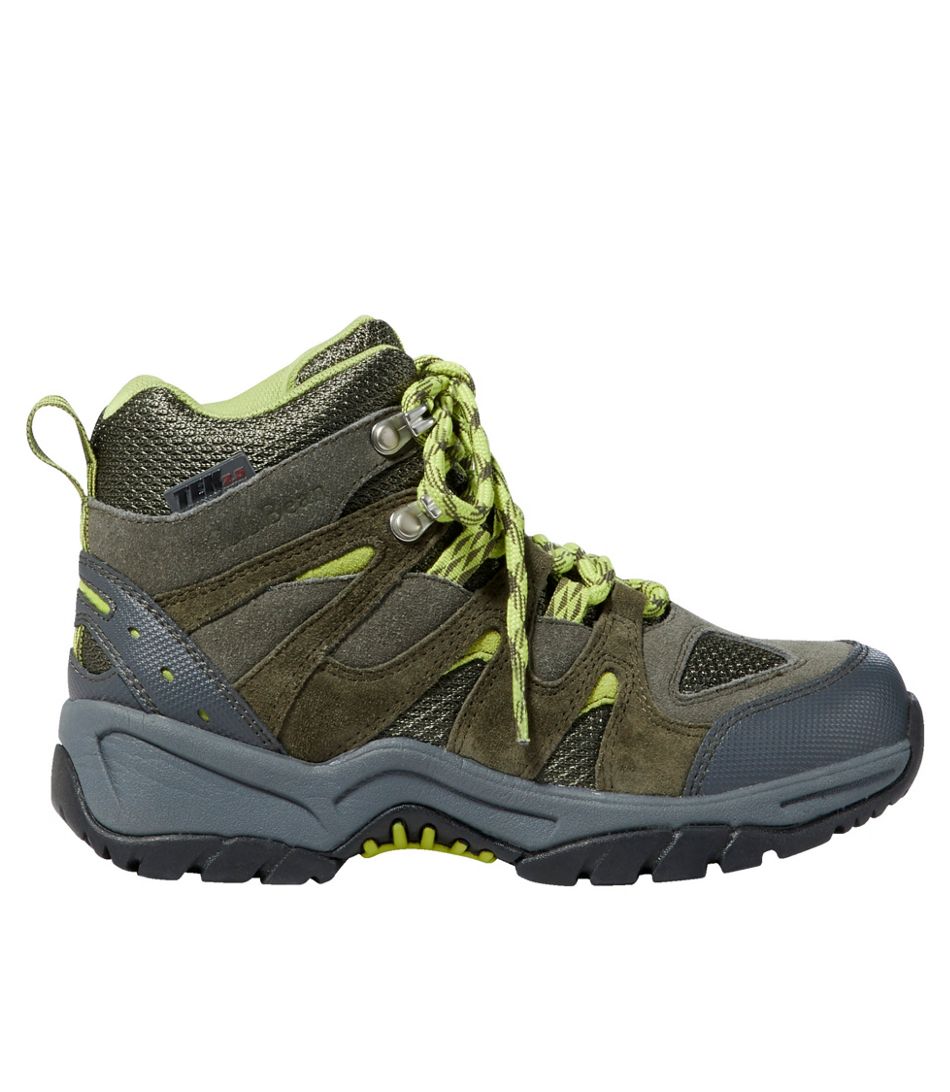 "These toddler-sized hiking shoes are designed just like the brand's adult version," writes Verywell Family. "They're super comfortable and supportive for little feet, with a height that offers extra protection and freedom of movement. Substantial heel and toe bumpers protect against bumpy terrain, and the wide opening and hook-and-loop strap make it easy for littles to get on and off."
Territory Supply voted the L.L.Bean Kids' Trail Model Hikers best overall because they're breathable, have great traction and are long-lasting. "There isn't enough space in this review to tell you how much these boots changed my kiddo's hiking game. When he transitioned from his toddler boots to L.L. Bean's Trail Model Hikers, I couldn't keep up with him. I could see an immediate change in his independence and confidence because the boot fit so snugly and provided tons of support."
Last, but certainly not least, is the Salomon Speedcross, known for the sole's flexibility and easy lacing. "The lug pattern and grip on these shoes is fantastic. I am often frustrated by children's 'hiking' shoes that don't have good traction," writes Tales of a Mountain Mama. "The last I want when hiking up a granite ledge is to have my son or daughter start sliding off just because their shoes aren't well built. These Salomon Trail Runners definitely have the right grip for most trail conditions. Additionally, these shoes are made tough, and will last through multiple seasons. Win for this mom!"
Bring the Kids called the Salomon Speedcross Kids Hiking Shoe the best kids hiking shoe they tested. "We love that it has super knobby soles which provide superior traction support and the lacing system ensures that you get a perfect fit for your child's feet. If you're taking your kids on longer or more technical hikes, these are some of the best children's hiking shoes to buy. These kids waterproof trail shoes are also waterproof and still provide great breathability, so they're great for hot hikes with kids. There are several fun color varieties of these kids trail runners so they can be excellent girl trail running shoes or boy trail running shoes."
Territory Supply says the Salomon Speedcross Trail Runner is the best for children who are looking to run around outdoors. "Salomon comes out with some of the best trail running shoes in the industry. As with their adult versions, Salomon puts out dependable and durable trail running shoes for kids, like the Speedcross Trail Runners. The snug fit keeps your kid's feet secure no matter how they're moving on the trail while the tread technology gives the best grip for fast feet. No more accidental trips on the trail with its easy slip-on-and-off lace system and one-pull tightening mechanism. Your kid won't have to stop on their run to get any debris out of their shoe with the ripstop fabric and anti-debris mesh on the upper. There won't be any stopping your kid once they get these trail running shoes on."
You might also be interested in:
Sources:
Note: This article was not paid for nor sponsored. StudyFinds is not connected to nor partnered with any of the brands mentioned and receives no compensation for its recommendations.