With cooler temperatures approaching, it's time to put away that summer ale for a fall brew. From Oktoberfest, to pumpkin ales, to smoked porters, there's a bevy of beers to choose this autumn. So raise up a pint as we at StudyFinds goes through the best beers to drink this fall. Cheers!
Ever wondered if beer is better out of a bottle or can? A recent study finds that amber ale is fresher when drunk out of a bottle whereas the flavor of an India Pale Ale does not change when it's consumed out of a can. Bottles and cans of amber ale and IPA were chilled for a month and left at room temperature for another five months to imitate typical storage conditions. Every two weeks, the researchers looked at metabolites in newly opened containers. As time passed, the concentration of metabolites  —including amino acids and esters — in amber ale differed greatly depending on whether it was packaged in a bottle or can.
In the fall, many beer enthusiasts gravitate toward rich and robust flavors that complement the changing season. One popular choice is a hearty pumpkin spice ale, which combines the warmth of traditional autumn spices like cinnamon, nutmeg, and cloves with the earthiness of pumpkin. Additionally, malty and caramel-forward beers, such as Oktoberfest lagers and brown ales, are also cherished for their ability to provide a cozy and comforting drinking experience as the weather cools down. Lastly, hoppy and piney IPAs with a touch of resinous bitterness can evoke the crispness of the fall air, making them a refreshing choice for those who enjoy a more assertive flavor profile during this season.
Have you been craving your seasonal favorites lately? Perhaps you sip on a classic pumpkin spice latte in the morning and want a similarly satisfying evening brew. StudyFinds has put together a list of the top five best fall beers. Did we miss one? Let us know in the comments below!
The List: Best Fall Beer, According to Experts
The favorite beer experts say to try this fall is the New Belgium Voodoo Ranger Atomic Pumpkin. "There's a lot going on in the packaging of this beer (it's not a special release, it's a spicy release), and the flavor certainly doesn't shy away from being big and bold, either," writes Food & Wine. "We tasted harmonious, tangy notes of nutmeg, cardamom, and star anise. This is a great option for folks who can't handle overly sweet, pumpkin-flavored fall beers, but still want something seasonal to warm the spirit."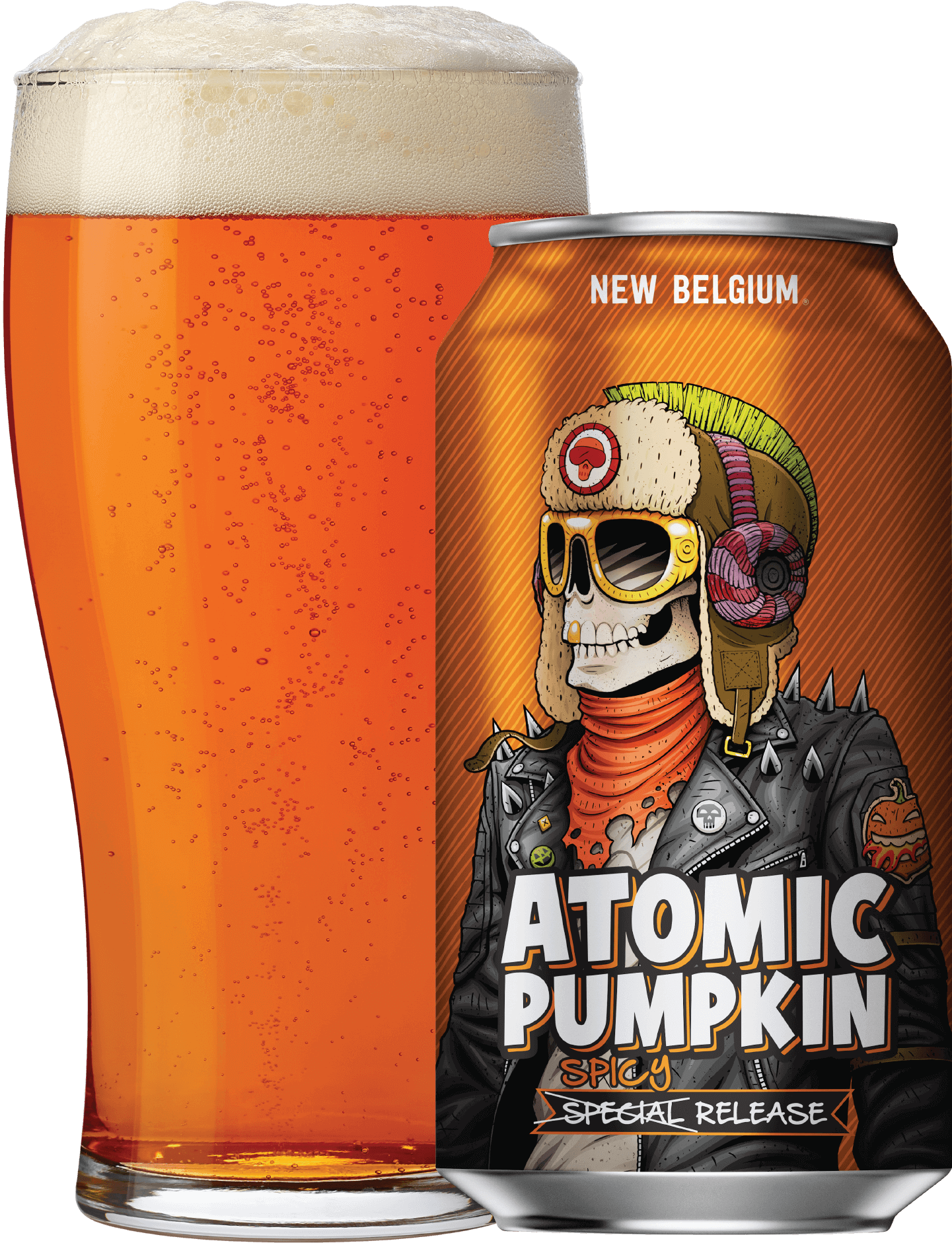 "New Belgium tweaks the pumpkin beer template by pairing pumpkin pie's classic cinnamon spice with fiery habanero peppers," notes Men's Journal. "They give the richly malty fall seasonal an enlivening, spicy punch that distinguishes Atomic Pumpkin from the spiced pack."
My Bartender calls the New Belgium Voodoo Ranger Atomic Pumpkin an "autumn favorite among craft beer enthusiasts worldwide." "This tantalizing brew blends a fiery kick of chili peppers with a mesmerizing medley of cinnamon and nutmeg, creating an explosion of flavors that dance on the taste buds. Its origin in the heart of craft beer culture contributed to its popularity, captivating adventurous drinkers seeking a thrill."
Dogfish Head Punkin Ale is classic American fall brew that's made in Delaware. "Punkin Ale is a well rounded brown ale brewed with brown sugar, spices and real pumpkin meat," writes City Brew Tours. "What keeps people coming back to Punkin Ale is its balance. You won't get blown away with any single flavor, and the complete profile of the beer is the perfect complement to watching the leaves change color."
"Inspired by the first beer Sam Calagione ever brewed at home, Dogfish Head Punkin Ale is, per Calagione, brewed 'with real allspice, shredded cinnamon, real shredded nutmeg, and we used real brown sugar and real pumpkin meat,'" notes Eat This, Not That! "In other words, this beer is not made with a squirt of sweet syrup added to the wort, it's made with real ingredients that create a rich, nuanced seasonal beer."
USA Today states that Dogfish Head transformed The First State's craft beer scene. "Dogfish Head has revolutionized Delaware's craft beer scene and this iconic brewery is still cranking out longstanding fan favorites for all to enjoy. To celebrate the season, guests can head over for a taste of Punkin Ale, a beloved fall brew that's packed with brown sugar and real pumpkin."
Want to give your brew a scare? Get an Allagash Brewing Haunted House! "One editor called the flavor of this dark-hued ale from Allagash almost stout-like," writes Food & Wine. "Others mentioned flavors of molasses and caramelized coffee. Predictably hoppy (in a good way!), this beer is a dependable fall pick with great distribution across the country."
"Allagash Haunted House invites the adventurous palate on a captivating journey of flavors," notes My Bartender. "This dark ale delivers a bewitching blend of roasted malts, hints of cocoa, and a subtle touch of smoke, conjuring an intriguing complexity that lingers on the tongue. The hauntingly smooth texture entices one to savor it slowly as the layers of taste unfold with each sip. Perfect for chilly autumn nights or gatherings by the fire, this enchanting brew casts a spell that leaves a lasting impression. The allure lies in its ability to surprise and delight, making it a favorite for those seeking a unique and memorable drinking experience."
Eat This, Not That! points out how the hoppy bitterness makes the beer. "What will most surprise (and please) you about this dark ale from Allagash Brewing is the fact that it is hop-forward in flavor profile. Sure, the malt is present and there's a vague coffee/toast taste here, especially on the lingering finish, but the hoppy bitterness is what defines the brew."
Gayot calls the Southern Tier Pumking an upstate New York powerhouse. "A scowling, snaggle-toothed jack-o'-lantern appears on the packaging, but don't fear, since this copper-colored ale pats your palate with velvet gloves. Pumking smells like a pumpkin pie, and would pair well with an actual pie at either Halloween or Thanksgiving. A well-balanced blend of hops and malt help mask the power of this beer, which weighs in at 8.6% ABV."
"One of the most highly-rated pumpkin ales across Untappd and BeerAdvocate, Southern Tier's Pumking Imperial Ale is a pumpkin beer designed to blow you away. Every bottle is packed with tons of spices that come through in every sip, like vanilla, clove, nutmeg and cinnamon," writes City Brew Tours. "Pumking Imperial Ale packs a powerful punch from the first whiff all the way down to the last drop of beer in your glass. If you're looking for a strong and vibrant pumpkin beer for your fridge this fall, Pumpkin Imperial Ale is just the beer for you."
My Bartender complimented Southern Tier Pumking as the "crown jewel among fall beers." "This imperial pumpkin ale, crafted with a melange of autumn spices and real pumpkin, offers a symphony of flavors that dance on the palate. With its rich, velvety texture and warm, inviting aroma, Pumking captures the spirit of cozy gatherings and evokes the enchanting ambiance of fall. Embrace the magic of the season as you savor this exceptional brew, a true delight for both seasoned connoisseurs and curious newcomers alike."
Rounding out the top five is the Alaskan Brewing Smoked Porter, made with smoked malts. "In 1988, inspired by Alaska's can-do brewers who once kilned their own malts, Alaskan cofounder Geoff Larson asked a salmon smokehouse to smoke some malt over alder wood," writes Men's Journal. "He then brewed a robust beer with the smoky malt and glacier water from the Juneau Icefield, creating one of America's earliest and most enduring versions of rauchbier. Seek out the annual release on November 1."
"Alaskan Brewing Co.'s Smoked Porter, a beacon of craftsmanship among fall beers, captivates with its distinct and enticing flavors," notes My Bartender. "This robust porter boasts a subtle smokiness, achieved through a blend of malt smoked over alder wood, evoking the charm of a crackling autumn bonfire. Rich notes of roasted coffee and dark chocolate dance on the taste buds, creating a velvety and satisfying experience. Its intricate balance of flavors and the artistry behind its creation make Alaskan Smoked Porter a true delight for those seeking a soul-warming brew to embrace the spirit of the season."
The Alaskan Brewing Smoked Porter gives you a bonfire feel. "Before brewing, Alaskan subjects some of its malts to a food smoker with local alder wood, resulting in a porter so smoky it 'tastes like a campfire,' Holl says," states Men's Health. "He calls this fall beer an 'American classic,' especially when paired with smoked salmon. 'That's one of the great pairings in modern beer,' he says."
You might also be interested in:
Sources:
Note: This article was not paid for nor sponsored. StudyFinds is not connected to nor partnered with any of the brands mentioned and receives no compensation for its recommendations. This post may contain affiliate links.