Discover high-quality, flavorful frozen meatballs that will elevate your culinary creations. These perfectly seasoned and pre-cooked meatballs are a convenient addition to any kitchen, making meal preparation a breeze. With a rich blend of spices and tender texture, the best frozen meatballs are a delicious and versatile choice for a variety of dishes.
It's important for parents and kids to be present at family dinners. Managing the business of home and work life makes doing so a little bit difficult. Eliminating the task of cooking a complex meal for dinner makes it much more enjoyable. A recent study shares that parents believe the important factors of a home-cooked dinner are having a favorite family recipe (47%), having good conversations at the table (38%), and having all family members in the household present (34%). Parents also shared what they want their kids to remember about family dinners — being able to share family time and connection (52%), knowing the importance of spending time with family (41%), the home-cooked meals themselves (40%), and wanting to learn how to cook (35%). Frozen options definitely make for easy prep, clean-up, and allow for kids to lend a hand in the kitchen.
Home-cooks can sometimes experience burnout. According to another recent study, one in two respondents confessed to sometimes being disappointed in their own cooking. Some home cooks even face culinary critiques from others at the dinner table. The harshest critics within respondents' own homes tend to be spouses and partners (34%). Following closely behind in cooking complaints are the chef's kids (33%) and their parents (21%). Fifty-six percent admit they sometimes feel like they have to sacrifice flavor and healthier options for something quick and easy. But, have no fear, flavor will not be compromised with our list below!
Meatballs are comfort food, and with a little culinary finesse in the kitchen, they can produce numerous tasty dishes. Whether you prefer them drenched in your favorite sauce or overflowing out of a delicious sub, the best frozen meatballs will not disappoint. Let us know your favorite brands in the comments below!
The List: Best Frozen Meatballs, According to Experts
Consistently well rated with our sources, Farm Rich Home Style Meatballs are "made from a combination of hearty ground beef and savory pork, these delicious meatballs are seasoned to perfection with gourmet spices and bread crumbs for an authentic recipe that will have your mouth watering…. For party-goers looking for some more variety in their snacking options, please consider pairing these amazing frozen meatballs with various dips and sauces," according to SkipLunch.org.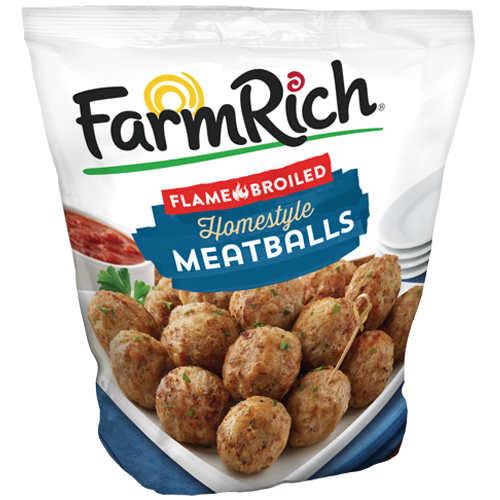 Available in a wide range of bag sizes: "They are available in 26oz, 28oz, 44oz, and 60oz, allowing you to choose the exact size bag for the number of meatballs you need for your dish. The meatballs can be either microwaved, baked in an oven, cooked on a stovetop, cooked in an air fryer, or heated in a slow cooker," details The Daring Kitchen.
This versatile meatball is described as follows, "The Farm Rich Homestyle Meatballs are our pick for the finest overall frozen meatballs since they're created from simple ingredients and filled with taste and nourishment. Steak, pork, breadcrumbs, and seasonings are the principal elements of this homestyle meatballs," notes Far & Away.
Pre-sauced options are also popular with consumers, "Another restaurant favorite, Rao's mouthwatering meatballs are now available with no reservation required. With a delicious mix of beef and pork, they're moist on the inside, crispy on the outside, and covered in their award-winning sauce," claims The Manual.
"Unlike the other frozen meatballs which came in bags, Meatballs and Sauce comes complete with a paper baking dish and ample amounts of tomato sauce to cook the larger-than-life meatballs in. Because of their cooking method, the meatballs come piping hot out of the oven infused with the tomato sauce. As for its texture, the meatballs are tender and meaty without a crispy crust the other oven-roasted meatballs possess," according to Wide Open Country.
"They're made with beef and pork, but in my opinion, the ratio of breadcrumbs to meat is a little off. But that's all made up for because these frozen meatballs come sauced in a pool of that delicious, liquid gold that is Rao's homemade marinara (our top marinara sauce)," claims Sporked.
Costco's Italian Style Beef Meatballs are the epitome of comfort food. Made with 100% beef, these meatballs are juicy and flavorful, with a perfect balance of spices that make them truly delicious. They are also large in size, making them a great option for those who like to enjoy a hearty meal," says Family Pride.
Simply put, "The classic Costco brand is a staple in the meatball hall of fame. The Italian style makes for a perfect match on a sandwich, with pasta, or as a signature side," according to The Manual.
"This option is perfect for gatherings because it comes in six-pound bags that are great for sharing. There are 140 meatballs inside! Which is great for when you have tons of people over. Since these come in resealable bags, you can put them back in the freezer and save some for later," says Recipe Marker.
Johnsonville is a respected brand for sausages, but they also produce highly-rated meatballs. "Johnsonville's Homestyle Meatballs are the perfect blend of traditional and modern. Made with a blend of beef and pork, these meatballs are juicy, flavorful and have a delicious, savory taste. The homestyle preparation, with breadcrumbs and seasonings, gives these meatballs a comforting and familiar taste that will remind you of home," as detailed by Family Pride.
"The Johnsonville Homestyle Meatballs are made completely of pork with no other meat additives or fillers. The pork is mixed with breadcrumbs, spices, and dehydrated peppers and onions to create a full flavor product. There are no artificial colors or flavors, no MSG, no nitrates, and no dairy in the ingredients of the meatballs," details Daring Kitchen.
"These frozen meatballs provided by Johnsonville are tasty, easy to prepare, and also a superb option if you're thinking about how to surprise the kids. Users love the feel, but a few do note they have a small rubber taste… One other fantastic thing about this item is that the producer utilizes premium cuts of beef and there's no MSG added," writes Far & Away.
"Made with a combination of beef, pork, and chicken, these are oven-baked and fully cooked to perfection. They give a healthier take on traditional meatballs cooked on the stovetop. Romano cheese is one of the standout ingredients that make Rosina Italian meatballs flavorful," claims Recipe Marker.
"Rosina's frozen meatballs are a lot tastier and more high-quality than I expected. Unlike many frozen Italian-style meatballs, these actually taste Italian. You can get basil and oregano, and the beef-chicken-pork blend brings a lot of different flavor and texture. They're tiny, too, so there's a ton of temptation to keep popping them in your mouth," raves Cheapism.
"Don't worry that these meatballs are hard and time-consuming to prepare! You can put them into a microwave for a few minutes if you want a quick meal. For something fancier, you can bake the meatballs in an oven for 25 minutes and add your favorite sauce to them," writes Lacademie.
You might also be interested in:
Sources
Note: This article was not paid for nor sponsored. StudyFinds is not connected to nor partnered with any of the brands mentioned and receives no compensation for its recommendations.