Every man needs a good shaving process to give himself a clean, smooth shave. While your razor is important, shaving cream determines how likely it is that you nick yourself, how smoothly your razor slides across your face, and how soothed and comfortable your skin feels afterward. Luckily, we've broken down five of the best men's shaving creams one by one.
Women claim to have a better understanding of how to care for their hygiene than men (57% vs. 42%). A survey of 1,000 men and 1,000 women looking at the differences in how the genders care for their hygiene reveals that on average, women also put one more hour a week into caring for their hygiene. In all, the average woman spends 10 hours showering, shaving, moisturizing, etc., while men spend nine hours doing the same. The survey also shows that while 73 percent of all respondents think hygiene care is easy, one in 10 women say the opposite.
Many believe confidence is the key to success, and according to a recent survey of 2,000 Americans, most men feel better about themselves with some stubble. Facial hair is so important to modern men that one in five say they would give up sex for a full year if it meant they could grow the "perfect beard." Moreover, 75 percent of male respondents say they feel more confident with facial hair.
No matter what your own unique grooming habits are, StudyFinds is here to help! We've put together a list of the best men's shaving cream made up of the top recommendations across 10 expert websites. Already have a favorite shaving cream of your own? Let us know which one in the comments below!
The List: Best Men's Shaving Cream, According to Experts
The Proraso Shaving Cream is a classic produced by a company that's been in business for over 70 years. "This shaving cream is on the thick side and is best paired with straight razors. We highly recommend you don't use a cheap disposable razor with this shaving cream. The razor will likely become clogged," offers Men's Journal.
If you love Proraso, it is available in three unique formulations to fit all skin types. "Proraso Shave Foam uses a blend of eucalyptus and menthol to brighten up the morning while nourishing with shea butter and santal oil. Proraso's oatmeal extract and green tea are covered for extra soothing power, giving you a smooth shave with no irritation. You better believe this stuff is free from parabens, silicon, mineral oils, and artificial colors," says Grooming Lounge.
Applying Proraso with a shave brush is suggested since it builds such a rich lather. "Proraso makes its shave cream by mimicking the old-school soap-making process and leaves its shave cream to mature for three days before pumping it into each tube. This makes it extremely smooth and rich, so it feels luxurious as it lathers," offers Byrdie.
The Art of Shaving is a functional product with an upscale fragrance as a bonus. "It's a core tenet of the range, with its abundant choice of essential oil-scented shave creams. Tracking down this rich oud version is worth the extra effort. Used with or without a brush, it creates a rich lather from a small amount and gives a skin-softening shave," explains Ape To Gentlemen.
The Art of Shaving's skin-softening shave cream whips gently into shape as you lather it around your cheeks and chin. "Its base is rich in fatty acids, thanks to myristic and palmitic acid, and our favorite blend from the brand carries a warming, soothing sandalwood scent," says Byrdie.
The Art of Shaving offers an exceptional sandalwood shaving cream that's said to be among the best shaving products for men overall. "It protects your skin against cuts while you shave. It also softens and lifts your whiskers while you work, ensuring that your razor gets an even closer shave than you anticipated. Plus, ingredients like glycerin, coconut oil, and sandalwood oil combine to create a pleasing fragrance and moisturize your skin over time," explains Sports Illustrated.
You can conveniently find Nivea Men's Shave Gel for men with sensitive skin at most drugstores is the Nivea. "This product may be cheaper, but you won't notice a lack of quality. This shave gel is designed to fight off shaving irritation, which is why it has become a top contender for men with skin sensitivity issues. If you find yourself prone to acne, ingrown hairs, or razor burn, it may be time to switch to another shaving cream (or gel). Nivea Men proves that you don't have to spend a fortune to afford a skincare product that actually works. This shave gel creates a thick enough lather to allow your razor to gently glide across your face without becoming clogged," states Men's Journal.
We can't forget about the men who like clean shaving on their heads, something Nivea Sensitive is great for! "Sure you could use your regular old shaving cream on your head, but this clear formula is specifically designed for scalp shaving. It allows you to see exactly where you're shaving and won't leave a greasy or heavy feeling on your dome," states Men's Health.
Men who struggle with a lot of razor bumps and irritation after shaving can use Nivea to leave their dry, sensitive skin feeling smooth, hydrated, and less irritated. "It creates a lightweight lather when you apply it on your skin, and it has soothing vitamin E and chamomile extract to prevent any irritation, dryness or burning, according to Nivea," says NBC News. 
Cremo is made with aloe, allantoin, and a skin-harmonizing blend of papaya fruit extract, macadamia seed oil, olive leaf extract, and xylitol. "Cremo's low-cost formula is a (gentle) workhorse on the skin. It's super slick and promises a smooth, nick-free, bump-free shave—and on top of all that, it's a bargain of a deal," explains Byrdie.
One of the most affordable options on our list, this barbershop-style shaving cream is packed with a refreshing blend of peppermint, menthol, and tea tree. "The formula is slick and slathers on effortlessly, making the shaving process frustration-free. One of the standout features of this cream is its ability to fight irritation and razor burn. This is thanks to a host of soothing ingredients such as macadamia seed oil, aloe, papaya, and olive leaf extract," boasts Us Magazine.
Cremo's Original Shave Cream is another good choice if you're looking for a new shaving product. "It's highly affordable, making it a great choice for guys who buy shaving cream often, and it's almost impossibly slick. As a result, it's a great choice if you want to avoid razor burn and shaving cuts at any cost. The close, comfortable shave you receive with this cream is complemented by a subtle citrus fragrance. This doesn't overwhelm any other fragrances you may choose to use, so don't worry about that. Plus, it's totally paraben-free. What's not to like?" boasts Sports Illustrated.
For maximum protection against irritation, redness, and razor burn, Blu Atlas is highly recommended. "Made using 99% naturally sourced ingredients, we love this shaving cream because it not only takes away the burn and difficulties of shaving, but it actually works to repair and hydrate your skin in the process. Shaving cream should be more than about a close shave; it should make your face feel great after, and Blu Atlas' shaving cream does just that," offers Men's Journal.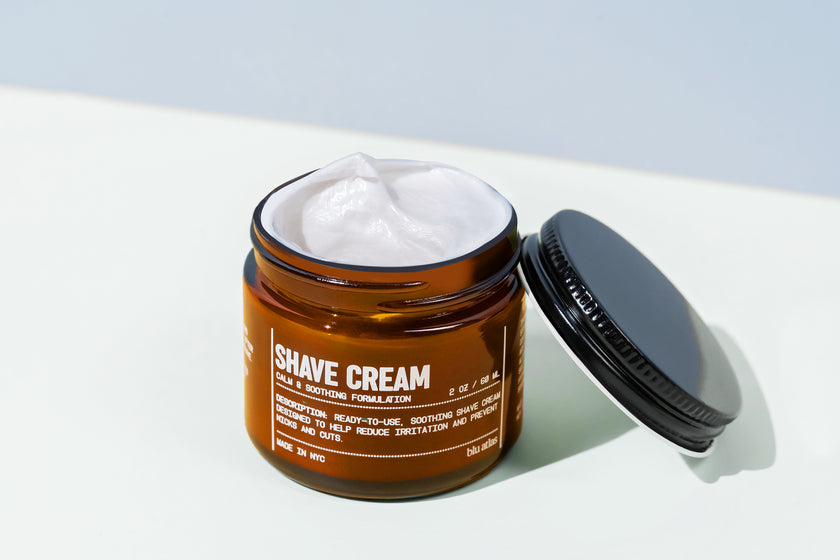 Blu Atlas contains vitamin E which fights damage caused by free radicals and promotes cell repair, leaving your face youthful and elastic. "One of the many things that sets Blu Atlas apart from other shaving creams is the absence of artificial fragrances. Instead, it relies on premium ingredients from the earth to provide a pleasant, subtle scent that won't overpower or irritate your senses. Free of preservatives, parabens, synthetic dyes and phthalates, the blend will ensure your skin stays fresh and healthy," explains Us Magazine.
Blu Atlas is easy to use immediately and is specifically formulated to reduce irritation on the face and neck. "This well-designed shaving cream is meant to prevent nicks and cuts thanks to its special formula, which includes oat bran extract, tocopheryl acetate (a form of vitamin E and a key antioxidant), and Aloe barbadensis leaf, a natural moisturizer. In fact, you can count on this shaving cream for men to be primarily made from naturally sourced ingredients, ensuring quality shaving results and good skincare in equal measure. Try this shaving cream today and you won't want to go back," explains Sports Illustrated. 
You might also be interested in:
Sources:
Note: This article was not paid for nor sponsored. StudyFinds is not connected to nor partnered with any of the brands mentioned and receives no compensation for its recommendations.