Stanley Cups, the brand of insulated drinking cups, have gained tremendous popularity due to their exceptional durability and performance. The brand has especially blown up on TikTok because of its ability to keep beverages hot or cold for extended periods while still being stylish. They also boast leak-proof lids, making them a favorite choice for outdoor enthusiasts, travelers, and everyday users. The one downside is the price tag. For more affordable options, StudyFinds has looked into the best Stanley Cup dupes that are near twins to the famous tumbler.
Enter the Stanley jumbo water tumbler, the "emotional support water bottle" of the decade, according to RollingStone. It's the brainchild of the 109-year-old Stanley company, which specializes in camping and outdoor gear. The original 40-ounce Quencher became a viral sensation overnight on TikTok and Instagram. Now, everyone wants one, and they sell out in minutes when they're restocked online.
If you can't get your hands on a coveted Stanley tumbler, or you don't want to pay the premium price for the "name" there are many excellent alternatives on the market, that work just as well or even better! Sure, they don't have the Stanley logo, but the quality is sre to be top-notch just the same.
There is an impressive array of Stanley knockoffs out on the market. Some are just cheap imitations, while others live up to the Stanley hype. StudyFinds scoured the internet for the top 5 best Stanley dupes you can buy that are in stock, work well, and are easier on your wallet. As always, if you are using find another lookalike tumbler you love, let us know in the comments below.
The List: Best Stanley Cup Dupes, Per Product Experts
The Simple Modern Stanley Cup is a "dead ringer" for the real thing according to Today's Parent. "Just like the OG Stanley, it keeps beverages hot or cold for long periods of time. It's cupholder-friendly, leak-resistant, stylish, and fun to carry.
"Similar to the Stanley tumbler, the base of this water bottle fits into a standard cup holder," according to Food Network. "It comes with double-walled insulation and is leak-resistant, meaning your hot beverage stays hot and your cold ones stay cold. Compared to the Stanley tumbler, reviewers love how well-insulated the straws are."
RollingStone thinks this dupe is better than the Stanley. "Simple Modern's tumbler is just as large and just as in charge. The tapered shape makes it car cupholder-friendly, it's got a carrying handle, and the double-wall insulation keeps drinks hot or cold for hours. We also like that the lid is not only leak-resistant but lets you place the reusable straw in four different positions."
The website What The Fab raves about this Stanley lookalike, calling it "one of the most practical and stylish Stanley dupes" on the market. "This Insulated Travel Tumbler is the perfect size to give you all-day hydration, and the two-in-one lid design lets you sip drinks from the cup or through a straw. Hydrapeak's Handle and Straw Lid Tumbler has excellent cold and heat retention—it keeps drinks cold for 34 hours or hot for 10 hours."
RollingStone loves the versatility of this Stanley knockoff. "With the flip-up 'Sip' lid, you can take a swig of your drink fast, like in the middle of a workout, or sip slowly with the integrated 'Straw' lid while answering emails." The magazine admits while "the open carrying handle is a little awkward, the 2-in-1 lid can't be beat."
The Passionate Penny Pincher is passionate about this one writing the cup is "a full 40 ounces of 5-star reviews – plus the added benefit of being LEAKPROOF!  Another win with a very build similar to the Stanley tumbler with handle – and lots of pretty colors to choose from."
"This Rambler Insulated Travel Mug with Lid is leak-resistant and spill-proof," according to What The Fab. "The 20-ounce size of this Stainless Steel Travel Mug is ideal when you want a compact but functional bottle to hold your morning coffee for the daily work commute, school, errands, and more."
Yeti Rambler drinkware is described by RollingStone as "tough as hell." "The most attractive part of the mug is Yeti's fan-favorite 'Straw Lid', which twists securely into place and uses magnets on the slider to resist any and all leaks. A molded-in stopper also makes sure your straw won't budge, no matter how many bumps in the road."
Deseret News says this tumbler is "built tough" and can come along on all your outdoor adventures. "Its base fits into a standard car cup holder or the center console of a boat. Customize it for a personalized gift and enjoy quick clean up since it's dishwasher safe."
Since Stanley became a viral hit on TikTok, it's only fitting that we have one TikTok-approved Stanley cup dupe on our list and it's Walmart's Ozark Trail 40oz. Tumbler. Billboard raves "The insulated cup has a dual stainless steel wall designed to keep drinks hot for up to six hours and cold for up to 25 hours. It's available in eight colors including purple, black, blue, mint green, white, hot pink, pink and white, and a gradient design."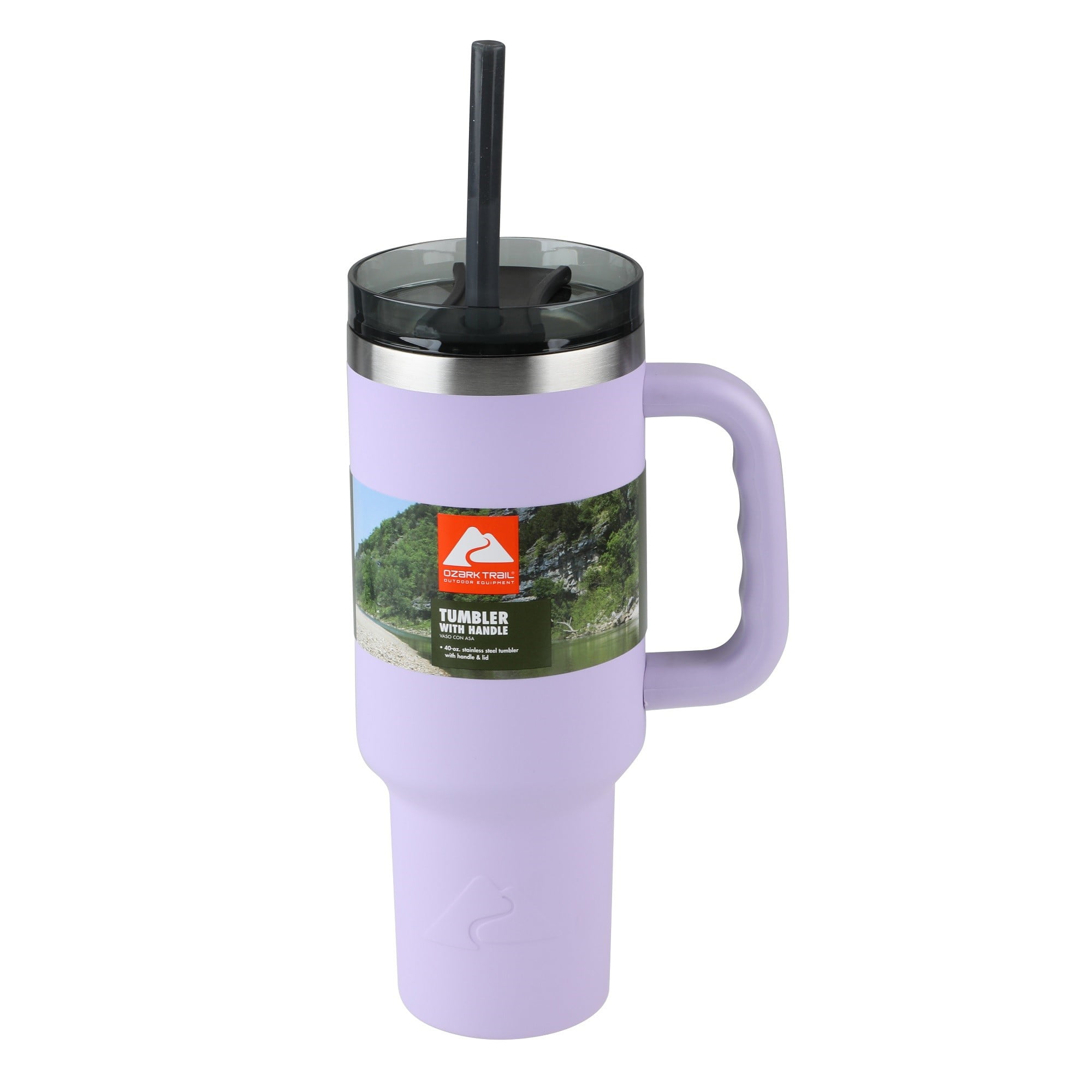 CBS News calls this tumbler "uber-affordable," and loves that the lid has two openings. "One for a straw and another wider opening to drink from. Its lid is spill-proof. This tumbler is backed by a lifetime warranty."
Like the Stanley Quencher, Hunting Water Falls says this knockoff is "vacuum-insulated stainless steel, cup holder-ready, leak-proof, and can keep drinks cold for over 24 hours."
You can't go wrong with this generic Stanley lookalike from Amazon according to The Best Dupes because it's "made from the same stainless steel as the original Stanley cup" and is the perfect dupe for "everyday life."
"No one will know the difference," claims Deseret News. "Minus the Stanley logo, this stainless steel tumbler is identical to the real thing — and you can get it right now at a fraction of the cost."
"Just as good as the name brand and love the color," says one Amazon reviewer.  "Keeps my ice cold overnight and through the next day!" Overall, the dupe gets 4.4 out of five stars on Amazon.
You might also be interested in:
Sources:
Note: This article was not paid for nor sponsored. StudyFinds is not connected to nor partnered with any of the brands mentioned and receives no compensation for its recommendations.