The best recreational vehicle (RV) is not merely a means of travel; it's a portal to a world of boundless adventure and freedom. With its sleek and modern design, luxurious amenities, and eco-friendly technology, it's the embodiment of both comfort and sustainability on the open road. It's your personal escape pod, allowing you to chase sunsets, explore hidden gems, and create lifelong memories with every mile.
Finding the best RV for your new journey in life is like discovering a hidden gem in the world of recreational vehicles! The feeling of excitement and anticipation as you step inside and envision all the incredible destinations you'll visit is simply unparalleled. Finding that ideal RV is like striking gold, and it's a moment every travel enthusiast dreams of.
Whether you're planning a cross-country road trip or a weekend getaway, having the right RV means you can travel on your terms. You're no longer bound by the constraints of hotels or flight schedules; you're in control of your own adventure. The spacious living areas, well-equipped kitchens, and comfortable sleeping quarters offer a home away from home, ensuring you can savor the journey as much as the destination.
With that being said, road trip travelers are in luck. You don't have to undertake this task alone. StudyFinds has combed the web to compile the best RVs on the market most recommended by experts. When you find your ideal RV, where is the first place you plan to travel? Leave a comment to let us know!
The List: Best RVs, According to Travel Pros
It doesn't matter which model you choose, when it comes to RVs, the Tiffin seems to be the favorite recommendation of experts. "Tiffin models come with the kind of luxury accouterments you'd expect from an RV at this price point," says Jalopnik. "The Phaeton is one of the most popular Class A RVs in the country and offers touches like a central vacuum and hand-built cabinets."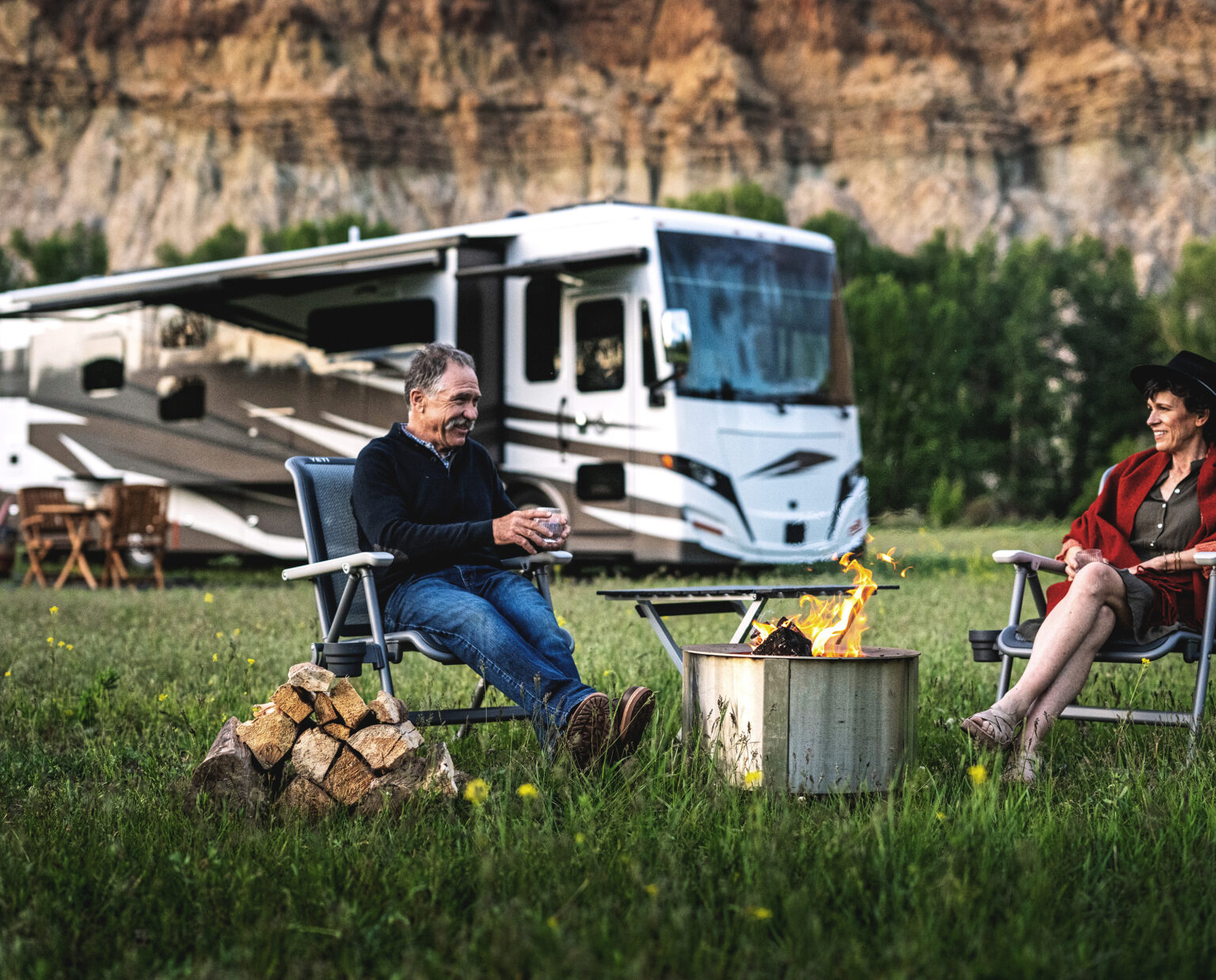 When you are classy, you don't have to skimp on the luxury when you are living the mobile life. "It's packed with plenty of great features, including a full-wall slide-out that comes standard with a dinette and sofa bed, which can be swapped out for a massive U-shaped seating area," shares a reviewer from RV Life Mag about the Allegro 36UA. "Tiffin refers to this area as a 'Luxury Lounge'. It's one of the most spacious dining arrangements you'll find in this class of motorhome. If family dinner is your thing, this is your coach. Opposite the lounge is the fully-equipped galley with a fridge, double-sink, microwave and three-burner stove. The rear of the coach features a king-sized bed and three-piece main bathroom. A second half-bath is further forward, adjacent to the bunk beds."
With the Tiffin brand, you are not getting an RV, you're getting a sophisticated motor home on wheels whose value is proven. "Only the highest quality engines, materials, craftsmanship, appliances, and amenities go into Tiffin RVs, with customer satisfaction ratings proving the motorhomes stand the test of time and retain their value," shares RV Troop. "A Tiffin Motorhome is a significant investment, but if you have the budget and desire the most comfortable and reliable RV experience for both road travel and camping, you can't go wrong with this brand. The Tiffin Cahaba Class B motorhome starts with a Mercedes-Benz 2500 Sprinter base and includes a wet bath, compact kitchen, and sleeping quarters."
When you think of Winnebago, you naturally picture an RV. "Winnebago is such a household name in RVs that it has become something of a generic trademark–a brand so popular that people sometimes use it interchangeably with the name of the actual product," explains a reviewer from Jalopnik. "That's partly because the company has been manufacturing trailers and campervans since 1958. Winnebago remains one of the most recognizable brands in the industry. Models such as the View, Minnie, Micro Minnie, and Hike are all staples of the open road and RV campgrounds around the country."
Each type of RV is categorized by class and Winnebago is well known for being a leader in the RV Class C range. According to RVezy, "Winnebago's Class C RVs, more innovative models, come with pass-through storage space, heated gear garages, unique dry baths, and room to store large and small items throughout the rig. Need to sleep up to 8 people in your Class C? Check out the models that feature rooms on slide outs, pop-top beds, and spaces with convertible sleeping arrangements. There is a place for everyone to sleep comfortably!"
Among the best Class C Winnebago models is the Minnie Winnie 31G, according to RV Life Mag. Why? "The Minnie Winnie 31G is loaded with features. Starting at the front, the cab-over bed is a room 57 by 95 inches and comfortably sleeps two. The sofa bed sits opposite the large convertible dinette. With the drivers-side full-wall slide extended, the interior of the 31G has plenty of space to move around. The split kitchen design is functional. The bunk beds are 28-inches wide and an optional TV can be installed on the adjacent wall. The rear bedroom features a 60 by 75-inch queen-sized bed, hanging wardrobe and dresser."
The Thor RV brand is just as strong as the name implies. "Getting to the top of the bunch in Class A RVs isn't easy. But this amazing luxury home on wheels is one of the best RVs to live in with a family, featuring an inclining queen bed, bunk beds, and sleeping for 7 people," shares a reviewer from Luxe Digital. "The Thor Palazzo 33.5 is built on a Freightliner Chassis, comes with a 6.7L Cummins engine, and achieves perfect leveling from automatic jacks with touchpad controls. A full-size fridge and a multitude of kitchen and living room features make life on the road comfortable."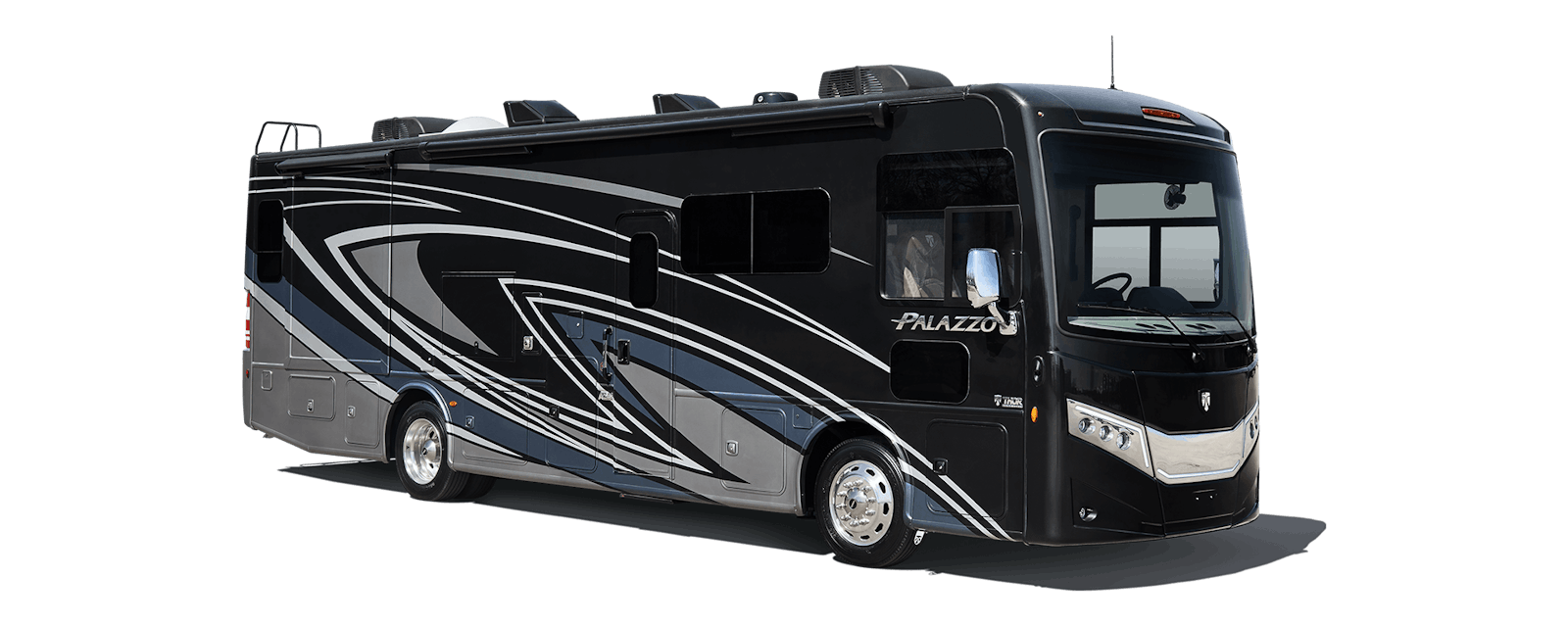 Much like new construction home models, The Thor RV brand comes with options to create the ideal lifestyle for your family. "The Thor Four Winds comes in over a dozen different floor plans so there's sure to be one that suits your needs," shares Beyond The Tent. "The 27R is great for families for several reasons. Sleeping space is provided for up to seven people. A separate bedroom allows for some privacy while multiple closets give you places to store everyone's stuff. The dinette has plenty of seating for meals and seatbelts are included on both the sofa and the dinette to keep everyone safely buckled in while on the road."
The Thor Four Winds isn't the only Thor RV model to take the limelight. According to General RV, "There are plenty of reasons that make the A.C.E. 29G one of Thor Motor Coach's best-selling RVs and value may be the biggest. This spacious RV is designed to sleep up to six with a drop-down overhead bunk and king bedroom with slide out. The kitchen provides plenty of counter space around a large double bowl sink, three-burner gas cooktop and oven, double-door refrigerator and pantry. Relax in comfort on the Dream Dinette or jack-knife sofa, and take in a movie on the 39-inch TV or catch the big game outside with the exterior 32-inch TV. The 84-inch interior ceiling height offers an abundance of space to get around. The A.C.E. also features convenient amenities like frameless windows, basement pass-through storage and an exterior LP connection."
Some RVs are known for function and some, like the Airstream, are a breath of fresh air when it comes to design. "The curved build of an Airstream travel trailer does sacrifice headroom along the walls, but the aerodynamic shape reduces towing drag and is always an eye-catching work of RV art wherever you roam," writes a reviewer from RV Troop. "The classic aluminum siding and retro design on the exterior hold the modern upgrades and high-end finishes and craftsmanship on the interior for endless seasons of camping fun. The pricing for Airstream trailers is also surprisingly competitive with other RV brands. The Airstream Bambi 20FB travel trailer is the perfect size for comfy camping excursions that includes a bathroom. However, you also can't go wrong with the Atlas Murphy Suite touring coach that has everything you need in a small motorhome."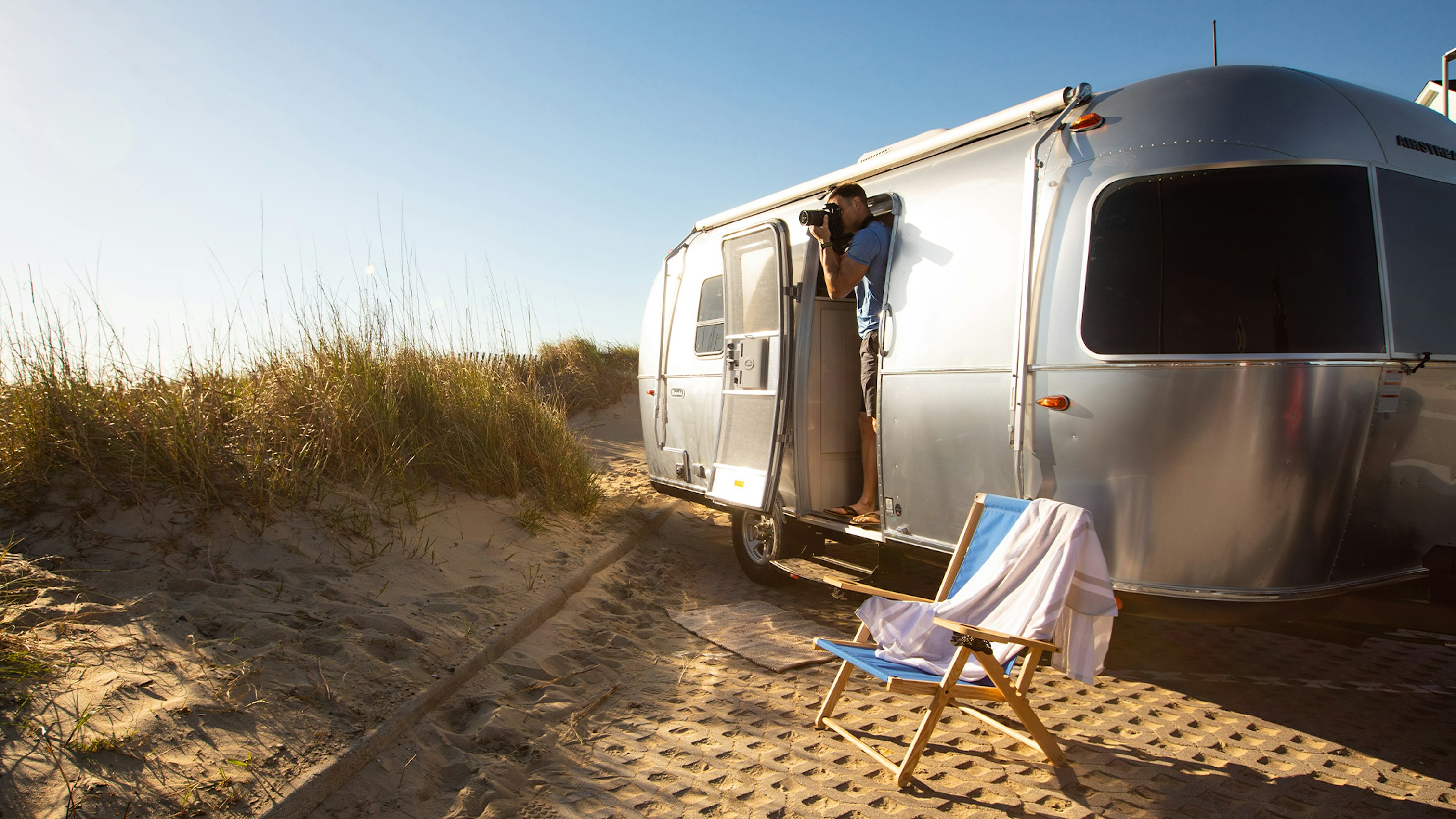 Being a work of art in the RV world does not mean that Airstream is without practical functions and charm. "Airstream has a travel trailer for almost every type of tow vehicle, from the 16-foot Bambi and Basecamp to the 27-foot International and the 33-foot Classic," shares RVezy. "Airstream partners with brands like Pottery Barn, Tommy Bahama, and REI, creating unique trailer designs with branded upgrades and features. Some larger travel trailer models come with full-size residential-style bathrooms and luxury finishes."
Let's not forget that investing in an Airstream may be your smartest decision yet. "Airstream RVs are also well-known for holding resale value, but they come with a premium price tag to start with," adds Luxe Digital.
Although the Entegra is fifth on our list, it simply indicates that it is in a class of its own. Of all of the RV brands recommended by experts, Entegra Coach RV models are mentioned on every single luxury RV brand list. A reviewer from RV.Com recommends the Entegra Cornerstone, "From the driver's seat to the living room and bedroom, the Cornerstone is singularly focused on keeping RVers comfortable and happy. That starts with leather massage chairs for the driver and co-pilot and extends to the plush leather furniture found throughout the rest of the vehicle. Hand-laid porcelain tile floors, ceiling fans, and LED lighting provide a sense of elegance, while a Bose sound system and bar area—complete with beverage chiller—make this RV the perfect place to host a party."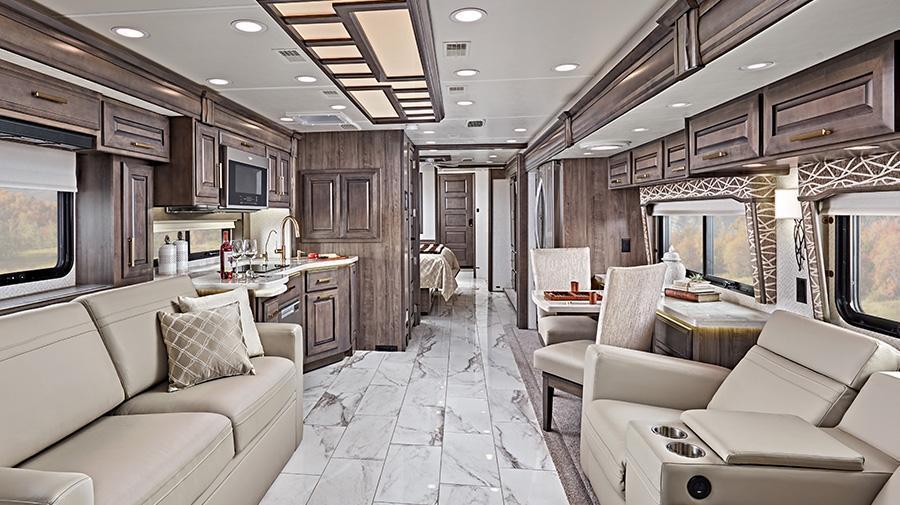 How are Entegra Coach RV models similar to luxury homes? A reviewer from Luxe Digital has the answer. "The interior of the Entegra Coach Cornerstone 45 DLQ is where the palatial features shine—just like in the most expensive homes. Heated and ventilated massaging front seats are the tip of the iceberg, while a Bose stereo system, Samsung televisions, and hand-laid porcelain tiles are just a small taste of the hidden treasures. Best for: When nothing but the best will do."
The Cornerstone isn't the only Entegra Coach model making headlines. "When it comes to luxury, one of the best RVs for full-time living is the Entegra Coach Anthem luxury diesel RV," shares Beyond The Tent. "This model features premium leather furniture, heated front seats, solid wood cabinets, and porcelain tile floors. The luxurious features aren't only for the interior, the Anthem also has a quiet engine and EZ steer adjustable power steering for smooth handling and a comfortable ride on the road. Ultra power window awnings and two-stage patio awnings give you shade and keep you comfortable while resting at the campsite. The Anthem comes in six customizable floor plans to help you get the best fit for your needs. Every floorplan includes a large shower, king sized bed, and a washer and dryer."
Which of these RV amenities is your favorite? Leave a comment to let us know!
You might also be interested in:
Sources:
Note: This article was not paid for nor sponsored. StudyFinds is not connected to nor partnered with any of the brands mentioned and receives no compensation for its recommendations.