It's been called the "comfiest couch" in the world, and rightly so. The Restoration Hardware Cloud Couch comes at a premium price and is a popular choice with the Hollywood elite. Just one piece of this sectional is the same cost as many sofas! What if you could achieve the same level of style and comfort without the hefty price tag? Today, StudyFinds dives into the best Cloud Couch Dupes, perfect for those with upscale taste on a modest budget.
The Restoration Hardware Cloud Couch took the world of luxury furniture and interior design by storm in recent years. Its oversized, cloud-like appearance and unparalleled comfort have redefined the concept of modern relaxation and opulence. This iconic piece's legacy lies in its ability to transform living spaces into cozy, inviting sanctuaries and is a favorite of many. Luckily, you don't have to break the bank to get something comparable to this home statement piece.
Speaking of couch comfort, if you have "unofficial" assigned seating on your couch at home, you're not alone. A study found that 66 percent of Americans are obsessive about their spot on the sofa. Some are so loyal to their favorite spots that they argue with a family member at least twice a month over their cherished lounging positions.
Whether you mark your couch territory or plop down in an open spot, you don't have to spend big bucks to get the sofa of your dreams. We've put together a list of the top five best Cloud Couch dupes that style experts say are so good you may think you have the real thing. Have a lookalike you love but don't see on our list?  Let us know about it in the comments below.

The List: Best Cloud Couch Dupes, According to Style Experts
Many interior designers love the Harmony by West Elm, which is why it tops our list. HGTV calls it a "pretty close alternative" to the RH Cloud, with a much lower price. "With high-gauge sinuous springs for cushion support, this sofa is on the extra soft side — on a scale from one to five (five being firmest), it's a one."
Good Housekeeping rates this West Elm pick "the most comfortable couch of 2023. Its plush cushions are made with a combination of "polyester fiber, duck feathers and a bit of duck down." The sectional comes in "many different fabrics and colors."
"Everything is handcrafted and made from high-quality materials," says What the Fab. "The seat cushions are deep and plushy to keep you feeling cozy. It also comes with lumbar and throw pillows to make snuggling even better."
"With over 180 choices of fabric and several width and depth options, this Crate & Barrel couch is the most customizable out of this entire list of dupes," according to Woman's Day. It's also earned high praise from reviewers who were impressed with the quality.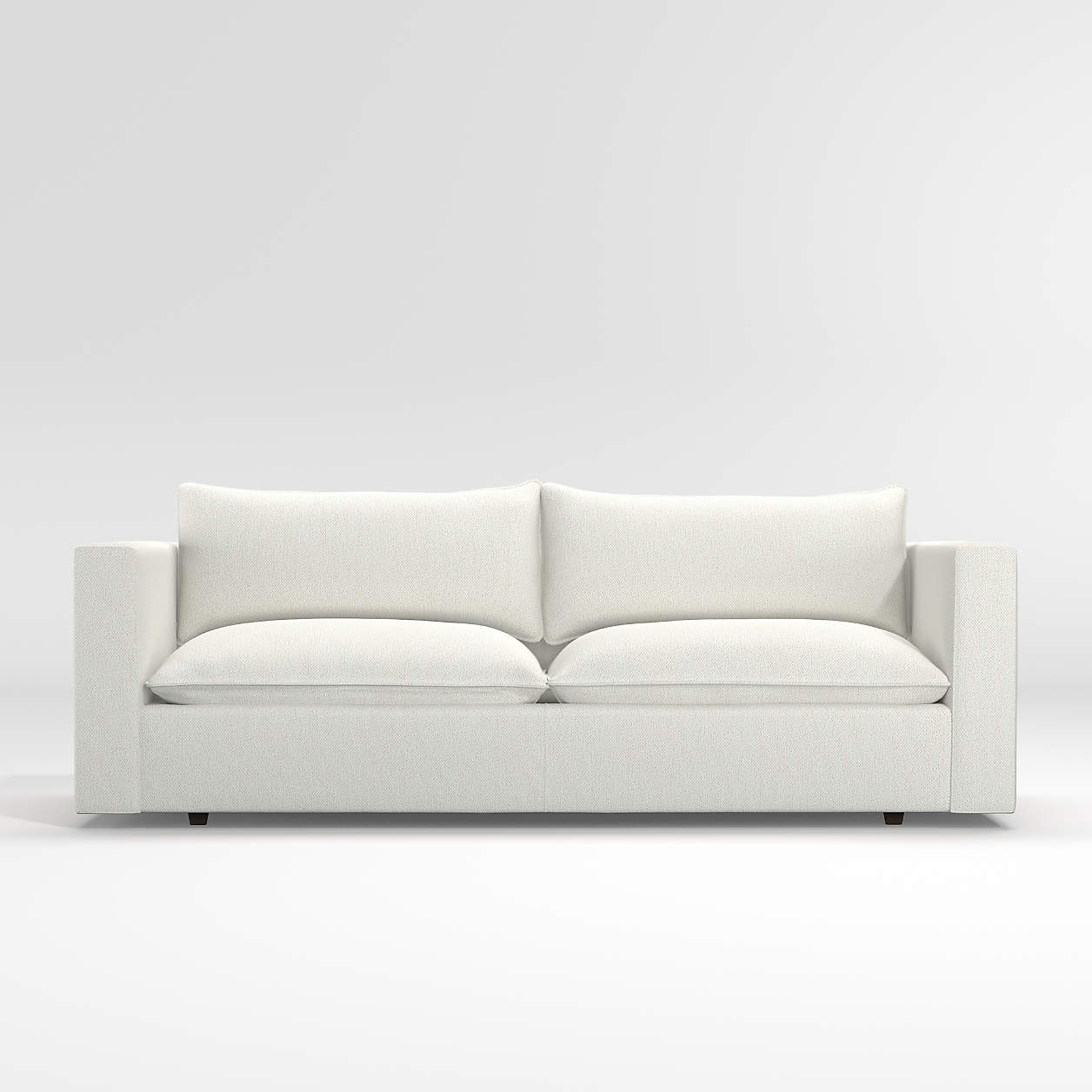 One happy customer adds, "I've had my lotus sofa for about 5 months now and still looks like I got it yesterday! We just bought a new home and have had many compliments on how nice it looks and how comfy it is. Best purchase ever!"
HGTV raves this sofa has "the same overstuffed, pillow-style cushions that you just want to burrow in. The fabric is more textured, but I'd argue that makes this cloud dupe even comfier."
With this couch, House Digest says, "You can sit back and sink into the cushions."  The website says the pillows "also contain the same downmix as the Cloud for a soft and luxurious feel."
"Designed by HGTV star Leanne Ford, this super-soft sofa was designed for sitting back, relaxing and sinking into," states Good Housekeeping. "There's a pillow-like seat on a broad bench, plus what Crate & Barrel calls 'settle-in cushions' along the back of the couch. Choose from a number of fabric options, but no stress if the white is your favorite: the casual slipcover is made from stain-repellent fabric and it's machine washable."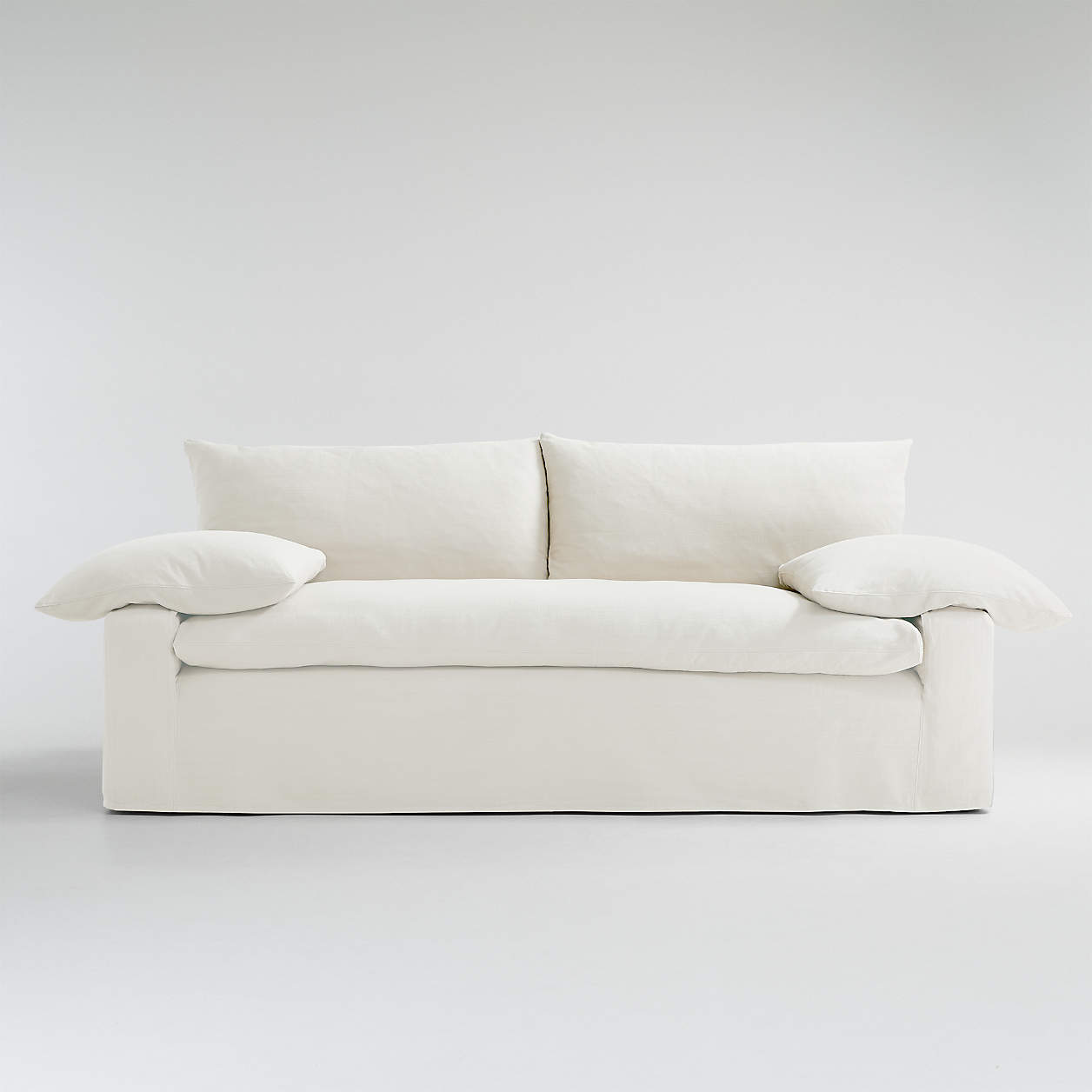 USA today writes, "The Ever Sofa is by no means the deal of the century, but it's still half the price of the Cloud Sofa and looks remarkably similar and both its seat and back cushions are filled with a feather-down blend for the plush, sink-into-it feel you're looking for."
"If you're looking for a similar style to the Cloud but working with a smaller space that doesn't need a full sectional, something like the Ever Slipcovered Sofa by Leanne Ford might be up your alley," writes House Digest. "It's about 7½ feet wide, so it's long enough to sit multiple people or lay across, but it's a more compact option than a multi-piece sectional and chaise."
"This couch is like the Cloud Sofa in everything, including its name," says House Digest. "Instead of the cotton or linen options that the Restoration Hardware couch comes in, Meridian has opted for a soft velvet cover, creating a feel that's more plush than structured. The whole family can comfortably lounge in their area with two chaise sections and oversized seats."
Woman's Day loved this sofa "soft velvet material with overstuffed down and feather-blend cushions." The magazine says this one is "aesthetically very similar to RH's Cloud couch," making it the perfect lookalike.
If you're looking for a U-shaped sectional, HGTV believes you should consider this "plush cream velvet modular sofa." The design channel says it's "constructed of down-filled cushions, the sofa measures 158″ wide x 80″ deep x 32″ high and has ample space for fitting your whole crew."
"If comfort and sustainability are on your short list of couch must-haves, take a closer look at the Wells sofa from Anthropologie," according to Hunker. "This plush and cozy cloud sofa dupe is made with upcycled cotton upholstery, topped with plush cushions, and finished with feather throw pillows."
What the Fab believes this is another "really close dupe." They say "the only difference between this Anthro couch and the Restoration Hardware one is that this one has a single removable seat instead of two separate cushions (which I actually think looks cleaner). It also comes with 4 throw pillows."
Anthropologie furniture is still expensive, but cheaper than RH. HGTV writes, "This Upcycled Wells Sofa is actually more affordable than the RH sofa in the same size and is a total gem. Available in 75″ or 90" wide, this Anthro fabric is a soft grey, however, so it's more of a storm cloud sofa."
You might also be interested in:
Sources:
Note: This article was not paid for nor sponsored. StudyFinds is not connected to nor partnered with any of the brands mentioned and receives no compensation for its recommendations. This post may contain affiliate links.