Work. It's a common thread for many Americans, and when it's time to clock in, a comfy seat can make all the difference. With so many chair brands to choose from, we decided to turn to our sources to discover the top five best home office chairs. Our sources rated chairs on comfort, adjustability, and price. As many home office workers will attest, it is easy to spend 40+ hours each week "at work", and so a supportive chair that is also comfortable can really improve quality of life.
Home workers now represent nearly 6 out of 10 Americans. As people adjust to this new normal, many have discovered a need to upgrade their home office chair. According to a recent survey, many participants have chairs that are the wrong height, some are not making good use of armrests, and others have their monitors set too low or too high. Study authors say 41 percent are sitting in chairs that are too low. Over half of the chairs studied do have armrests, but only a third of respondents actually use them. Nearly three-quarters, 73 percent, of the chairs don't have lumbar support. Researchers say this issue in particular affects the curvature of the lower back.
Other stressed out body parts include the head (15%), shoulders (14%), and legs (13%). For 68 percent of remote workers, stress and their at-home environment are making their primary senses more sensitive than before COVID. In response to these new aches and pains another study reveals that, since working from home, 75 percent have started to look at new ways to take care of their bodies, with nearly as many (72%) looking for new ways to de-stress at home. To deal with stress, respondents add they've started drinking more water (56%) and taking more naps (47%).
The right chair could help to reduce bodily aches and pains for some home workers. Ensuring proper posture and bodily support can reduce physical stress and fatigue from long hours in front of a screen. Whether you're considering comfort or cost, our list of the top five best home office chairs might make your decision easier. Let us know your favorites the sit beneath your desk in the comments below!
The List: Best Home Office Chairs, According
to

Experts

It's always a good sign when a source deals out a perfect score to an item, it bodes even better when several sources agree. "A good office chair should facilitate productivity and comfort whether you're working from home or in the office—and that's exactly why the Duramont Ergonomic Adjustable Office Chair is our best overall choice. Designed with a shapely back, headrest, and a metal base with four wheels, this sleek black chair is perfect for a work-from-home setup or adding to your office space. – earning it a perfect score from our testers," raves The Spruce.
Other sources also doled out high praise: "After two days of testing, the Duramont Ergonomic Adjustable Office Chair received a near-perfect score—and for good reason. It offers comfort, support, and adjustability and is the best office chair for offices and at-home workspaces alike," exclaims Better Homes & Gardens.
For maximum comfort, adjustability is considered an important factor. "Proper lumbar support is key to keeping your neck and spine properly aligned throughout the day, and the Duramont Ergonomic Office Chair offers an adjustable design that lets you move its lumbar support in two different ways. Using dials on the back of the chair, you can move the piece up and down, as well as in and out, to find the most comfortable position for your body," according to Forbes.
This model is particularly praised for an attractive look. "Take everything about the Branch Ergonomic Chair and upgrade it a notch—that's the Branch Verve. It looks more elegant (especially in the lovely Coral color), it keeps my back straighter, it's quite comfy, and it can make nearly the same adjustments with a higher level of polish," says Wired.
Praised for its innovative design, "As the follow-up to the Branch Ergonomic Chair, the Branch Verve Chair immediately sets itself apart from the competition due to its unique design which won the chair an iF Design Award in 2022. Instead of a mesh back, it has a 3D-knit backrest that's extremely comfortable while also being breathable," explains Tom's Guide.
Branch Verve also gains additional praise: "Stylish yet functional and practical, the Branch Verve has made a name for itself for ticking all the right stuff. It's not just gorgeous and made of high quality materials. The thoughtful attention to detail here is unlike anything we've seen outside of Herman Miller's much pricier products," gushes Tech Radar.
The X2 chair has the look and feel of a high-end office chair that wouldn't be out of place in a meeting room or computer lab. One source states, "the X2 Chair is a very slick and very comfortable office chair. Both the seat back and bottom are mesh, which provides plenty of breathability, and the chair has a ton of adjustment points, so you can get it to fit you just right," attests Tom's Guide.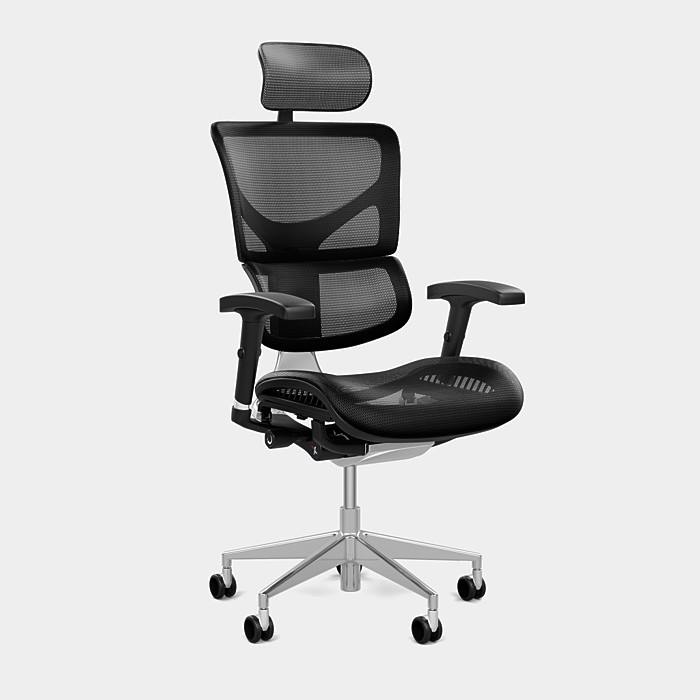 Although a pricey option the X2 is considered to have value and quality that consumers would demand from a luxury item, "But it's one of those premium chairs we would be happy to splurge on, especially if those of us in the office that need a lot more back support than others… [it] lets you rock in a recline angle at any point in its range instead of limiting you to three or four set positions. This is also a nice feature to take advantage of, especially if you have back issues. It also allows us to our back a gentle stretch in a way that's most comfortable to us anytime we need it," writes Tech Radar.
With a tongue-in-cheek review one source states, "No one wants a swampy butt. There, I said it. Thick foam seats often trap your body heat, especially during the hotter months of the year. That's why I like the X-Chair. It not only has a mesh backrest, but the seat is mesh, too, allowing for excellent airflow. Sitting in it feels like lounging in a hammock," according to Wired.
Herman Miller is another brand that has many different models of highly rated chairs. However, the Aeron is one model that was lauded by several of our sources. "The Herman Miller Aeron chair may be the symbol of dot-com excess, but there's a good reason for that: It is damn comfortable. I could adjust everything on this top-tier chair, including more esoteric things, like the tension of eight zones of the fabric (including the important lumbar support) and the tilt and angle of the armrests," tells Tom's Guide.
The Aeron chair is also called out as being especially well-suited for some workers: "For those who spend eight hours (or more) per day sitting in an office chair, the Aeron from Herman Miller is a worthwhile splurge. Made from top-quality materials, it's super sturdy and features a supportive mesh seat. When ordering, you can customize nearly every aspect of the chair, from its frame and base finishes to its back support style to the armrest adjustability," posits Forbes.
Office chairs for home workers do have the advantage in that consumers can select a model that is a personalized best fit. As this relates to the Herman Miller Aeron chair, "it comes in three sizes to suit different body types. Rather than a one-size-fits-all approach, the Aeron comes in different sizes labeled A, B, and C. The sizes roughly correlate to ascending height and weight ranges," as explained by the NY Times.
For some people, a simple and reliable chair is best. Of the Ikea Markus, one source states: "The mesh design keeps you cool, and the tall back lets you fully lean into it. It's rather thin and isn't obtrusive in a small home office or bedroom. It was annoying to put together (lol, Ikea), and you might need someone to hold up the back of the chair while you properly attach the seat," claims Wired.
This chair has also garnered some specific feedback, "I am 6 feet, 1 inch tall and this is the most durable, and most comfortable, office chair I've ever had. My previous one lasted eight years! … I recently bought a replacement that I expect to last me almost another decade. Forget those gamer chairs that break in six months, the Markus is the real deal for those of us who can't afford a Herman Miller or a Steelcase," details CNET contributor James Bricknell.
One source explains, "Ikea is always a go-to option when you're shopping for furniture on a budget. The Markus is a tall but otherwise minimalist office chair; it has a simple, slim mesh back that breathes and built-in lumbar support," as stated by PC.
 You might also be interested in:
Sources
Note: This article was not paid for nor sponsored. StudyFinds is not connected to nor partnered with any of the brands mentioned and receives no compensation for its recommendations.