We've come a long way since the first successful DNA test. Now, getting a glimpse at your genes is as simple as spitting into a tube. One tiny sample of saliva can tell you your health risks, family origin, and possibly even help you connect with long lost relatives you never knew you had! Some DNA test kits even offer information on traits, such as eye color or hair texture, helping you discover more about yourself than you ever thought possible. So, if you're curious about your genetic makeup, you need to know which is the best DNA test kit for you!
If you're considering purchasing a DNA test kit, you may be wondering what it can actually tell you. Well, the answer is quite a lot! DNA testing can reveal your ancestry, including your ethnic makeup and the regions your ancestors come from. A recent study found that more than 80 percent of people who use genetic testing to locate long lost family members actually locate them! The study from Baylor University researchers concludes that most people who sign up for direct-to-consumer (DTC) genetic or relative-finding services wind up learning the identity of at least one genetic relative. Researchers say around 10 percent of those who discovered an unknown family member identified a biological grandparent. Likewise, 10 percent identified a full or half sibling, while seven per cent stumbled upon a biological father.
What's more? DNA test kits can also provide information on potential health risks and genetic predispositions, such as a higher risk for certain diseases or conditions. One study conducted by researchers at Concord Hospital in Sydney, Australia shows how examining DNA from a single blood test can reveal upwards of 50 genetic disorders. "This new test will completely revolutionize how we diagnose these diseases. We can now test for all the disorders at once with a single DNA test and give a clear genetic diagnosis," explains Kishore Kumar, researcher and coauthor of the study, in a statement. "It will help patients avoid years of unnecessary muscle or nerve biopsies for diseases they don't have, or risky treatments that suppress their immune system." Some conditions found with the blood test include Huntington's disease, fragile X syndrome, and motor neuron disease, among others.
These innovative kits combine accurate results with a user-friendly experience. They offer different types of tests and provide detailed analysis to help you make informed decisions about your health and heritage. Whether you're looking to connect with long-lost relatives or learn more about your genetic makeup, the best DNA test kits offer a convenient and reliable way to do so. And StudyFinds put in the work to find which kits to invest in today to learn about you and yours! We searched 10 expert sources and compiled a list of the top 5 genetic test kits out there. Have you found a long lost relative or discovered your heritage with one of these? Tell us your story in the comments below!
The List: Best DNA Test Kits, According to Experts
If you're looking for the most comprehensive DNA test kit available, AncestryDNA is the way to go. Not only does it provide you with detailed information about your ancestry, but it also connects you with potential relatives and helps you build a family tree. With over 18 million people in their database, you're sure to find some interesting connections. 
"The aptly named AncestryDNA test stood out as the best DNA testing kit because it presents test results in a clearer manner than other services and places the ancestry information it provides in a useful historical context. Since all the DNA services we tested provided broadly similar results for the ethnic origins of our panel of testers, AncestryDNA's thorough reports and interface gave it a clear advantage. Plus, for people seeking distant cousins or even biological parents, the company's claimed DNA database of more than 22 million customers increases the odds of successful matches," says Wirecutter.
Plus, AncestryDNA constantly updates their results as they receive new data, so you can continue to learn more about your heritage over time. The test itself is easy to use and only requires a simple saliva sample. And with their user-friendly interface, you'll have no trouble navigating your results and exploring your family history. 
Forbes lists AncestryDNA as the best test kit for clear results. "A DNA breakdown with Ancestry DNA encompasses 'over 1,500 regions,' meaning you can take a deep dive into where your ancestors may have actually lived. With its sample community feature, AncestryDNA also provides users with potential reasons on how, and why, their ancestors moved from area to area, based on data. Another feature of AncestryDNA is its ethnicity inheritance feature, which aims to show users their ethnicity results by parental side, without their parents having to take a DNA test," adds Forbes.
"While the company does offer health testing, it is not as robust as competitors but will do the basic job," notes ZDNet. "But, Suppose you're looking into your family's history and hit a roadblock. In that case, your DNA results may give you a clue where else you can look further to find more information, making AncestryDNA an excellent option for those digging deep into their family's history and origin."
AncestryDNA may be slightly more expensive than other DNA test kits on the market, but the wealth of information and resources it provides make it well worth the investment. If you're serious about learning more about your ancestry and connecting with your family history, AncestryDNA is the way to go.
When it comes to DNA test kits, 23andMe is undoubtedly one of the best options out there. This company offers a range of testing options, from ancestry testing to health screening, all of which are incredibly accurate and informative. 
"Genetic testing service 23andMe analyzes your DNA and provides an array of information about your ancestry and less ancient relations," says PC Mag. "The Health + Ancestry plan includes testing for five genetic health risks, including Parkinson's disease. In addition, the plan details your carrier status for cystic fibrosis and more than 39 other diseases. The service also has a Wellness report that gauges, among other things, your genetic predisposition for being above or below average weight. The company's Traits report measures your likelihood of hair loss and whether you are likely to prefer sweet or salty foods."
One of the things that sets 23andMe apart from other DNA test kits is its extensive database of genetic information. With over 10 million customers, this company has a wealth of data that it can use to provide even more detailed and accurate results. Additionally, 23andMe offers a number of features that make it easy to understand and interpret your results. For example, their online platform includes interactive tools that allow you to explore your genetic data and learn more about what it means. 
"The Health and Ancestry kit looks at how your DNA might affect your chances of certain health conditions, including diabetes, atrial fibrillation, high blood pressure, migraine, Alzheimer's disease, and more," adds ZDNet. "The kit can also look at your lifestyle factors to determine the future of your health with things like lactose intolerance, muscle composition, caffeine consumption, and alcohol flush reaction."
Though 23andMe is considered one of the best kits for finding ancestors, it is not a full DNA sequencing test. Very Well Health mentions, "Some reviewers question the accuracy of their 23andMe results, and over the years there have been many concerns about privacy and data protection. Regardless, it can be helpful for finding ancestors thanks to the numerous ancestry-related reports and search features it offers."
For a more budget-friendly option with many of the same benefits, MyHeritage is a great choice! Though not as comprehensive, it offers a built-in platform for connecting with new DNA family matches and a detailed ethnicity estimate breakdown.
Insider adds, "MyHeritage has been used as a genealogy tool long before it started offering its DNA test. Because of that, the site also has an incredible database of genealogical documents like birth, death, and marriage certificates. Access requires a subscription, but you can also integrate your DNA results with its historical database and family tree-building tool."
"MyHeritage is a DNA testing company that often has the lowest price on autosomal testing kits," states Genealogy Explained. "MyHeritage is also an online genealogy platform with an extensive collection of historical records for genealogy research." They go on to say this test kit has the "largest international customer database which means more global matches – especially in Europe, a chromosome browser for advanced analysis, and test via a cheek swab instead of saliva collection," making it more convenient for some people.
Forbes listed this kit as the best for widest possible relative matches. "MyHeritage's DNA kit aims to get quite detailed when it comes to your ethnic background. Its Ethnicity Estimate provides a percentage breakdown of a user's ancestral background among 42 ethnicities, and lists the regions ancestors are most likely from on both sides of your family. MyHeritage also provides Genetic Groups, which 'indicate the specific groups you descend from and their geographic regions,' according to the company. And with 2,114 regions available, users can expect a very detailed ethnicity report. Additionally, users receive DNA matches, which are possible relatives analyzed via DNA percentage from both MyHeritage users and users of other DNA companies. The website also provides a robust historical records section that allows users to search through family trees, old photos and military records for free during a 14-day trial," writes Forbes. 
"The company offers the best discounts on DNA services during the holiday seasons when you can get an ancestry DNA test for as little as $49! They offer DNA matches of living relatives, ethnicity estimates, and use a simple cheek swab for sample collection – much easier than the spit tubes some companies provide. Plus, if you are just curious about finding any living relatives in the MyHeritage database, you can simply upload your raw data from 23andMe or Ancestry for free," says Genome Link.
Living DNA is a DNA test kit that offers a unique approach to exploring your ancestry. Unlike other DNA test kits that focus solely on your genetic makeup, Living DNA goes beyond that by providing a detailed analysis of your family history and migration patterns. With its advanced technology, Living DNA can trace your ancestry back to the earliest human migrations, giving you a comprehensive understanding of your family's origins. What sets Living DNA apart from other DNA test kits is its ability to provide a regional breakdown of your ancestry, allowing you to explore the specific regions and cultures that make up your heritage.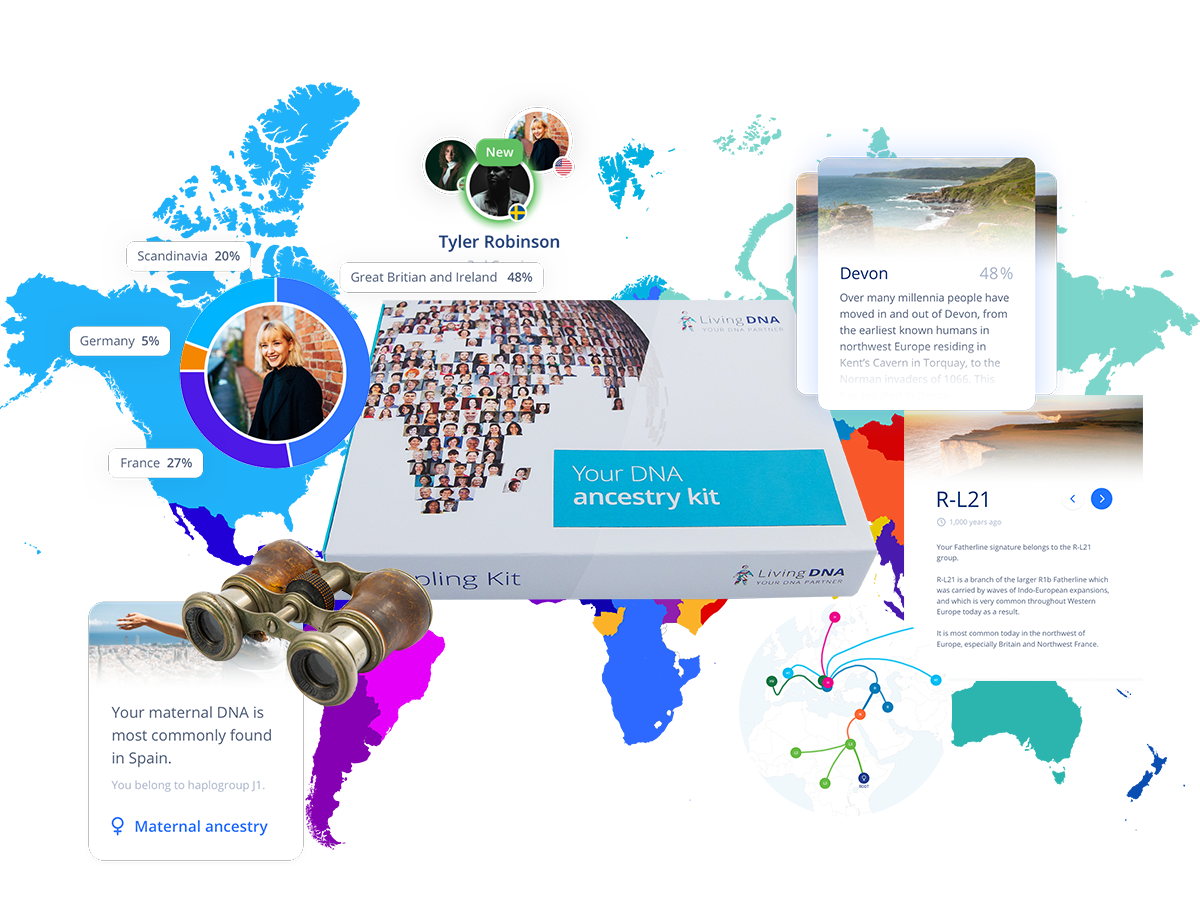 "Living DNA offers unique insights into Africa, Europe, and the British Isles. It spans over 150 worldwide regions and an exclusive collection of sub-regions to give you more detail about your ancestry and pinpoint exactly where your heritage lies. It told our researcher precisely where in England their ancestors are from. You can read more about the sub-regions that make up your ancestry, with historical facts, migration maps, and haplogroup information, which shows you where each side of your family comes from. We really liked the interactive maps with color-coded migration lines.It can trace your ancestry through 80,000 years. You can read in detail about your history and explore your ancestors' movements all over the world," says DNA Weekly.
Forbes adds, "Living DNA's Full Ancestry kit features a robust ancestry breakdown, featuring 150 worldwide regions, 21 sub-regions within the British Isles and 72 genetic regions within Africa. In addition to providing a family matching tool, Living DNA users can opt in to Family Networks, which allows you to connect with anyone, anywhere on the globe, who may share your DNA. It also offers an additional 'wellbeing kit' ($149) that provides insight into genetic variants that may impact your nutrition and fitness."
Though it takes a relatively long time to complete a DNA profile, Living DNA is considered the best kit for global family matches. "The UK-based company comprises more than 100 scientists, academic researchers, and genetic experts from around the world, and collaborates with universities, testing services, and genomics experts to refine its DNA results and migration routes. Its DNA testing kit is a good value, one that offers reliable ancestry discovery and family tree-building features," writes PC Mag.
For a deep dive into your ancestry, check out Family Tree. This DNA test kit features several additions that provide highly detailed results of your maternal and paternal lineages. Wirecutter adds, "FamilyTreeDNA's ethnicity estimates for our testing panel were broadly similar to those from AncestryDNA and 23andMe. Compared with those competitors, it provides the most comprehensive suite of testing options, which it offers as add-ons to the basic ethnicity test. These additional tools should satisfy nearly any genealogy buff looking to explore their connections to early human migration or wanting to find relatives from one particular side of their family tree."
"While AncestryDNA is great if you've already delved into the world of your family research, FamilyTreeDNA is a better place to start if you're just building out your family tree. Some features of this test include providing you with a percentage breakdown of your origin, such as ancient European groups, and the ability to connect with relatives from within the last five generations," says ZDNet.
"With a credible claim to 'the world's most comprehensive DNA matching database,' FamilyTreeDNA offers all three types of tests — autosomal DNA, Y-DNA and mtDNA. And it's the sole company to own and operate its own testing facility: The Gene-by-Gene genetic lab, located in Houston," says CNET. "FamilyTree also offers a number of higher-end tests, for those interested in digging deeper, including a range of Y-DNA tests that will trace the path of your male ancestors and the history of your surname. The company also allows you to upload raw DNA data files from other services and transfer your autosomal information to its database to expand your universe of matches and relationships."
You might also be interested in:
Sources
Note: This article was not paid for nor sponsored. StudyFinds is not connected to nor partnered with any of the brands mentioned and receives no compensation for its recommendations