Playing football is a right of passage for young men in America. Football helps build core life skills such as teamwork, responsibility, and resiliency. Playing football is an incredibly fun sport, but players must have the right equipment if they want to be successful and stay safe. From shoulder pads to helmets to cleats, equipment is a critical part of the game. So, which are the best football cleats to help you perform at your best? 
If your child is considering playing football this fall, there could be some benefits that come with it. According to a recent study, adults who played sports as a kid have higher levels of 'grit' and mental toughness than those who did not play organized team sports. Researchers from the Ohio State University define grit as "the combination of passion and perseverance that leads people to achieve their long-term goals." The research team studied groups of adults who played organized team sports and those who did not play. Those who played sports learned how to overcome challenges and keep striving for their goals. Sounds like a great reason to sign your kids up for football next season. 
However, not all parents are rushing out to sign their kids up for contact sports such as football. According to another study, concussion fears prevent parents from allowing their kids to play popular contact sports. Researchers from the American Osteopathic Association (AOA) surveyed over 1,100 parents in an online poll. The team found that most parents are fearful of concussions. According to the survey, less than 20 percent of parents are willing to let their kids play football. Of course, that doesn't stop football from being one of the most popular sports in America. 
With the right equipment to keep players safe, the sport is enjoyed by many. So, which pairs of cleats are right for you? StudyFinds did the research, consulting 10 consumer review sites in an effort to bring you a consensus list of the best football cleats. Our list comprises the five most frequently recommended pairs of football cleats from across these sites. Think we skipped a quality football cleat? Feel free to share your thoughts with us in the comments section below! 
The List: Best Football Cleats, According to Sports Experts
The top spot on the list of the best football cleats belongs to the Adidas Adizero cleats. Adidas is known for high-quality sportswear and its football cleats are no different.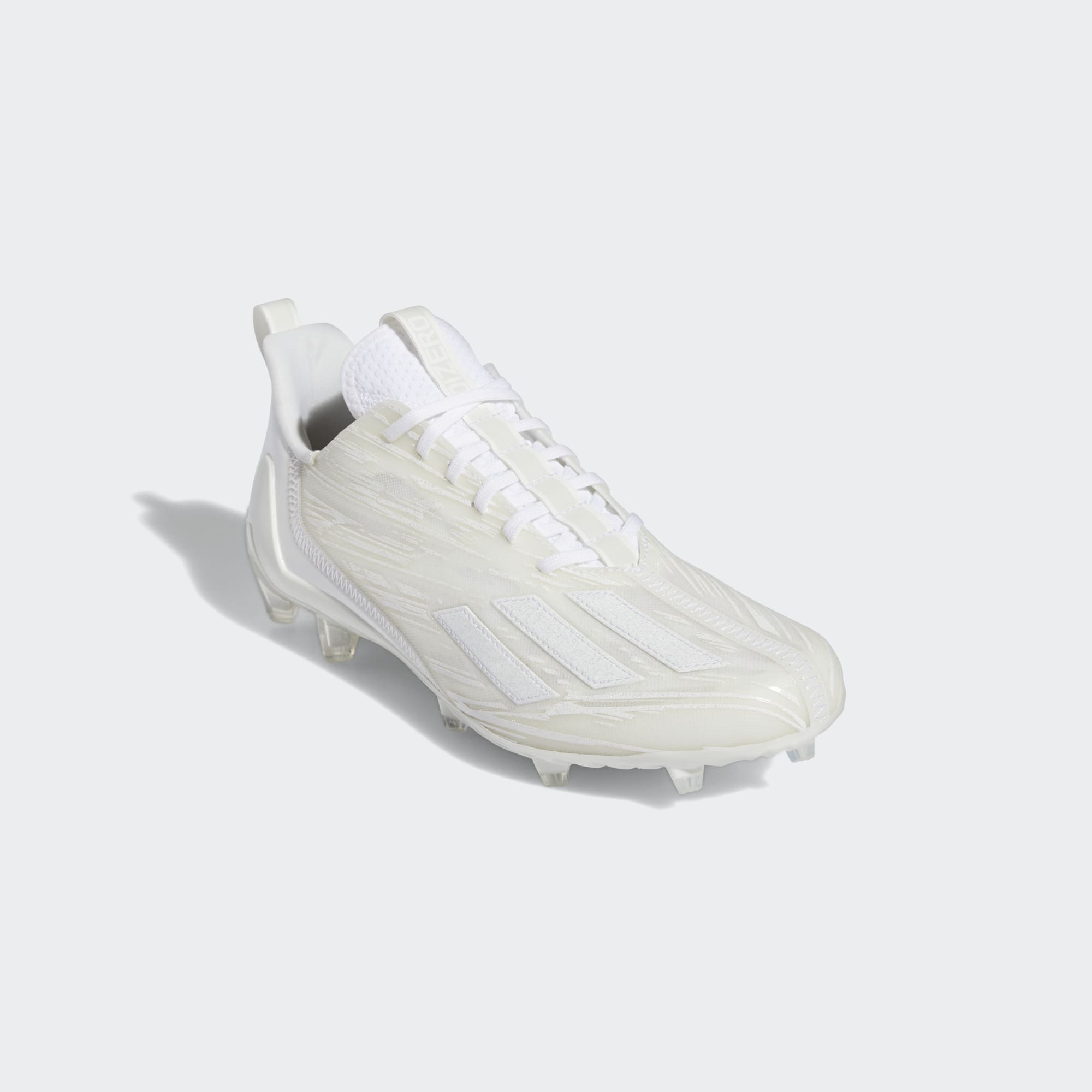 "The Adidas Adizero Spark Cleats are lightweight cleats, which is why we love it for wide receivers. However, even with its lightweight design, you have a strong synthetic overlay for durability and support. Wide receivers are often the most dynamic players on the field, which is why security is crucial. With the quality lacing structure, you can always ensure the security of your feet while the strong and sturdy TPU studs deliver traction," explains Sports Illustrated.
One of the best aspects of these cleats is their lightweight construction and design. This lightweight design helps you perform your best on the football field and stay comfortable at the same time. 
"These cleats redefine performance footwear, offering a feather-light design that doesn't compromise on durability or support. The advanced technology ensures a responsive fit, allowing athletes to feel connected to the field while maintaining comfort. The strategically designed outsole delivers exceptional traction, enabling rapid bursts of speed and precise movements. Whether you're a back looking to make that swift jump-cut, a receiver looking to blast past on a go-route, or a lockdown safety needing agility on a centerfield turn, these are the cleats for you," writes Clutch Points. 
Adidas offers some of the best shoes you'll find, so it's no surprise that this company engineers high-quality football cleats and other sports footwear. Still, Adidas went above and beyond with its Adizero Football Cleats. 
"In fact, the Adidas Adizero is known for being the lightest cleat in football. The Adidas Adizero Scorch is made with a textile synthetic overlay and textile lining to give the shoe durability and support. The mesh tongue and lace structure keep your foot secure during dynamic movements and the TPU studs are very strong for dependable traction," adds Active. 
The next spot on the list of the best cleats for playing football is occupied by Nike and the Vapor Edge Pro 360 Football Cleats. These cleats are designed to help take your game to the next level, offering stability, comfort, and versatility.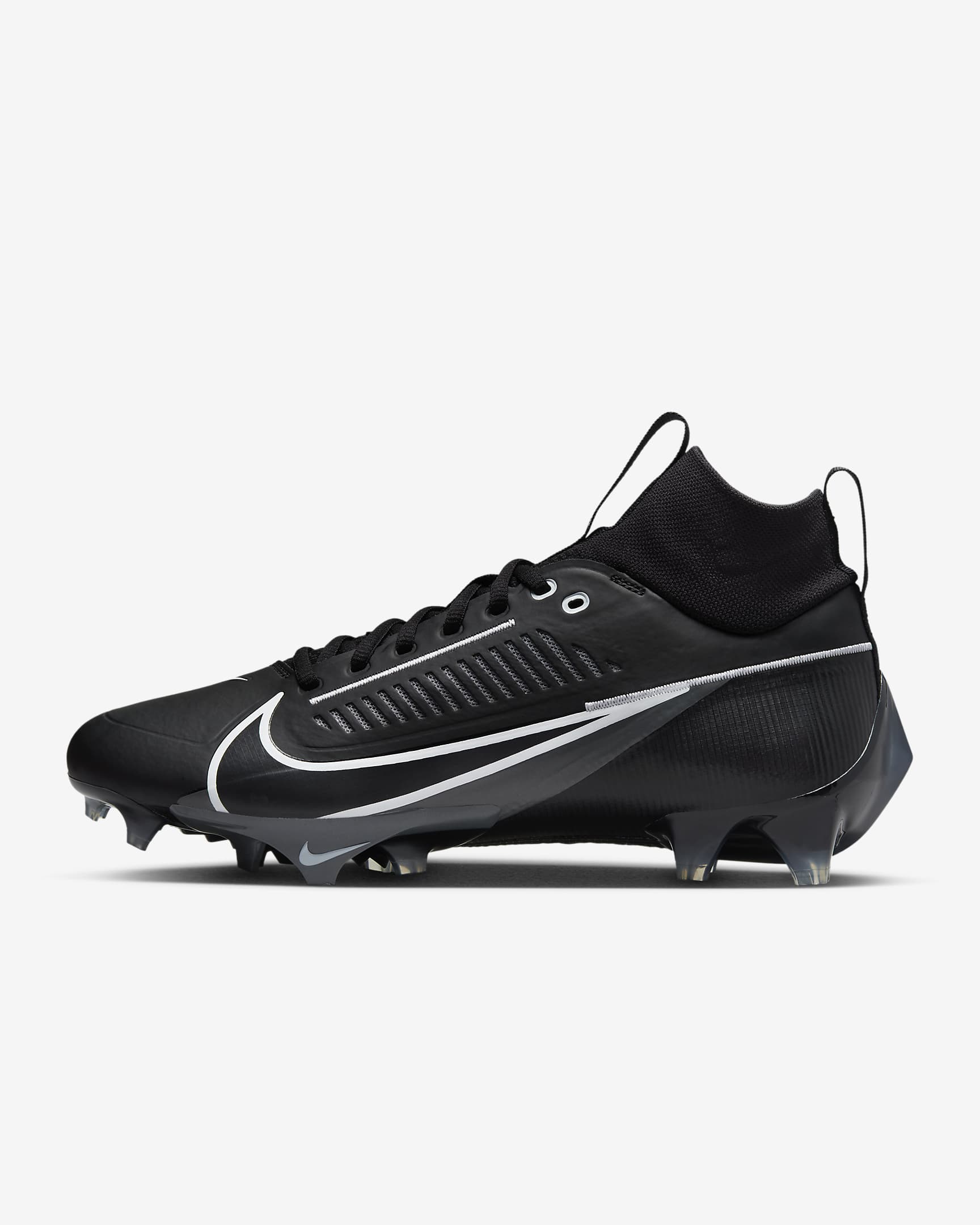 "Nike Vapor Edge Pro 360 are elastic and breathable cleats that are available in 15 different colors. These cleats have an internal full-foot plate making them more flexible and granting extra support. They dig into grass more precisely with their longer and thicker studs and offer excellent traction. Materials for the upper are very soft and light, making them very comfortable and providing an excellent feel on your feet. Although the upper is lightweight, this does not compromise their sturdiness, which is very important for a quality pair of football cleats," explains Sports Wallah. 
Nike is no stranger to the athletic footwear industry. These Nike cleats offer wide studs to help players grip the turf and gain traction in the messiest of weather conditions. 
"These Nike football cleats confidently claim that it is one of the most comfortable and versatile shoes on the market. The product brings speed and agility to the user. The wide studs give you great traction. The inner lining provides excellent coverage. At the same time, the breathable and stretchy cuff hugs your ankle for increased comfort. The unique Ghost lacing system tightens with a quick pull and is hidden away for a sleek look," writes Scott Fujita. 
The unique ghost lacing system makes it easy for players to get in and out of their cleats during the game. The ability to quickly get these Nike cleats on and off is important on several levels. However, be aware that these cleats might need a short break-in period to get players comfortable. 
"What can we say, Nike never seems to disappoint, right? These Nike Vapor Edge Pro 360 cleats have truly taken the world by storm. People all around the world have only great things to say about this model, with only here and there a certain critique, like the fact that they require a break-in period. But if you ask me, that's something that can be fixed. These football shoes are said to be perfect for quarterbacks who are on the lookout for a great pair that'll enable them to run smoothly and perform quick cuts," furthers Shoes Cast. 
3. Under Armour Spotlight Franchise Football Cleats
Coming in at the third spot on the list of the best football cleats are the Under Armour Spotlight Franchise Football Cleats. Under Armour has skyrocketed to the top of the sportswear industry, and these football cleats are a big reason for that.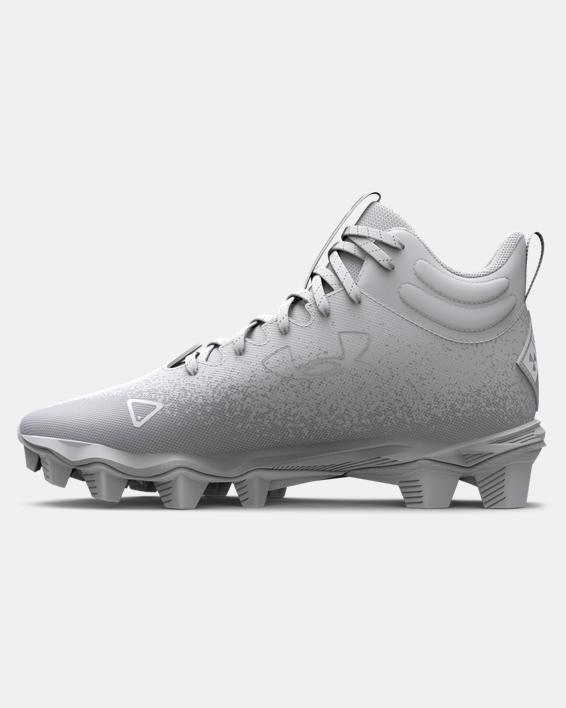 "Under Armour makes some of the best cleats for players looking to increase their speed and these cleats are some of our favorite of the bunch. They provide plenty of support with a mid-cut ankle and customizable laces. The traction is equally applaudable with ultra-long molded studs. For added durability, Under Armour built this shoe with a synthetic upper, great for long-lasting use," explains Sports Illustrated. 
Support on the upper ankle is extremely critical to your performance on the football field. Under Armour realizes that stability in the ankles is vital to playing your best football and they designed these cleats to offer that little bit of extra support where you need it most. 
"If you're an athlete with wide feet, chances are most cleats feel too tight and uncomfortable. The Under Armour Spotlight Franchise RM provides the extra space you need. Featuring an engineered synthetic upper, full length midsole with a breathable textile lining, these cleats will feel supportive, durable and deliver the comfort you need to perform at your best," furthers NXTRND.
These football cleats from Under Armour are designed for all types of surfaces including natural grass and synthetic turf. Players can rest assured knowing that these cleats are ideal for all conditions across all types of surfaces. 
"The product has a full-length EVA midsole which grants amazing underfoot cushion and provides extra comfort throughout long, exhausting football matches. They are equipped with a padded collar for added support. The upper is 100% synthetic, breathable, and grants excellent air circulation which is necessary for tough, heated games," adds Sports Wallah. 
The fourth spot on the list of the best football cleats once again belongs to Nike and its Alpha Menace 3 Shark Football Cleats. Nike is clearly the top brand in athleticwear, so it's no surprise to see them with another pair of the best cleats.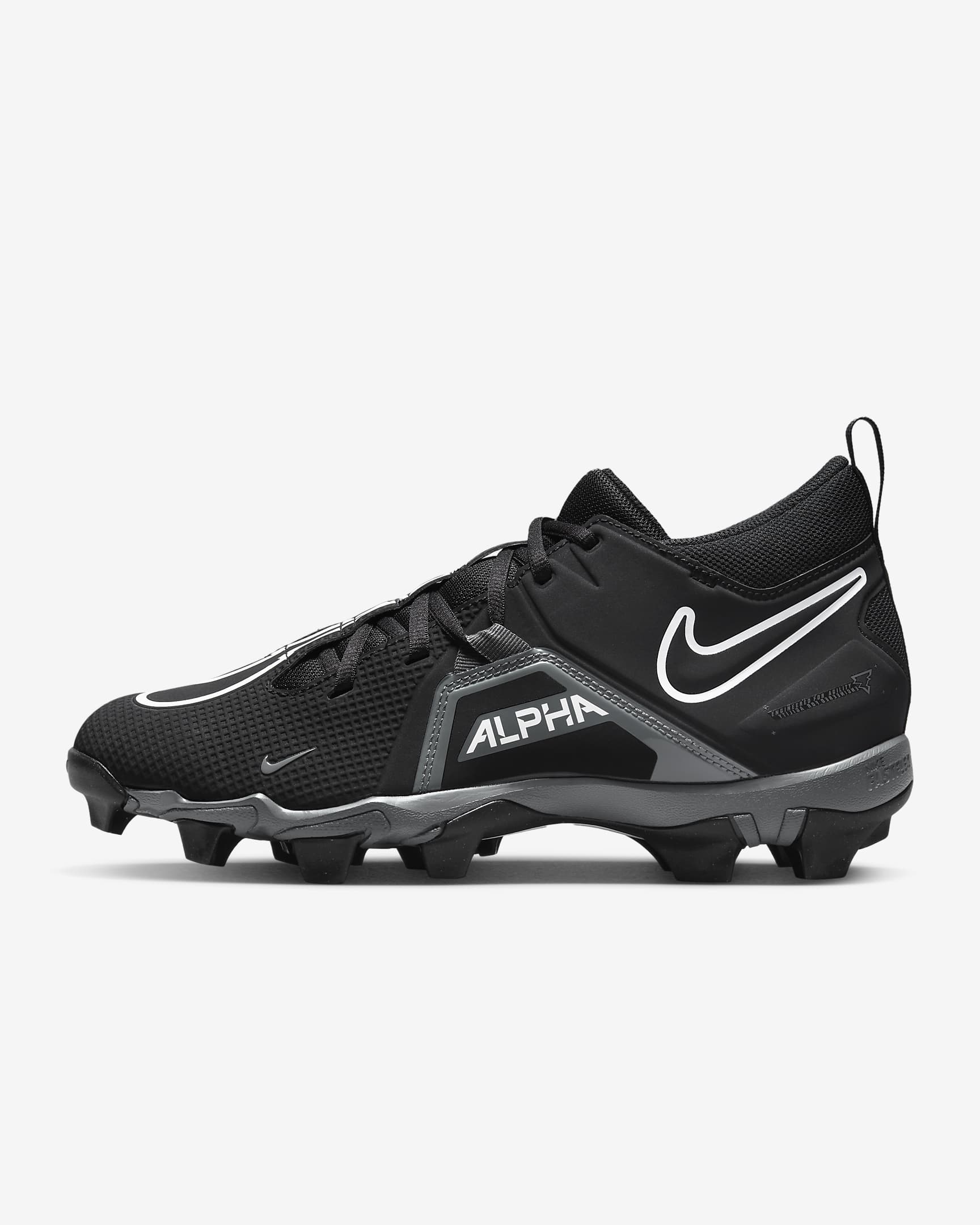 "As a quarterback, you need stability first and foremost. It's up to you to step back, assess the field and get the ball in the hands of the right player to get it where it needs to go. While the Nike Alpha Menace 3 Shark Mid Football Cleats might be inexpensive compared to some of the other cleats on the list, it doesn't mean they are low-quality cleats. In fact, they're some of the most popular budget-friendly cleats on the market today, especially for younger players," writes Sports Illustrated. 
These Nike cleats are by far the most affordable pair on this list. But, as the experts explain, don't let the term "budget-friendly" trick you into thinking these are cheap football cleats.  
"Usually when you hear the term budget-friendly and affordable, you can almost always guarantee a slight dip in performance, especially when it comes to athletic gear, namely footwear and cleats. This couldn't be any further from the truth with this set of cleats from Nike. The Nike Alpha Menace 3 Shark Men's Football Cleats are engineered to elevate your performance on the gridiron. These cleats are designed to provide you with the traction, stability, and support needed for explosive plays and rapid directional changes," writes Clutch Points. 
For the price, these Nike cleats are durable, lightweight, and practical for a range of positions on the field. Nike clearly put some effort into engineering these cleats to be affordable and durable.  
"Two things we love about this cleat are the synthetic leather and the front molding, both of which contribute to the cleat's durability. The synthetic leather is less breathable than mesh or textile synthetics, but it is strong and will stand up to use. The front molding similarly protects the cleats from abrasions if you find your toes dragging along the ground," furthers Active. 
Yes, another pair of Under Armour cleats are rounding out the list of the best football cleats. This time, it's the Under Armour Highlight Football Cleats. These cleats offer everything you need to perform at your best in the trenches on the football field and then some.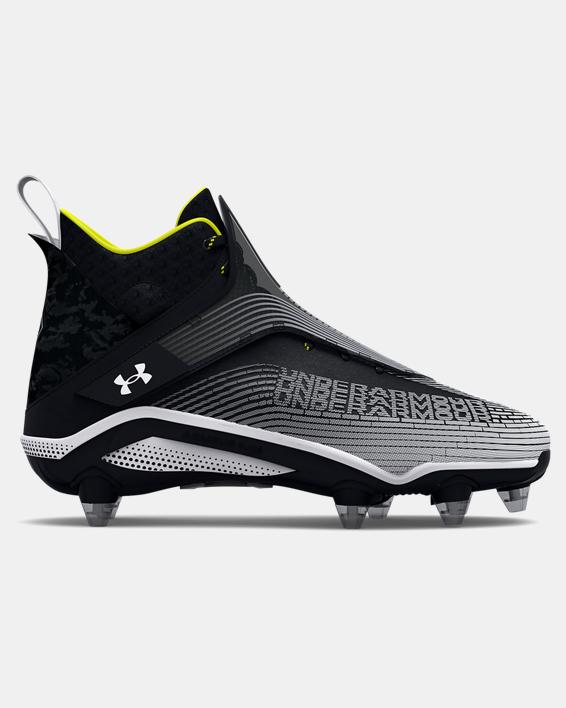 "If you're playing as a lineman, the UnderArmour Highlight MC Football Cleats are some of the most versatile cleats around, offering a comfortable, supportive and lightweight feel with tons of grip. At first glance, you'll notice the unique high-top flexible collar, which offers all the necessary mobility for quick cuts and turns. Even with all of that mobility, you get a protective rearfoot section and a sole that bites the ground to prevent slippage," writes Sports Illustrated. 
Linemen experience the game of football differently from other positions, so it makes sense that these players need special footwear. In comes the Under Armour Highlights, offering additional support on the upper ankle and excellent traction to grip the field or turf. 
"Because linemen spend the game in close quarters making explosive and powerful movements, a cleat with maximum support is the best option. The Under Armour Highlight MC has a laceless support system that rises above the collar and covers the ankle. Because the high collar is laceless and has straps you can tighten, you can get some of the mobility back you would otherwise sacrifice for this level of support," explains Active. 
The Under Armour Highlight Football Cleats are designed to support the ankle and give additional stability. Under Armour engineered these cleats specifically for linemen down in the trenches, but they can be used for other positions and even other sports. 
"Similar to some of the best baseball cleats, these boots feature molded 4D foam footbeds that mold to the shape of your feet. This design not only prevents slippage but also alleviates pressure that can build up during prolonged use. Moreover, the uppers of these cleats incorporate strategically placed synthetic materials. This clever arrangement ensures breathability and stability, which are particularly important considering the high-collar design," furthers Real Sport 101. 
You might also be interested in: 
Sources: 
 Note: This article was not paid for nor sponsored. StudyFinds is not connected to nor partnered with any of the brands mentioned and receives no compensation for its recommendations. This post may contain affiliate links. As an Amazon Associate we earn from qualifying purchases.