A good sweater is a staple in every woman's wardrobe, and there are plenty to choose from for every taste and style. So many, in fact, that it can be difficult to determine which is right for you. That's where we come in! Are you looking for a great new piece for cooler weather? We've done the work for you, compiling a list of the best women's sweaters according to 15 experts.
With cooler weather comes cozy fires, gorgeous foliage, and hot drinks. (Hello, pumpkin spice!) A poll of 2,000 people in the U.S. shows that 45 percent love the chill in the air best about fall, agreeing that 53 degrees Fahrenheit is just about perfect. After all, it's the best kind of weather for all those fantastic sweaters!
It's also a great time of year for brain-stretching indoor pursuits such as crossword puzzles, reading, art and board games. One recent study shows that these types of pursuits can help lower the risk of Alzheimer's disease. Adult literacy courses were shown to reduce the risk of Alzheimer's by 11 percent, while playing intelligence-testing games reduced it by nine percent. Painting and other art forms reduced the risk by seven percent. The study followed more than 10,000 individuals 70 years of age and older over more than a decade.
If you're ready to delve into fall fashion, but you aren't sure where to start, we're here to help! The options are endless, but you don't have to sift through them all. We've compiled a consensus list of the top five best women's sweaters, according to 15 expert sources. So dive in and find your favorite today! Have another favorite you'd like to share with us? Tell us about it in the comments!
The List: Best Sweaters for Women, According to Experts
Cashmere tops the list of best sweaters for women, and Everlane is a popular brand offering numerous styles and colors to choose from. WWD recommends choosing a sweater in black for best versatility, touting Everlane's The Cashmere Oversized Turtleneck as the best cashmere turtleneck sweater for women. "Black sweaters for women can be worn throughout fall, winter and spring, and pair well with everything, especially when they are made in sumptuous cashmere (with a hint of wool for extra warmth)."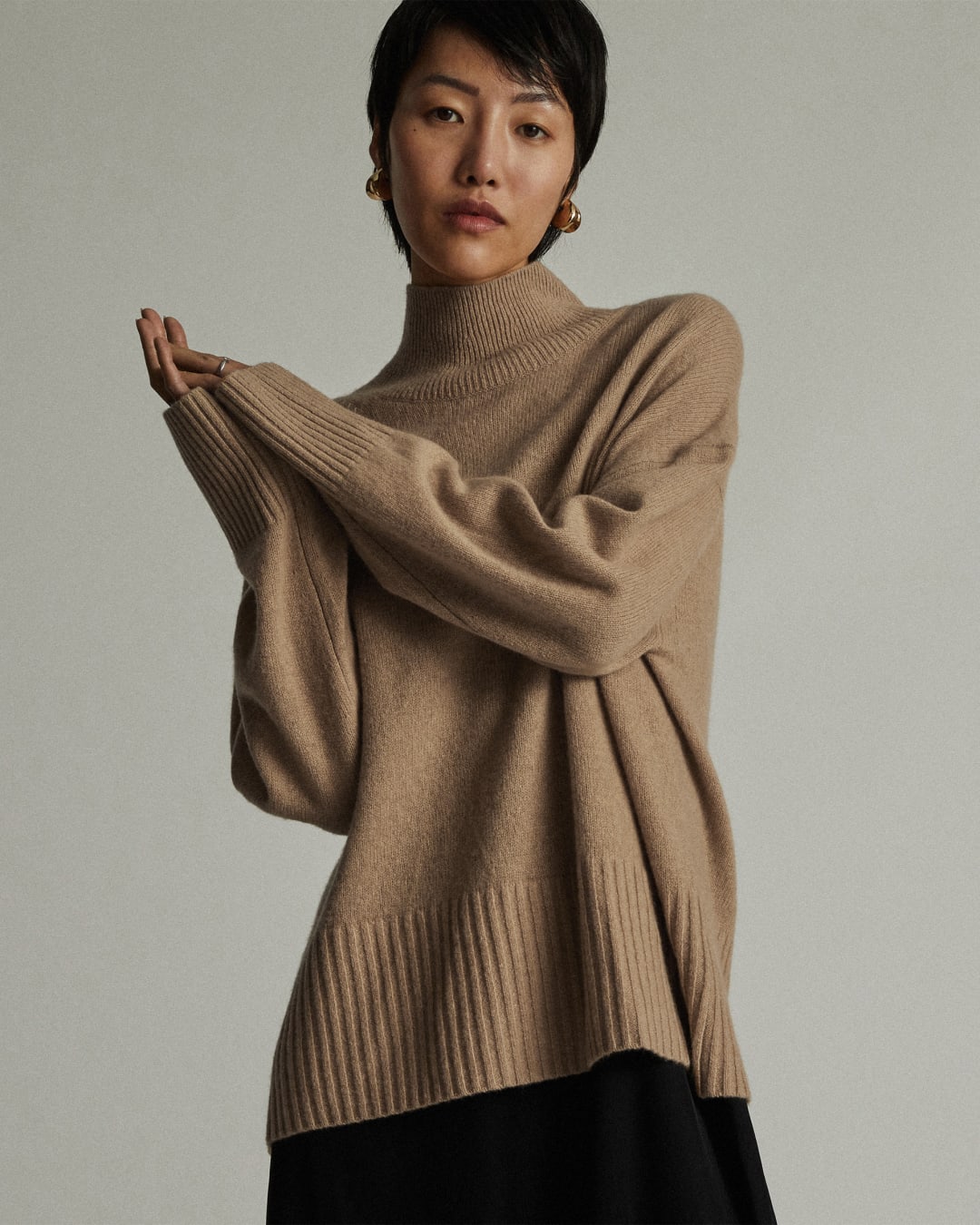 Everlane tops Natalie Yerger's list as well. "Everlane knitwear is by and large my favorite. They have everything from oversized chunky knits to half-zip sweaters, turtlenecks, mock necks, cardigan sweaters, and thin long-sleeve sweaters to layer under blazers and coats in the best colors (both neutral basics and bold colors). The best part? Their women's sweaters are usually under $75 or $150."
Business Insider loves the quality of these sweaters, noting, "But just because you're getting a deal doesn't mean you're getting less-than-sterling quality. The brand uses only Grade-A cashmere (grades go from A to C, with A being the best). Grade-A is stronger and doesn't pill as easily. It's also much more resilient when it comes to washing, and doesn't require dry cleaning. Just hand wash them in cold water and lay them out to dry."
When it comes to affordable fashion, J. Crew appears on most lists with a wide offering of both timeless and trendy styles. Who What Wear says J. Crew's Cashmere Patch-Pocket Cardigan Sweater is where it's at. "While cardigans have been trending hard for a few years now, the timeless look is still going strong into 2023. From matching cardigan sets to fitted polo-style button-downs, there are more than a few new looks to sport this fall."
PopSugar prefers the Cropped Cashmere Crewneck Sweater. "If you're looking to invest in a long-lasting sweater that will remain a staple in your wardrobe for years to come, you really can't go wrong with a classic cashmere sweater."
Glamour favors the Emilie Patch-Pocket Sweater Lady Jacket, combining the charm of a sweater with the style of a jacket, writing, "Keep the nautical vibes going into fall with this striped shacket. It has big gold buttons that you'd typically see on a blazer, but it works."
Founded in 2013, Naadam prides itself on sourcing sustainable cashmere directly from Mongolian herding communities. Wirecutter gives this brand major kudos for transparency: "Naadam's transparency about where it sources its cashmere is surprising for a sweater at this price. It's brushed from the coats of Zalaa Jinst white goats in Mongolia, a breed prized for its light but warm cashmere fiber."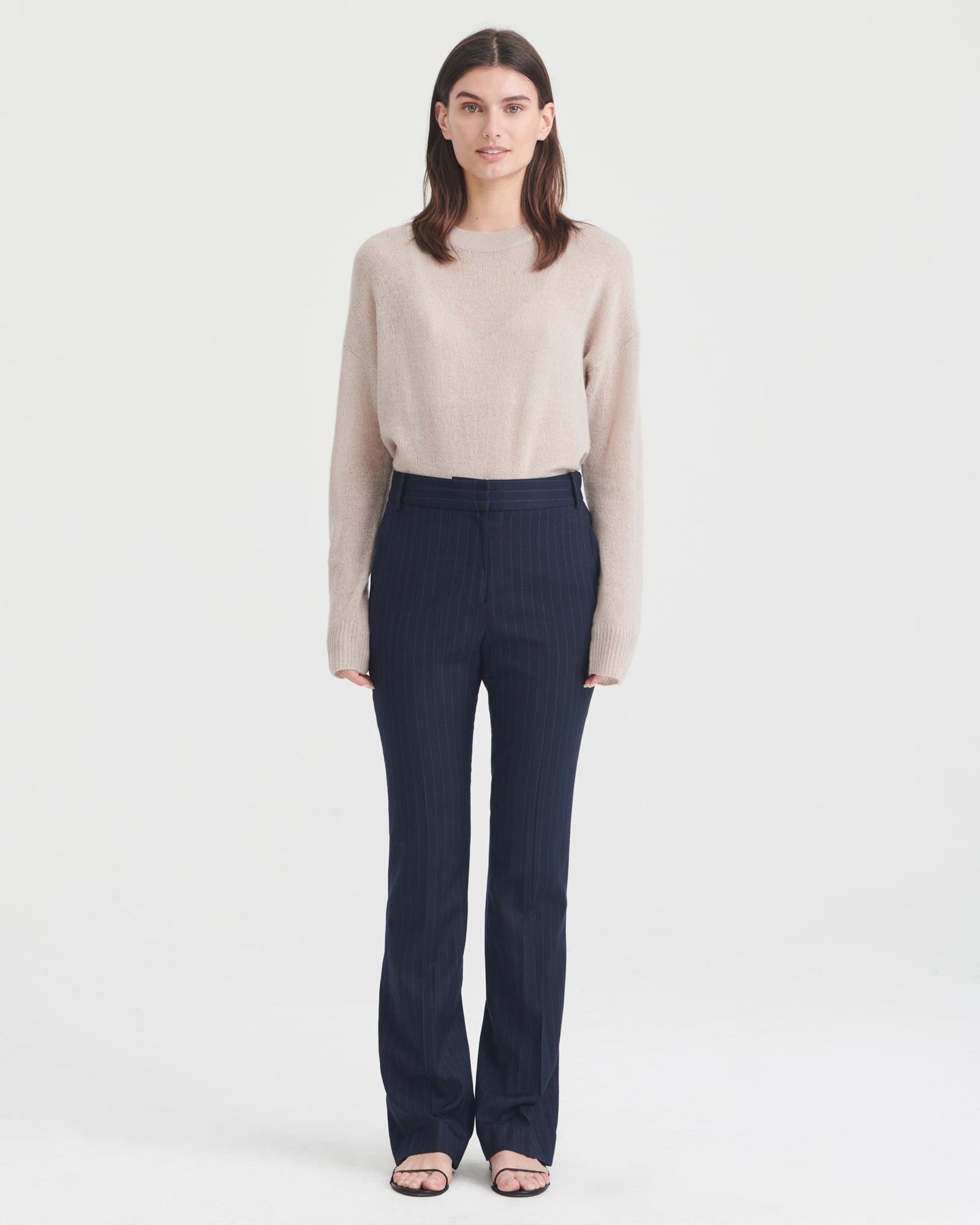 Byrdie rates it high on quality and long-term use. "Other pluses: The brand promises minimal pilling and high breathability, so you can comfortably wear this piece over and over without worrying that it's losing its luster."
"You could easily wear this to the office, country club, and tennis match all the same, making this possibly the most versatile piece on this list. Just remember that cashmere and dryers don't pair well, and bringing this to the dry cleaners is a necessity," notes InStyle.
With its own brand of clothing, Amazon aims to provide great value with high-quality products at competitive price points. Luxe Digital loves the many colors the Amazon Essentials sweater is available in: "The lightweight crewneck style runs the gamut in chic colorways, giving you the perfect opportunity to stock up on a few iterations. We love the soft, natural beige hue as a capsule wardrobe staple. The lime green is all about embracing the dopamine dressing trend. And check prints speak to the old-school grandpa style—also a fashion crowd favorite."
"Everyone needs a basic lightweight sweater. From those very early fall days when we're not quite ready for the chunkier knits, to when we need to layer said knits to stay warm, a sweater like this Amazon Essentials style makes for a versatile closet staple," says Parade.
NBC News Select notes that the Amazon Essentials sweaters allow for a trial period with easy returns, as well: "The sweater also qualifies for Prime Wardrobe, Amazon's program allowing you to try on clothes at home for up to seven days before you complete your purchase."
5. Alex Mill
Alex Mill knows our desire to simply get up and get dressed, without spending long moments staring into our closet trying to decide what to wear. These top picks make it easy to get dressed and get going in the morning. Refinery29 touts the Button-Back Crewneck Sweater with a pro tip: "This chunky cotton knit features back buttons, which means it can also be worn like a cardigan."
The Strategist agrees, "The 100 percent cotton yarn has substantial weight to it without feeling stuffy, and it has a slightly oversize fit with balloon sleeves that make it perfect for layering. It comes in five solid colors — navy, ecru, khaki, blue, and red — and two striped options."
Marie Claire prefers the Nico Chunky Cardigan, writing, "I didn't think I would love this striped cardigan from Alex Mill as much as I do. It's chunky and warm but not too warm, so I can wear it year-round. Plus the simple navy and white colorway is super easy to style."
You might also be interested in:
Sources:
Note: This article was not paid for nor sponsored. StudyFinds is not connected to nor partnered with any of the brands mentioned and receives no compensation for its recommendations. This post may contain affiliate links. 
The contents of this website do not constitute advice and are provided for informational purposes only. See our full disclaimer