If you're planning to spend a day at the pool, don't forget the pool float. Both functional and fun, pool floats come in all different shapes and sizes. When purchasing a pool float, always consider your pool's dimensions and how you plan to use it. Whether it's a basic inflatable or a statement making conversation piece, the best pool floats are a swimming essential.
Spending a day at the pool is one of the best things about summer, but many people may not be able to relate. In fact, a recent study reveals that three in 10 adults haven't taken a dip in a pool in 10 years! That's a long time! So, if you're among those who haven't made a splash in a while, grabbing a fun pool float might entice you to jump in.
A lot of summertime fun happens at the pool. Many kids envision pool parties as one of the staples of their dream summer. If parents left it up to their kids to plan the summer vacation, a study shows they'd add five pool parties in the backyard, three road trips, and five visits to the beach to their to-do list.
So, if you're in the mood to relax in the pool, and make your kids' dreams come true, StudyFinds is here to help. We've put together a list of the top five best pool floats to laze around in while keeping cool under the sun. As always, we'd like to see your own recommendations in the comments below!
The List: Best Pool Floats, According to Experts
Want a stylish float for your next pool party? Check out this chaise lounger from FUNBOY. Travel+Leisure notes, "it flaunts a transparent tri-color design that creates a cool pink-orange-yellow ombré effect when reflected on water. Measuring 70 x 44 inches, it's comfortably large and long enough to accommodate taller adults."
"The massive, ergonomic design inflates and deflates in under two minutes and will keep you ultra comfortable as you soak up the sun. There's also a reinforced cup holder," adds The Pioneer Woman.
Another cool feature? "This pick also has a tether point so you can secure it to a dock or boat," according to Real Simple. FUNBOY also has other cool float designs, including a yacht and a golf cart.
The Spruce gives this float by Frontgate 'Best Pool Chair' honors, noting "the durable mesh chair has oversized armrests, a well-cushioned back for comfort, and an attached ottoman. Because it's filled with ultra-buoyant polystyrene beads, even larger adults will stay comfortably afloat."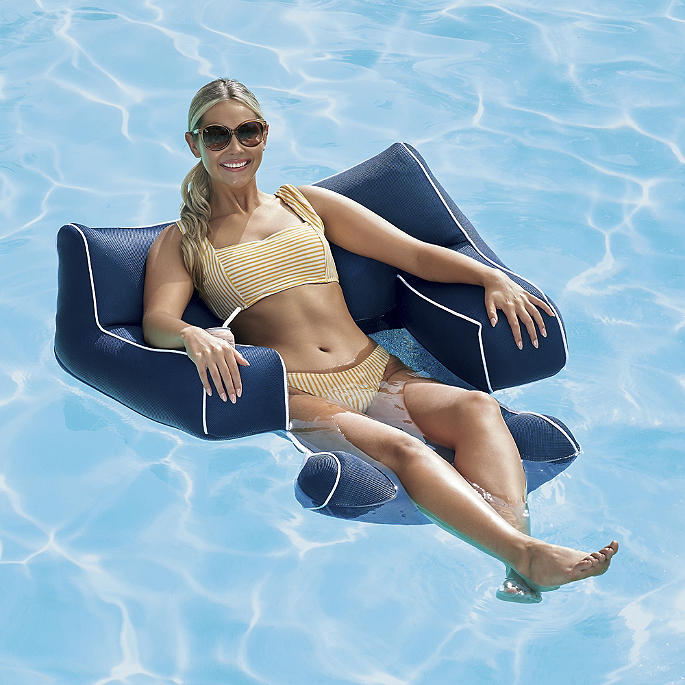 "Filled with buoyant polystyrene beads, this supportive float doesn't require any inflating. Plus, it features built-in armrests and an attached floating ottoman, providing full-body support for your favorite leisurely activity," adds Forbes.
It comes in four color options. Good Housekeeping points out, "the handle at the top of the chair also makes it easy to transport the chair around your backyard." However, it is a bit bulky, so keep that in mind for storage purposes.
If you think this one is only for the kiddos, think again. This giant inflatable pool float from Jasonwell is big enough for two adults and can hold 400 pounds. "With its matte finish, rainbow mane and tail, and shiny gold horn, the unicorn can help you float in style," according to Bob Vila.
Forbes adds, "if you're worried about how long it takes to inflate, fret no longer—it's a pretty quick process, thanks to its two large valves."
"Pool accessories don't get much more magical than this giant rainbow unicorn inflatable," suggests SheKnows. It's budget-friendly, too. If a unicorn isn't your style, Jasonwell also makes other fun float shapes, including an avocado complete with ball.
"If you want a luxurious, cushioned, and comfortable float, opt for this pick from Big Joe. The quick-dry, quick-drain mesh fabric is filled with supportive buoyant beans, so you can skip the hassle of inflating and deflating every time you hop in the pool," according to Real Simple.
The Pioneer Woman points out, "the plush chair is filled with fluffy beans for the perfect buoyancy then covered with a quick-drying fabric that's available in several summery patterns."
Bob Vila adds, this float "will let you lounge in the pool with a drink at your side with the integrated cup holder." Just make sure it dries completely prior to storing it.
Rounding out our top five, is this classic lounge float from Intex. It's my personal favorite, and the most affordable of the bunch. "It has a built-in cup holder for refreshing drinks, an armrest and a backrest for extra comfort," according to Today.
As USA Today points out, it "measures 15.88 inches long by 20.32 inches wide and 23.37 inches high. Said to be durable, these floats hold large adults without any issues and can be inflated quickly."
Intex sells these as singles or in pairs. "Don't leave your partner, bestie, or random pool stranger alone in the deep end. Get a two-pack of comfy, colorful pool loungers instead," suggests SheKnows. 
You might also be interested in:
Sources:
Note: This article was not paid for nor sponsored. StudyFinds is not connected to nor partnered with any of the brands mentioned and receives no compensation for its recommendations. This post may contain affiliate links.