It is hard to believe that boxed wine can actually compete with the classic bottle. Surprisingly, some boxed wines are pretty comparable. What's even better, for big families and parties, a bottle or two of red wine just won't cut it. I'd be uncorking all night! That's when an affordable, easy-to-serve boxed wine comes in handy. From sweet to dry and red to white we have done the research for you to find the best boxed wine. 
Although all of the choices below pair quite well with specific foods. A poll of 2,000 Americans over the age of 21, asking about their wine preferences and pairing knowledge, finds 90 percent believe wine pairings are "out." Nearly seven in 10 respondents said quarantine has driven them to become more knowledgeable about wine. Two in three said their tastes have become much more sophisticated during this time. Conducted by OnePoll on behalf of the Idaho Wine Commission, the survey analyzed respondents' quarantine habits and discovered that 84 percent said this time allowed them to reconnect with themselves and learn new things.
Even more interesting, wine lovers turn to red when sitting down to watch a reality show (42%) or a drama (39%). The perfect wine pairing was more of a toss-up when watching a docu-series, with 30 percent opting for a red, 22 percent preferring a white, and 21 percent grabbing a rosé.
If it's a red wine you choose for your pairing, good choice! Studies show that drinking red wine (in moderation and with approval by your physician) can be good for you. People who drink red wine enjoy increased gut microbiota diversity compared to non-drinkers. They also show lower levels of "bad" cholesterol and obesity.
The more the merrier, right? No matter the reason or type of wine you prefer, StudyFinds has checked in with 10 expert websites to find the best boxed wine to pick up on your next liquor store run. If you enjoy sipping on a brand that we haven't mentioned, shoot us a comment below on your ultimate favorite.
The List: Best Boxed Wine, According
to

Vino Connoisseurs

Black Box Wine first appeared in 2003 and decanted the wines to serve people during sampling. They brought out the boxes only once they tasted the wine and enjoyed it. Restaurant Clicks gives the lowdown on Black Box: "My favorite Black Box Wine is the cabernet sauvignon. It's slightly sweeter and brighter than most other brands, but it's still a satisfying dry red. This brand, along with Bota Box, is one of the more attractive boxed wines, with its black boxes and sophisticated look. They offer 19 varieties in the 3 L box and nine 500 ml Tetra Paks with screw-top plastic lids."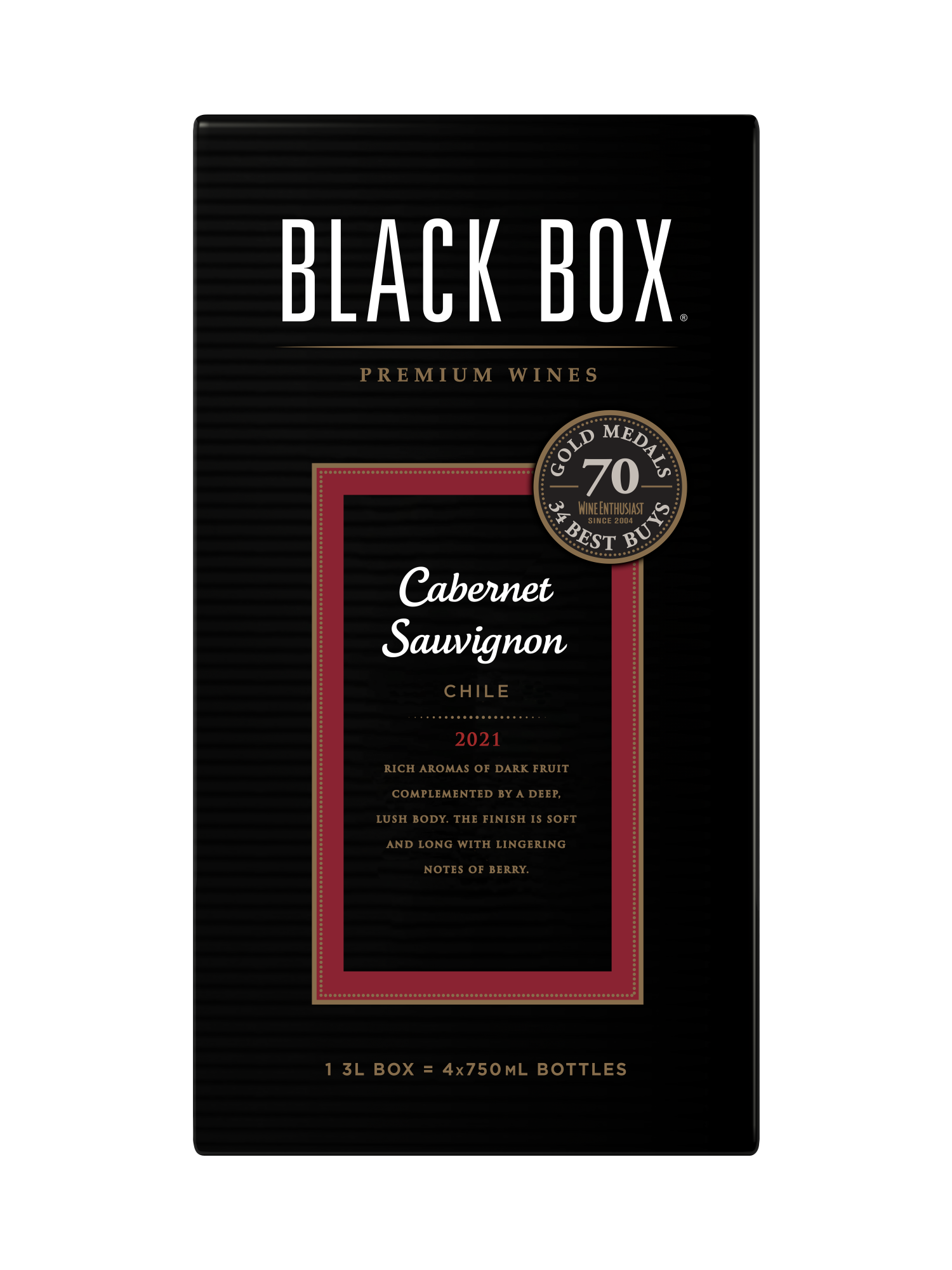 Black Box is a people-pleaser wine. It's straightforward and makes an excellent choice for drinking alongside your favorite crackers and sharper cheese. "The top spot was a toss-up between the Chateau du Chatelard and the Black Box Pinot Noir, so let the record show that we adored this pinot almost as much as the Wineberry (though the elegant packaging of the Wineberry gives it the edge). Strawberry jam and baking spices mingle in this light-bodied, easy-to-drink red with low tannins, which provide that slightly bitter, astringent quality with a 'grippy' mouthfeel that many red wines have," boasts Consumer Reports. 
Merlot makes you want to sit in front of a fireplace wrapped in a warm blanket on a chilly night. So obviously, you'll want to stock up to help set the mood before, during, and after big family gatherings.  Tasting Table is a big fan of the Black Box Merlot, "Think of the little Black Box of merlot as you would your little black dress — it's a dinnertime staple when you want a people-pleasing, smooth red wine that pairs with popular tomato-based dishes, pork loin, pot roast, mushrooms, and strong cheeses, just to name a few of the many options. But hey, even when you're kicking back for a casual dinner alone, there's no reason you can't pair your merlot with a homemade grilled cheese sandwich and tomato soup — merlot goes well with cheese and tomatoes, after all."
Bota Box wine's name comes from the word "botas," which is Spanish for the skins once used to store Spanish wine when traveling. Liquor boasts about their Old Vine Zinfandel, "The boxed wine to reign over all other boxed wines with its enchanting flavor is the Old Vine Zinfandel from Bota Box. Proudly produced from California grapes, this wine is very agreeable on the palate and proves that boxed wine is a force to be reckoned with. Bold with balanced acidity and notes of black cherry, black plum, pepper spice, and blueberry. This dark and jammy wine pairs well with barbecue and grilled meats."
With almost all of their wine varieties hitting the list of favorites, Consumer Reports specifies its cabernet. "Another big guy, this cabernet is redolent of blackberry; cherry; firm, assertive tannins; and an undercurrent of oakiness. We'd take this camping: It has a similar warming appeal as the organic malbec but feels a bit more down-to-earth. One of our tasters said it has a lovely lingering finish. This might not be the most highbrow cab you've ever had, but it's perfectly serviceable. Our ideal food pairing with this unassuming wine? An all-beef hot dog, with or without the works," says Consumer Reports.
Bota Box's Old Vine Zin stands out as having that true brambly black fruit and peppery spice you expect from a Zin. Wine Enthusiast is a huge fan, "It has turned into my go-to camping wine and is always a crowd pleaser when I throw some ribs in the smoker."
House Wine sells four-bottle boxes of bottled wine and wine in aluminum cans and pouches. Esquire noted that the red blend, "was the first box I really vibed with because it was also the first box I happily polished off. What drew me was its flavor—more robust than most of the boxes I tried, blending multiple red varietals together, leaving you with a glass that doesn't lean too dry or sweet. You feel like you're drinking a complex wine that isn't going to hit too bluntly on the palate."
House Wine is also one of the wines that started as a famous bottled brand and branched out into selling by the box. "And as rosé wines boomed in popularity, with sales growing by a whopping 40 percent in the U.S. in 2018 alone, House Wine quickly offered up its own version of the sweet, pink drink. And if you're a fan of rosés (or if you're trying to find a wine that you can drink with everything), you need to grab this box the next time you see it. House Wine's Rosé offers a very fruity flavor with notes of watermelon, strawberry, and raspberry, which makes it perfect as a 'poolside drink' and paired with light snacks like crackers, cheese, and other charcuterie favorites. And here's an idea for kicks — keep your rosé cold by dropping frozen grapes, strawberries, or raspberries in your glass. You could even turn it into a slushy by blending frozen fruit with your rose before drinking. Who doesn't want to enjoy an adult-themed slushy this summer?" asks Tasting Table.
Chardonnay pairs well with everything from appetizers like vegetables with dip or meats and cheeses, to main courses like hearty salads or something fresh off the grill. "If I am in charge of bringing wine to a large gathering, I'm grabbing House Wine Chardonnay. It's always a crowd-pleaser. Not to mention, there's always some left over for a nightcap," adds Winemag.
Franzia boxed wines are famous for parties and large gatherings because they come in a satisfying five liter box. Each box equals 34 glasses of wine. "Franzia often sells for about the same price as the 3 L boxes from other brands. A box of Franzia wine has been the most economical choice for entertaining a crowd since 1983. The company also sells 1.5 L boxes and 500 ml Tetra Paks of many of their most popular varieties. Franzia offers 22 wines and four refreshers. The sweet reds are my favorites, along with their peach Moscato refresher," says Restaurant Clicks.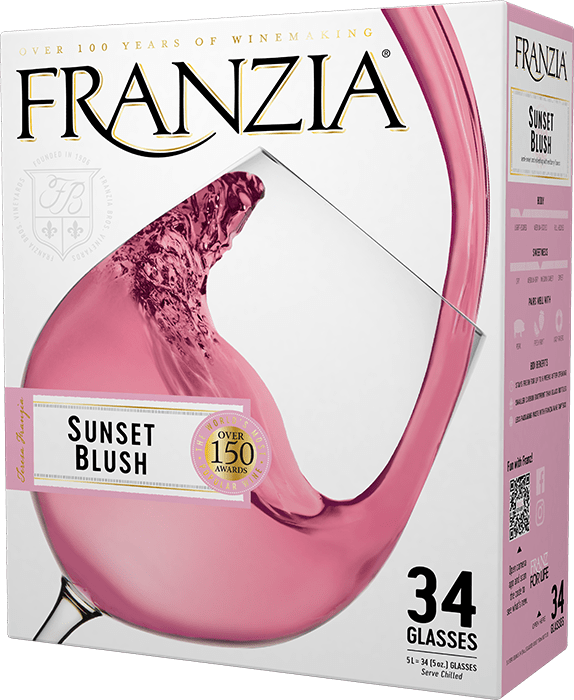 Franzia is one of the most economical selections of boxed wine. Liquor coins it the most reasonably priced wines, "No proper boxed wine list is complete without an appearance by Franzia. Founded in 1906, Franzia is one of the world's most popular wines. It's been known to invade your grandmother's fridge and college dinner parties. The label likes to have a little fun and shouldn't all wine do that? Their Sunset Blush Rosé is as fun as it gets from the perfect pink color to the medium-sweet notes of strawberry, peach, and grapefruit."
When you think of boxed wine, who doesn't think of Franzia? This classic brand is affordable and of high value. "Slightly dry, the red blend also gave us some earthier flavors accompanied by subtle notes of currants. During our blind sampling, a few tasters commented on how this wine stood out as being more festive than the others. Something about those dark fruit flavors and a touch of spice had us thinking of fruitcake (in a good way!). Sipping this wine, we definitely envisioned ourselves enjoying a glass with friends during a party," explains Taste Of Home.  
5. Schplink
Many wine lovers say that Schplink is well-balanced and good year-round. It's not overly dry or too sweet or oakey. "Ms. Saunders of Communal Brands believes boxes are a good intermediate step before, inevitably, we will turn to reusable wine bottles. Schplïnk is an excellent example of the sort of unpretentious wines that benefit from this packaging. It's pure and delightful, with the herbal, grassy qualities that can make grüner veltliner so pleasant and refreshing. The grapes come from eastern Austria and are grown organically by Norbert Bauer, a longtime family estate," states the NY Times.
Believe it or not, there is no such word in German as Schplink. The Schplink box of Grüner, however, will grab your attention and invite you into its digital world."The Schplink! Grüner Veltliner is my go-to box wine to keep in the fridge and bring to parties. The wine is straightforward and juicy with classic Grüner apple and grassy flavors. The box itself is bright yellow and looks like a party all on its own," says Wine Enthusiast. 
Vine Pair also boasts about Schplink's Grüner Veltliner, which is described as medium-bodied and dry "It is so fun when it comes in big green liter bottles that are meant for communal imbibing. What's even better? A box of it! This is a great casual white wine with enough depth to hang with some snacks and enough acidity to hang with just friends and a good convo."
You might also be interested in:
Sources:
Note: This article was not paid for nor sponsored. StudyFinds is not connected to nor partnered with any of the brands mentioned and receives no compensation for its recommendations.